Clean eating has long since found its way into our everyday lives as a healthy nutrition and lifestyle concept and is lived by many – consciously or unconsciously – with conviction. The idea is simple: whole, natural foods – yes, please! Industrially processed products – no, thank you!
We tell you how Clean Eating works and have the best and quickest recipes for you.
What is Clean Eating?
Literally translated, the English term "Clean Eating" means as much as pure or clean eating. This relatively new dietary trend is based on the idea of eating only whole foods and avoiding industrially processed products. The consumption of fresh vegetables, fruit, nuts or dairy products – preferably organic – is expected to have positive health effects.
Those who follow the Clean Eating guidelines ban preservatives, colourings, flavour enhancers and refined sugar completely from their diet. In addition, gluten and dairy products are often avoided. In addition, the meals are usually vegetarian or vegan.
Is Clean Eating healthy?
Clean eating focuses on naturalness and freshness. Because fruit and vegetables provide healthy vitamins and minerals, they support the body optimally in its daily tasks. In addition, people cook for themselves and avoid fast food and other nutrient-poor foods. If you also pay attention to your daily requirements of carbohydrates, healthy fats and protein, Clean Eating is an excellent approach to a healthier lifestyle.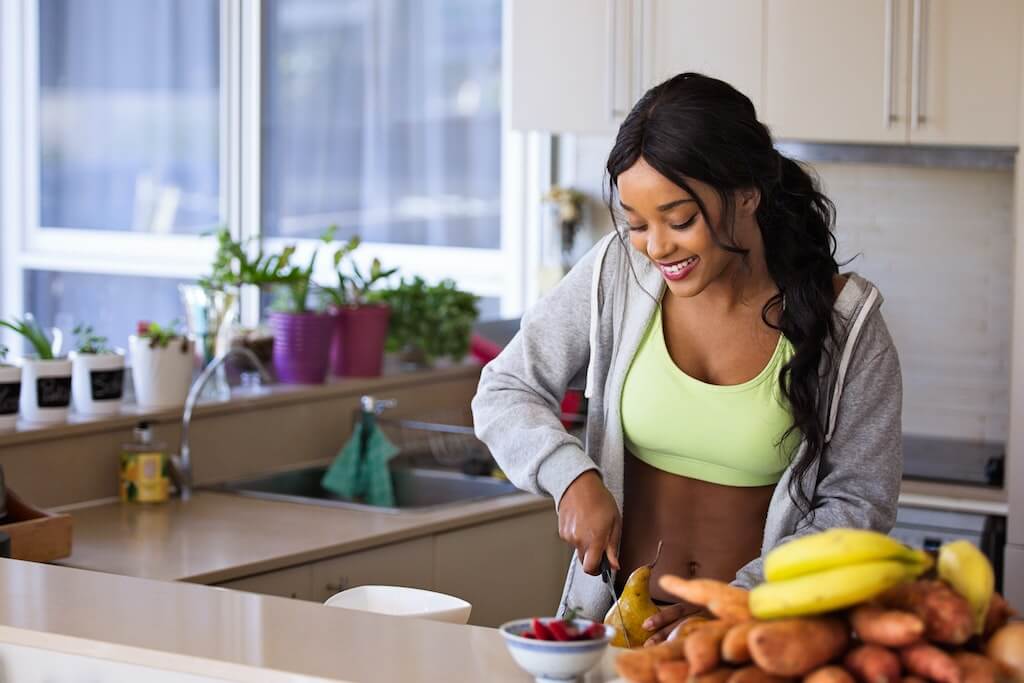 However, the concept of Clean Eating also earns criticism time and again. Nutrition experts criticise above all that it propagates the strict classification of food into "good" and "bad" and increases the risk of eating disorders. In addition, the strict renunciation of entire food groups can lead to nutritional deficiencies if suitable substitutes are not used.
All in all, however, one can definitely say that Clean Eating is healthy, as long as it is not practised in an extreme manner. For those who impose excessively strict dietary rules on themselves and eat a very restrictive diet are more likely to harm their health than help it.
What should I eat with Clean Eating?
If you want to eat according to the Clean Eating principle, you should adhere to the following dietary rules:
Eat according to the colours of the rainbow: Make your diet as colourful as possible and vary different types of fruit and vegetables.
Regional and seasonal: Food from the region that is in season contains the most nutrients.
Look for organic quality.
Nutrient-rich breakfast: Fill your energy stores with a healthy breakfast and start the day strong.
Avoid sugar and artificial sweeteners and use natural sweeteners such as honey or agave syrup instead.
No artificial additives: It is best to cook yourself to avoid preservatives, colourings, flavour enhancers and the like.
However, before you try Clean Eating, you should know that every body has its own individual needs. Therefore, these rules should not be followed blindly. If you are unsure which points are suitable for you, talk to your doctor or nutrition expert first.
The best Clean Eating recipes
Clean eating may sound a bit strict and difficult to implement at first. However, if you delve a little deeper into the concept, you will quickly realise that it does not have to be lived restrictively and offers numerous possibilities for delicious dishes.
We have collected the best Clean Eating recipes for you and explain what makes these dishes so healthy. Our top dishes include:
Overnight Oats
Baked Oats
Porridge
Homemade Porridge Biscuits
Bowls
Overnight Oats – time-saving and healthy
If you strictly follow the rules of Clean Eating, Overnight Oats are the perfect choice. Gluten-free oat flakes from the region form a solid basis for a quick breakfast and give you a kick start to your day without artificial additives. Add fresh fruit of your choice to provide the necessary vitamins and at the same time give your meal the desired sweetness – without refined sugar. Add organic oat flakes or porridge and you have a breakfast that meets all the criteria of clean eating in no time.
Since Overnight Oats are prepared the night before, it is the perfect recipe for those who are in a hurry in the morning.
Gluten-free Banana Overnight Oats
Ingredients
50

g

gluten-free Bircher Porridge

or gluten-free oat flakes

120

ml

milk or plant drink

1

pinch

of salt

1

banana

50

g

blueberries

1

tsp

agave syrup
Instructions
Put the gluten-free Bircher Porridge or the gluten-free oat flakes in a preserving jar.

Next, add 120 ml of a liquid of your choice (milk or plant drink) and mix the ingredients together.

Add a pinch of salt to your Overnight Oats and if you like your Overnight Oats sweet, add a teaspoon of agave syrup.

Place the jar in the refrigerator overnight or for at least 3 hours.

When your Overnight Oats are nice and creamy, you can take them out of the fridge.

Now you can refine your Overnight Oats with fruits of your choice. For this recipe we used banana and blueberries.
Baked Oats – the ideal nutrient combo
A little more time-consuming but by no means less delicious is our recipe for hazelnut-chocolate baked oats. The oven-baked porridge provides you with all the essential nutrients thanks to its high-quality ingredients. The porridge base provides long-chain carbohydrates (/blog/nutrition/what-are-long-chain-carbohydrates/) that keep you full for a long time. In addition, our Sport Porridge Chocolate Banana contains a lot of protein. Healthy fats are provided in the form of grated hazelnuts.
A bonus point for the delicious chocolatey scent it gives off while baking in the oven.
Hazelnut-Chocolate Baked Oats
Ingredients
110

g

oat flakes

300

ml

plant drink

1

egg

2

tbsp

maple syrup

1

tsp

baking powder

1

pinch of

salt

1

tsp

cinnamon

1

tbsp

cocoa powder

50

g

grated hazelnuts
Instructions
Preheat your oven to 190 degrees Celsius.

First put the porridge, oat flakes, baking powder, salt, cinnamon, cocoa powder and hazelnuts in a baking dish.

Next, put the vegetable drink, egg and maple syrup in another bowl and mix well.

Then mix the mixture from the bowl with the dry ingredients.

Finally, place the baking dish in the oven and bake the Baked Porridge for 30 minutes.

After the baking time, you can take the porridge out of the oven, let it cool briefly and then enjoy it.
Porridge – popular all-time classic
Porridge is a classic that can be adapted to suit all dietary needs. The warm porridge is made mostly of oat flakes – gluten-free if desired – and can be refined to your liking. Some of the best toppings include:
Fruit classics, such as apples or berries.
Nuts
Honey, cinnamon and cocoa
Exotic fruits like kiwi, mango or passion fruit
Chia seeds, flax seeds and hemp seeds
With our basic recipe for gluten-free oatmeal, we provide you with the basic framework for your ideal breakfast and give you enough room for your individual taste experience.
Basic recipe gluten-free oatmeal
Ingredients
60

g

gluten-free oat flakes or a gluten-free porridge mix

250

ml

water, milk or gluten-free vegetable drink (e.g. rice drink)

toppings of your choice
Instructions
Put the gluten-free oat flakes or porridge mix in a pot and then add the liquid (water, milk, gluten-free vegetable drink).

Then boil the porridge for 3 to 5 minutes.

When the porridge starts to become creamy, take it off the heat and let it sit for another 1 minute.

You can refine the gluten-free oatmeal with various toppings of your choice. Fruit, various seeds and nuts are suitable for this.
Homemade Porridge Biscuits
They must be sinful! Not quite, because our homemade Bircher porridge biscuits are organic, vegan, gluten-free and contain no refined sugar. With this, we put a tick under all dietary rules and provide proof that Clean Eating does not have to be associated with renunciation.
Whether as a quick breakfast or a sweet snack between meals, the porridge biscuits not only fill you up, but also curb your sweet tooth.
Recipe: Bircher Porridge Biscuits
Super delicious biscuits with our Bircher Porridge. The perfect snack for in between.
Ingredients
100

g

Verival Bircher Porridge

40

g

flour

50

ml

Milk or plant drink

1

pinch of salt

1

teaspoon

Vanilla sugar

1/2

teaspoon

Baking powder

Optional chocolate chips
Instructions
Preheat the oven to 180 degrees. 

Mix all the ingredients together for the dough.

Place the dough in small portions on a baking tray with baking paper. 

Bake the biscuits for about 20 minutes. 
Nutrition
Bowls
Bowls are a typical dish in Clean Eating and should therefore not be missing from your menu. They come in all kinds of varieties, both sweet and savoury. In the savoury version, so-called pseudo-grains are often used as a base, such as quinoa or rice. The whole thing is complemented with a colourful mixture of chopped vegetables and a protein source such as fish, meat or tofu. The dish is served in a bowl, hence the English name "bowl".
For sweet bowls, smoothies are often used as a base. But yoghurt is also ideal. Fresh fruit, seeds, nuts and granola serve as toppings. We have a recipe tip for you that is a perennial favourite!
Cashew Green Smoothie Bowl
Ingredients
50

g

Spinach

100

g

Mango

1

Kiwi

40

g

Cashews

30

g

Oat flakes

1

tbsp

Cashew butter

80

ml

Water

A dash of maple syrup

Possible toppings: Cashews, Verival Sport Muesli Strawberry-Sour Cherry, Linseeds
Instructions
Place all ingredients in a blender jug and mix well until creamy.

Then pour the mixture into a bowl. If you like, you can also add toppings like cashews, flaxseed or the Verival Sport Muesli Strawberry-Sour Cherry to your smoothie bowl.
Nutrition
Calories:
280
kcal
|
Carbohydrates:
30
g
|
Protein:
10
g
|
Fat:
13
g
|
Saturated Fat:
4
g
|
Fiber:
5
g
|
Sugar:
5
g
Recommended articles
Breakfast, Gesund leben, Healthy lifestyle
You probably already know that oat flakes are now considered as a real superfood and should therefore be an integral part of a healthy diet. But when preparing oat flakes you should consider a few small tricks so that the oat flakes do not taste too boring and get the right consistency. In this blog […]