Home-grown superfood, energy supplier and probably the healthiest breakfast there is. Oats have become a perennial favourite in the breakfast landscape. The many advantages that oats bring with them have now spread to many people. Even athletes no longer want to do without the energy bomb that is oats.
But why are oats really so healthy and what makes them the local superfood that we all love? We will answer these questions and more in today's blog post.
Oat flakes as the perfect breakfast
Whether as porridge or in muesli, oat flakes have become a breakfast classic. Oat flakes are perfect as THE healthy breakfast. More and more people are starting their day with a warm porridge. With plenty of fruit, the daily requirement of vitamins can often be covered very quickly and purposefully.
For athletes, oats have become a fixed item in the diet. Oats provide a lot of energy, which is extremely important for building muscle.
For many athletes, nutrition is extremely crucial for performance – in competitive sports, it is now common practice to eat according to a strict plan that is also perfectly coordinated with experts.
Oat flakes have an extremely high nutritional value – this means they supply the body with high-quality vitamins and important minerals. They also have a high satiety effect.
5 advantages of oat flakes
Oat flakes are therefore a real superfood and bring with them many benefits. Not only are oats very healthy, but oats are also mostly grown regionally, so they simply leave other superfoods standing. By having a good ecological footprint, you're not only looking after your body, but you're also looking after the environment at the same time.
We have summarised the best 5 benefits of oats and oat flakes below.
1. Oats are the miracle cure for weight loss
For many people, diets are usually tough and above all annoying. Often the wrong diets don't lead to the desired results. But oats can help you lose weight – and it's not too hard to do.
If you eat oat flakes for breakfast – preferably in porridge form, because warm breakfasts can also help you live healthier and more energetic – you'll be fuller for longer and can save yourself annoying snacks in between.
Oat flakes also give you a lot of energy. The high nutrient content of oats is responsible for this. So it's not just a lot of energy, but also extremely high-quality.
The long-chain carbohydrates contained in oats are very important for your body and make you feel fuller for longer. They also stimulate the burning of fat. What can't oats do?
2. Oats prevent diabetes and help you manage it
Especially for people with diabetes, oat flakes are an indispensable part of the diet. The high proportion of beta glucan in oats is considered to be insulin-saving or insulin-protecting.
After eating, the blood sugar level rises much less when you eat oats. Since the natural production of insulin is inhibited in diabetics, oats and their beta glucan are a great help.
Oats are also the perfect addition to the diet for people who are at risk of developing diabetes. Because if you prevent it early enough, you will have fewer problems later on.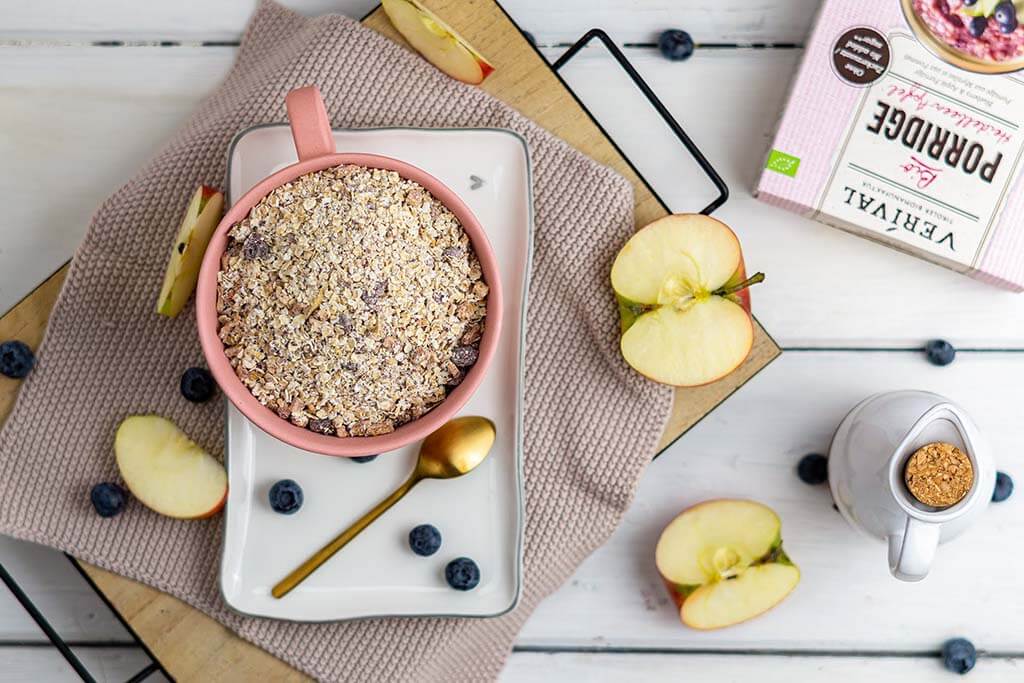 3. The natural cholesterol reducer oats
Oat flakes are considered a cholesterol reducer. They actively contribute to keeping blood lipid levels balanced. Cholesterol and triglycerides are vital components of the blood.
Too high cholesterol levels lead to the fatty degeneration of blood vessels. The consequences are that deposits form and you have an increased chance of heart attacks or strokes. Beta glucan is also the most important part of prevention in this regard.
Beta glucan binds bile acid and water, which have the job of dissolving fat in the body. So by taking oats and beta glucan, you naturally consume cholesterol.
A portion of muesli or oat porridge contains 3-5 grams of beta glucan. If you consume oats regularly, you will notice a positive development relatively quickly.
4. Oat flakes as a digestive aid.
Oatmeal helps as a true digestive aid due to its high fibre content. The only important thing is not to forget to drink enough!
Oat flakes are still considered a tried and tested household remedy. They can alleviate symptoms of gastrointestinal diseases in particular.
The indigestible fibre contained in oat flakes keeps the acidic gastric juice away from the mucous membrane like a protective layer. In addition, boiled oatmeal with water or milk stimulates digestion.
5. Oats help and prevent many diseases
Whether it's diabetes, heart disease or intestinal illness – oats can help in many cases. With the many healthy substances contained in oats, you really do prevent extremely many diseases.
With the many antioxidants you prevent high blood pressure. This happens through a higher production of nitric oxide. The gas molecule nitric oxide dilates the blood vessels and thus improves the blood flow.
In addition, the consumption of oats can prevent inflammation and itching. In general, antioxidants are good for protecting the body from free radicals, premature ageing of the tissues and even cancer.
Healthy breakfast with oats – here's how to make it happen for sure!
Print Recipe
Basic recipe: Oatmeal
A simple basic recipe for the popular porridge that has become an integral part of most breakfast tables.
Ingredients
250

ml

milk or a plant-based alternative

50

g

oat flakes

A pinch of salt

2

tbsp

honey or agave syrup

1/2

tbsp

cinnamon 
Instructions
Heat up the oat flakes with a pinch of salt and the sweetener of your choice (honey or agave syrup) in the milk or plant-based drink (do not forget to stir well).

Let the porridge steep for 3 minutes.

Put the porridge into a bowl and sprinkle it with cinnamon.
Nutrition
We have now discussed at length that oats are probably the healthiest and only real local superfood. But how can you best incorporate oats into your breakfast?
Basically, it is not difficult to include oats in your diet. But if you don't like breakfast, you don't have to give up oats altogether.
There are many delicious recipes with oats that are more suitable in the evening, such as oat and zucchini pancakes from the pan. Basically, however, oats are best for breakfast.
How about an oat drink instead of conventional milk in your coffee or tea? Smoothies also taste great with oat drink. Just use oat drink instead of water and enjoy.
Print Recipe
Recipe: Homemade oat milk
Have you ever tried making your own oat milk for muesli or porridge? It's very quick to prepare – and you only need a few ingredients.
Equipment
Blender

colander

Bowl

carafe or bottle for storage
Ingredients
100

g

oat flakes

1

l

water

a little more water

to soak the oat flakes

1

pinch of

salt

vanilla flavouring

optional
Instructions
Soak the oat flakes in water for about 15 minutes.

Put the oat flakes in your blender with a date, a pinch of salt and about a litre of water. If you like, you can add some vanilla flavouring to easily turn your oat drink into a vanilla version. Blend the ingredients in the blender for about 1 minute.

Finally, take a strainer and a bowl and pass the oat milk through the strainer to filter out any lumps from the plant milk and collect the clear oat milk in the bowl.

And you can enjoy your muesli, your overnight oats or your warm porridge with your own oat milk.
Nutrition
Serving:
125
ml
|
Calories:
48.7
kcal
|
Carbohydrates:
8.2
g
|
Protein:
1.7
g
|
Fat:
0.9
g
Speaking of smoothies, have you ever tried adding oat flakes to your smoothie? If not, you're missing out, because not only do the little flakes taste wonderful, they also add a nice brunch to your smoothie. A real recommendation!
If you don't like smoothies, you might be more of a porridge fan? So our porridges are not only our first choice. Whether it's porridge especially for athletes with lots of protein or, for example, our strawberry chia porridge – everyone will find the right dose of oats here.
Oats are also a welcome guest in muesli and muesli bars. That's why Bircher muesli is so healthy – fresh apples and oat flakes as well as the extremely gentle preparation make Bircher muesli a real hit!
Recommended articles
Breakfast, Gesund leben, Healthy lifestyle
You probably already know that oat flakes are now considered as a real superfood and should therefore be an integral part of a healthy diet. But when preparing oat flakes you should consider a few small tricks so that the oat flakes do not taste too boring and get the right consistency. In this blog […]