Healthy nutrition has become one of the most important topics for many people. The body and health suffer from poor or wrong nutrition. It is exactly the same with children. Due to the constant growth of children, proper nutrition and the right nutrients are especially important. In today's blog post, we explain which nutrients are particularly important for children and what an optimal diet for children looks like in general.
This is what optimal child nutrition looks like
Optimal nutrition is important for children because it provides them with the necessary building blocks for everyday life. When children move a lot and are active, they also need more energy and thus more calories.
However, energy intake is normally regulated by natural hunger pangs. Too much food is also fatal for children – they quickly become overweight, which is very unhealthy.
How to start with the right child nutrition
There are a few simple but important building blocks for a healthy and nutritious diet for children. Variety plays a big role.
Children are very curious and always want to discover a lot! It is the same with food. You can try to create many different meals for your children – different colours, consistencies, smells and tastes will lead to the desired success.
From the age of about one year, children should definitely participate in family meals. Well prepared and in the right quantities, the normal family diet can meet the nutritional needs of every child – as long as the diet is varied.
Elaborate recipes or perhaps even calorie counting can definitely be dispensed with. Children are uncomplicated in their nutrition, even if one would often not suspect it.
The basic building blocks for proper child nutrition
Even though child nutrition is not supposed to be complicated, there are a few things you should definitely keep in mind.
Drinking enough is probably the most important part of a child's diet. Water is best – at least you should make sure that your child drinks unsweetened or sugar-free beverages. Added sugar is counterproductive for children and their development.
Vegetables, fruit and cereals – The 3 basic building blocks of proper child nutrition
You should also make sure that the meals you prepare contain a lot of plant-based foods. Vegetables, fruit, cereals – these 3 basic building blocks should not be missing from any meal. Even though children often shy away from "greens", they are an important part of the diet.
Animal foods should ideally only be offered in moderation. Meat, fish, eggs, milk and yoghurt are not unhealthy, but only in moderation.
In addition, you should be a little more sparing with seasoning – especially when it comes to salt, children often have a different perception than adults. Snacks, sweets and high-fat products should be avoided as much as possible. Of course, this is not always possible, but excessive consumption of sugar and other products can quickly lead to obesity and secondary diseases.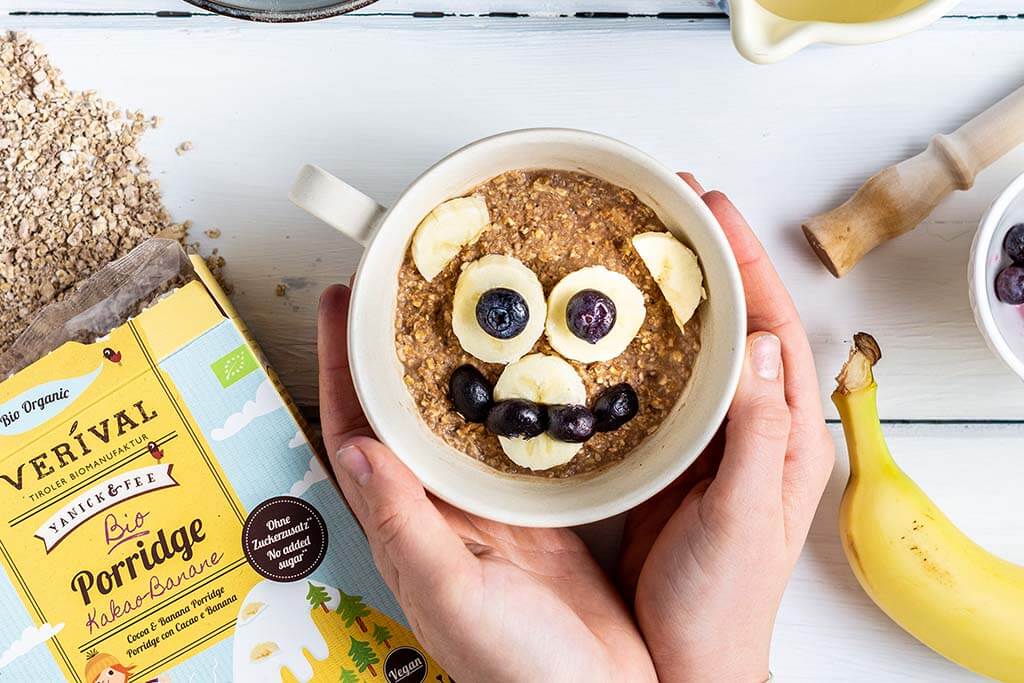 These foods should not be missing from any child's diet
In order for children to reach their full potential, nutrition is very important – we have already established that. But what foods should definitely not be missing from children's diets now?
Vegetables, pulses and fruit are the basic building blocks of a healthy diet. 5 portions, preferably varied, are a good starting point. For example, cut up an apple or perhaps make an apple puree? The more variety, the better.
Cereals and potatoes are also an important part of a balanced child's diet. Of these, 5 portions are also sufficient. Cereals, pasta, rice or potatoes taste very good and are very healthy!
Yoghurt, curd cheese and cheese are important sources of calcium and are also part of a proper diet.
Fish and meat should be on the menu, but rather infrequently. Fish, for example, is sufficient twice a week. Fatty fish such as salmon, mackerel, tuna or char should be on your plate. You can be even more sparing with meat. The rule is: leave it natural and don't coat it in breadcrumbs.
Breakfast is especially important for children
You should not skimp on breakfast with children. Just like adults, children's energy stores empty during sleep and need to be recharged in the morning. If this doesn't happen, they struggle with tiredness and low energy all day.
So cereal, yoghurt and milk is very easy to prepare in the morning. One of our delicious mueslis, such as the Verival Bircher Muesli not only tastes extremely delicious, but is also very healthy. According to the original recipe of Max Bircher-Benner, the Bircher Muesli contains a lot of nutrients and healthy ingredients!
These vitamins and minerals are particularly important
We have clarified which foods should definitely not be missing from children's diet. But which vitamins and minerals do they provide? And which ones really should not be missing?
Calcium
Calcium is a very important component of a child's diet and very important for bones and teeth. Children between the ages of three and six need 750 milligrams. This can be perfectly met with milk, for example.
Vitamin A, C, D and E
Vitamin A takes care of growth and sharpens the senses. Vitamin C provides natural defences, vitamin D is just as important for bone structure, but also for muscles. Finally, there is vitamin E and this vitamin takes care of the protection of the cells.
Magnesium, iodine
The body forms thyroid hormone via iodine, which influences the growth of the brain. Magnesium is important for bones and muscle development. Magnesium is best supplied in whole grains or dairy products.
Complex carbohydrates as an energy supplier in the diet of children
Complex carbohydrates are not only important for adults, but definitely also for children. The saying: "Eat up so that you grow big and strong" is not correct in principle – but when it is used, it is best in relation to complex carbohydrates.
Porridge and muesli with whole grains – the ideal breakfast for children
Simple carbohydrates are found in industrial sugar, for example, and should be avoided as much as possible. Complex carbohydrates are found in whole grain products such as muesli or porridge, as well as vegetables or fruit. Oat flakes are also very suitable for children and are whole grain.
Carbohydrates are the energy supplier for children. With the right carbohydrates, you are full for a long time because complex carbohydrates are absorbed more slowly by the body. This means that the blood sugar level rises more slowly, which means that you stay full longer and cravings are avoided.
3 Healthy breakfast recipes for children's diets
And because healthy breakfasts for children in particular should not be neglected, here are 3 recipe ideas that are especially suitable for children.
1.warm porridge
Porridge or oatmeal is suitable for children of all ages. The oat flakes or other cereals it contains make it particularly easy to digest and provide the child with valuable vegetable proteins, complex carbohydrates and fibre. Porridge can be refined with various toppings such as fruits, nuts or seeds and is thus the perfect breakfast for every day.
Basic recipe: Oatmeal
A simple basic recipe for the popular porridge that has become an integral part of most breakfast tables.
Ingredients
250

ml

milk or a plant-based alternative

50

g

oat flakes

A pinch of salt

2

tbsp

honey or agave syrup

1/2

tbsp

cinnamon 
Instructions
Heat up the oat flakes with a pinch of salt and the sweetener of your choice (honey or agave syrup) in the milk or plant-based drink (do not forget to stir well).

Let the porridge steep for 3 minutes.

Put the porridge into a bowl and sprinkle it with cinnamon.
Nutrition
2. muesli for children
Muesli and Overnight Oats are real breakfast classics. Because they are so healthy, they are also great for kids and can be prepared quickly. The best? Mueslis and Overnight Oats are very versatile, so there's no chance of getting bored.
Raspberry-Bircher Muesli
The Bircher muesli for berry lovers! Instead of grated apples, raspberries are used here – although it's best to use fresh berries during the berry season, and frozen ones when they're not in season. The Verival seed mix with flax and chia seeds gives the Overnight Oats an extra dose of fibre.
Ingredients
50

gram

oat flakes

50

gram

raspberries (fresh or frozen)

100

ml

almond milk

1

tbsp

Verival Good Morning Seed Mix (or linseed/chia seed)

15

gram

chopped almonds

1/2

lemon

1

tbsp

maple syrup
Instructions
Put the oat flakes, Verival seed mix (or flaxseed) and about half of the raspberries in a jar and mix with the almond drink and the juice of half a lemon.

Close the jar or cover it and leave it in the fridge overnight

Remove from the fridge, stir well and mix in the chopped almonds and maple syrup.

Top with the second half of the raspberries. Done!
Nutrition
Serving:
245
g
|
Calories:
418.4
kcal
|
Carbohydrates:
47.5
g
|
Protein:
13.8
g
|
Fat:
16.6
g
3. healthy breakfast muffins
Healthy breakfast muffins or energy balls are the perfect choice when breakfast has to be quick or your child likes to eat breakfast at school. They are quick to prepare and can be adapted to your child's individual taste. It is important to make sure that the ingredients are healthy.
Breakfast muffins with cocoa and banana
Quick and easy to prepare, the muffins are a healthy breakfast or a high-fibre break snack for young and old without added sugar.
Ingredients
2

Very ripe bananas

130

g

Wheat or spelt flour

1

pack

Baking powder

85

ml

Sunflower oil

135

g

Natural yoghurt

80

ml

Milk

optionally also plant drink
Instructions
Preheat the oven to 200 °C top/bottom heat. Line a muffin tray with paper cups.

Peel the bananas and mash them with a fork.

Add the sunflower oil, yoghurt and milk to the mashed bananas and mix everything together with a whisk.

In another bowl, mix the wheat flour with baking powder and the porridge.

Then add the dry ingredients to the banana mixture and mix with a hand mixer.

Divide the muffin batter into the paper cups and sprinkle some Porridge Banana Cocoa on top.

Bake the muffins in a hot oven (centre) for about 20 minutes.

Leave the muffins to cool and then enjoy.
Recommended articles
Breakfast, Gesund leben, Healthy lifestyle
You probably already know that oat flakes are now considered as a real superfood and should therefore be an integral part of a healthy diet. But when preparing oat flakes you should consider a few small tricks so that the oat flakes do not taste too boring and get the right consistency. In this blog […]