Oats are the all-rounder among the cereals. Especially in recent years, oats have experienced a real boom – and rightly so! Oat flakes are becoming more and more popular because of their healthy nutrients, fatty acids and all the other benefits they bring with them.
Almost everyone knows about the health benefits of oats by now. However, it is a mystery to many how to naturally incorporate oats into a healthy breakfast. Probably because the flakes seem so inconspicuous.
With this blog post, we want to show you how you can incorporate oats into your healthy breakfast – so that you too can enjoy all the benefits of this inconspicuous superfood cereal.
Oatmeal – the healthy superfood
By now, everyone has at least heard that oatmeal and porridge are really healthy. But why exactly oats are considered a superfood is something few people really know.
Oats – full of unsaturated fats
Fat is an essential component of our food and should therefore not be missing from any meal. Basically, a distinction can be made between unsaturated and saturated fatty acids. In principle, unsaturated fatty acids are considered healthy fats.
However, this does not mean that saturated fatty acids in smaller quantities cannot also be healthy. This is because saturated fatty acids act as messengers for our body. But unsaturated fatty acids are particularly healthy, especially if they are polyunsaturated fatty acids. However, the body cannot produce polyunsaturated fatty acids. That's why it's especially important that we don't forget to get them from food.
Omega-3 and omega-6 are particularly important fatty acids for our body. Oats contain both of these important fatty acids! In addition, oats are probably the most important source of protein among cereals – with more than 13% protein content.
Protein and oats – the perfect combination
Oats are rich in vegetable proteins. That's another reason why we love it so much! So for people who want to get their protein mainly from plant foods, oats are a really great source of protein. Plant proteins are often easier to digest, low in cholesterol and contain the healthier fatty acids.
Oats – a grain full of complex carbohydrates
Carbohydrates are a no-go for many people. This is because sugar is usually consumed in the form of simple sugar, which causes the blood sugar level to rise rapidly and only satiates you for a short time. Too much simple carbohydrate consumption can therefore lead to unwanted weight gain in the long term.
Nevertheless, carbohydrates are the main source of energy for the human body. Therefore, if you consume carbohydrates, you should rather go for complex carbohydrates, which consist of multiple sugars. The molecular structure of complex carbohydrates is longer than that of carbohydrates made from single or double sugars and therefore has many positive effects on your body.
Complex carbohydrates keep your blood sugar level more constant, keep you full longer and prevent cravings. So why not start your day with oats and complex carbohydrates at breakfast, which keep you full for a long time? In this way you ensure the right start to the day – and as we all know, this is particularly important.
Lose weight with oats
Oats are considered the weight loss aid par excellence. Experts consider the oatmeal diet to be one of the best diets, as the many nutrients and ingredients prevent deficiencies. With the oatmeal diet, you should eat about 250g of oats per day.
The diet promises that you can still lose weight without hunger. It is important not to exceed a total of 1300 calories per day.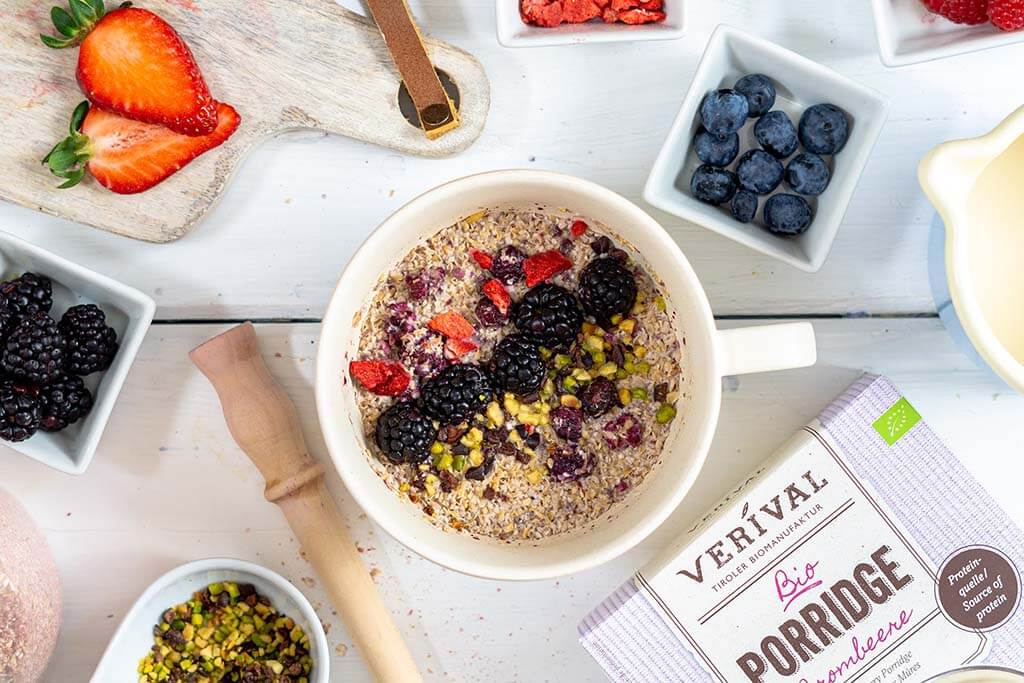 Slow carbs are the best carbs
As the name suggests, the slow carbs diet is based on the low carb diet. However, the slow carbs diet is not about avoiding carbohydrates altogether, but only eating very high-quality carbohydrates. The trick with this diet is that your body then draws on fat reserves for energy.
Oats also fall into this category of slow carbs, because they also contain only the good and very healthy complex carbohydrates.
Breakfast ideas with oatmeal
1. porridge
Porridge is probably the most accessible form in which oatmeal is enjoyed today. There are also more and more types and forms of the flakes. Porridge is especially good for breakfast. It is not only because oats are generally very healthy that one should think about porridge breakfast.
We already know from traditional Chinese medicine that warm foods are very good for the body. And this is also true with porridge.
Porridge – the healthy oatmeal-based breakfast
The reason why porridge is considered such a healthy breakfast is that it brings your body and you a variety of positive effects.
The classic version of porridge not only contains the superfood oatmeal and thus plenty of healthy nutrients, but also fills you up for a long time and keeps your immune system fit.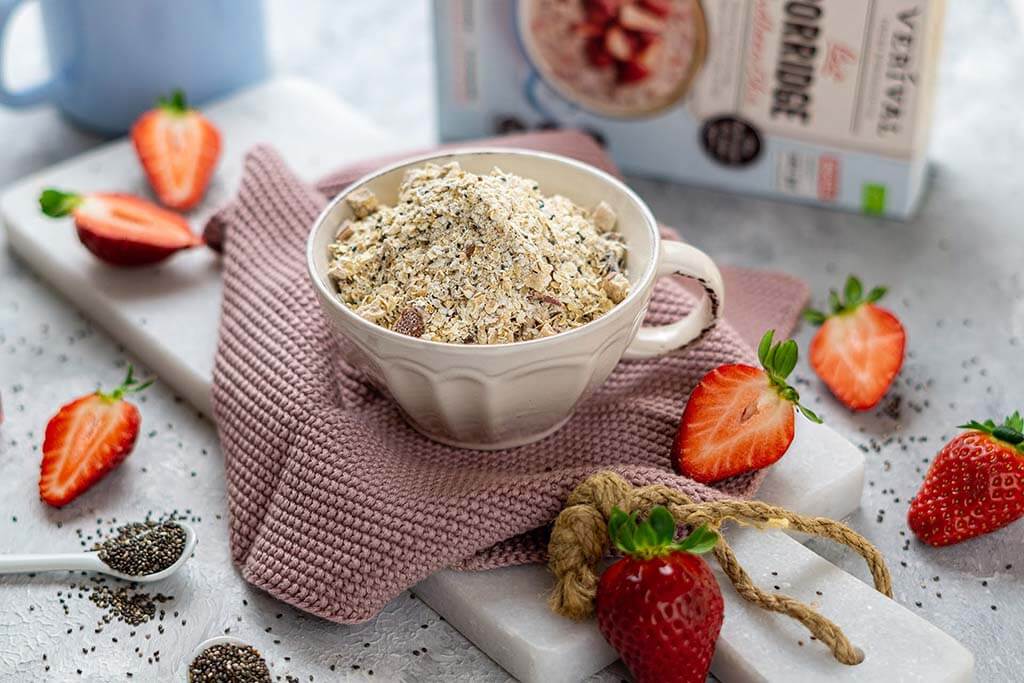 2. muesli
Muesli is the classic breakfast option. Nutritious, easy to prepare and generally very tasty. What more could you want? Especially with the right mueslis, you can sweeten up your morning quite a bit – without necessarily having to eat sugar 😉
3. overnight oats
Overnight Oats are oatmeal that has been soaked overnight. The basic Overnight Oats recipe consists of rolled oats, milk or water and fresh fruit. This porridge is prepared in a jar and simply goes into the fridge overnight. Cold porridge, so to speak. Perfect for morning grouches – anyone who is short on time in the morning but still wants a healthy breakfast.
4. biscuits and muffins
Biscuits and muffins probably set off alarm bells for some people. Sugar, fat, chocolate – to use just a few buzzwords. But it's not quite like that, because there are also low-sugar and equally vegan options for muffins and biscuits.
Recipe: Bircher Porridge Biscuits
Super delicious biscuits with our Bircher Porridge. The perfect snack for in between.
Ingredients
100

g

Verival Bircher Porridge

40

g

flour

50

ml

Milk or plant drink

1

pinch of salt

1

teaspoon

Vanilla sugar

1/2

teaspoon

Baking powder

Optional chocolate chips
Instructions
Preheat the oven to 180 degrees. 

Mix all the ingredients together for the dough.

Place the dough in small portions on a baking tray with baking paper. 

Bake the biscuits for about 20 minutes. 
Nutrition
3 breakfast recipes with oats
To give you a little inspiration, we'll give you a few delicious recipes right here. This is how your healthy breakfast with oats will work:
Oat Hazelnut Biscuits
Oat Hazelnut Biscuits: The perfect combination of oats, which supply various nutrients, and hazelnuts, which serve as nourishment for the nerves. Health for body and mind.
Ingredients
125

g

soft butter

1/2

teaspoon

vanilla sugar

100

g

sugar

30

g

honey

1/4

teaspoon

salt

1/2

egg

60

g

flour

50

g

fine oat flakes

50

g

ground hazelnuts
Instructions
Preheat the oven to 180 degrees.

Stir the butter with the vanilla sugar.

Mix in the sugar, honey, salt and egg.

Add flour, baking powder, oat flakes and hazelnuts. 

Mix everything well and spread in small portions on a baking sheet. 

Bake the biscuits for about 15 minutes. 

Allow the finished biscuits to cool. 
Oatmeal breakfast with strawberries – Super DELICIOUS!
Oatmeal for breakfast is not only super delicious, but also healthy. Oatmeal offers lots of healthy benefits for your body. They give you the energy you need, keep you full for a long time and provide you with the nutrients you need for a successful day.
You can create really great recipes with oatmeal. You can find one here and many more on our website. Have fun!
Ingredients
40

g

oatflakes

180

ml

plantmilk

15

g

coconut flakes

100

g

strawberries
Instructions
First, take a bowl and put the oatmeal in with the plant drink.

Then mix in the coconut flakes and mix everything together well. 

Then put the oatmeal breakfast in the fridge for about 3 hours or overnight. 

When the oat flakes have risen in the liquid, take the bowl out of the fridge. 

Next, puree some strawberries and pour them over your Overnight Oats.

Now you can refine the Overnight Oats with toppings of your choice. For example, you can use nuts, various seeds such as flax or chia seeds and fruit. 
Nutrition
Low-calorie porridge with courgette and oat flakes
Ingredients
40

g

oat flakes

1/2-1

courgette

30

g

protein powder (optional flavour)

1

tbsp

coconut flour

300

ml

water

1

pinch

salt
Instructions
First grate the courgettes into small pieces. It's best to grate them straight into the pot.

Then add the oat flakes and the protein powder.

Next, add the water to the pot and a teaspoon of coconut flour. The coconut flour makes the porridge nice and creamy and binds it together.

Now put your porridge on the cooker and cook it for about 7 minutes on medium heat. Keep stirring well.

When your porridge is already creamy, take it off the heat and let it sit for another 2-3 minutes. After that, your delicious porridge is ready without many calories.

Of course, you can now refine your porridge with toppings of your choice, such as fresh fruit, nuts or seeds.
Nutrition
For us at Verival, oats always play a big role. Not only are our oats always grown locally, but we also place great value on sustainability when selecting the varieties. So in our products like the strawberry chia porridge, the local superfood is in good hands.
Our porridges have no added sugar – this means we avoid unnecessary industrial sugar in our porridges and that's what makes them so healthy. They are also vegan, gluten-free and lactose-free. In addition, our porridge is rich in plant proteins! So if you're looking for healthy sources of protein, you'll find it in our porridge.
For athletes, our Sport Protein Porridge Cocoa Banana is perfect. With our Sport Porridge you already cover 20% of your daily protein requirement. With gluten-free oat bran, sunflower protein, pumpkin seed protein and linseed, you are well supplied with vegetable proteins.
Recommended articles
Breakfast, Gesund leben, Healthy lifestyle
You probably already know that oat flakes are now considered as a real superfood and should therefore be an integral part of a healthy diet. But when preparing oat flakes you should consider a few small tricks so that the oat flakes do not taste too boring and get the right consistency. In this blog […]