Oatmeal has probably become one of the most popular breakfast dishes in recent years. Whether young or old, oatmeal is loved by all. And that makes a lot of sense! Because porridge is not only extremely delicious, but also extremely healthy!
Porridge is one of the healthiest breakfast dishes you can have in the morning. Why porridge is considered a "local superfood" and how you can use it to lose weight healthily and why porridge is also the best breakfast for losing weight, we will tell you in today's blog post.
Oats as a superfood?
Superfood is basically a word that has perhaps been used a little too much in recent years. People don't think of oats directly, but rather of chia seeds and goji berries. But that is largely a misconception. For real superfoods, you don't necessarily have to go "exotic"! All it takes is a little peek over the house wall 😉
In the case of oats, it has taken quite a while before they are now slowly being recognised for what they are. And this despite the fact that the history of oats is a very, very long one. Its potential was already seen in its early days. For example, the doctor Maximilian Bircher-Benner invented Birchermues, now known as Bircher Muesli.
Bircher Müsli was conceived by Bircher Benner quite simply as a dietary food made from oatmeal. He apparently knew early on about the health benefits of the cereal. However, it took quite a while for oats to make the leap into the mainstream. Today, a healthy breakfast without oats has become almost unthinkable – the flake is now a fixed component on every decent breakfast shelf.
Due to its regionality and health benefits, porridge is now truly indispensable. But what are the benefits of eating oatmeal for breakfast?
Why exactly is porridge so healthy?
Oats are probably one of the healthiest breakfast foods there is. Due to the very gentle production process, oats retain almost all their nutrients. So it is not for nothing that they are a healthy basis for muesli, porridge, oatmeal and other dishes such as granola bars or overnight oats. Oats or porridge are especially good for breakfast.
In addition, oatmeal is largely gluten-free and vegan and is characterised by its simple and versatile preparation, which makes oatmeal an ideal component of various diet plans and diets – by the way, also for allergy sufferers. Especially for breakfast, porridge or oatmeal is a real pick-me-up.
Oatmeal is good for the stomach and intestines, lowers blood sugar levels and helps lower cholesterol. In addition, oats are characterised by many vitamins (B1, B2, B6, vitamin K and E) and a high nutritional value. This is precisely why people talk about oats being a real superfood!
Lose weight with oats – that's how!
So, as you can see, there's no denying that the grain is healthy – but can oats also help you lose weight? That always depends on how you approach the diet – if you don't follow certain basic rules, it can not only be difficult to lose weight, but also lead to nutritional deficiencies. But that's the way it is with any diet – a fixed set of rules will help you to dangle through the diet jungle more easily.
Basically, oats are a great food if you want to lose a few kilos. This is mainly due to the fact that oatmeal has a high fibre content, which makes it very filling for a long time.
This effectively prevents cravings and you reach for the snack box less often. In addition, oats contain a relatively high amount of protein, which is known to promote muscle building if you also exercise in addition to changing your diet to further support weight loss.
The idea of the oatmeal diet is as follows: You should eat 250 grams of oatmeal throughout the day. These can be combined in any way – the only important thing is that the total calorie count of 1000 to 1300 kcal per day is not exceeded. However, this calorie amount is basically very low and should only remain so for the duration of your diet.
As with any diet, we recommend that you first consult a specialist to discuss your plan. Even though the oatmeal diet is basically not dangerous, it is important to first talk to an expert who can inform you about potential risks and guide you along the way.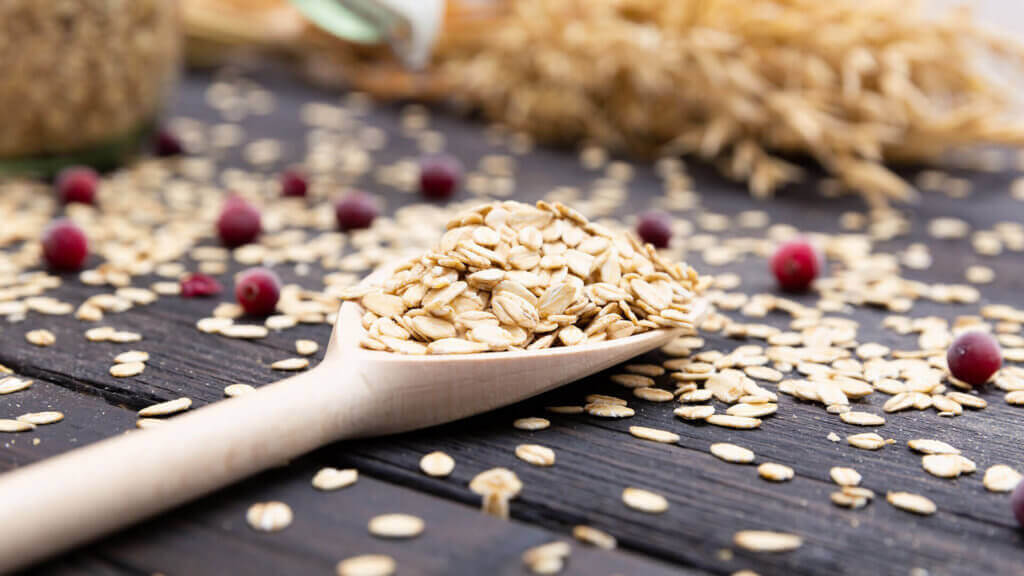 Warm breakfast with porridge as a weight loss aid
The reason why the oatmeal diet is so popular and healthy is because porridge is usually eaten as a warm meal. A warm breakfast is the best form of breakfast. This was already known in traditional Chinese medicine.
The warm start to the day makes porridge even easier to digest and your body doesn't need as much energy – because the food is already at the right temperature for your body. So you have energy left over for other things 😉 .
Warm breakfast also strengthens your immune system and is good for fatigue! You can almost eat yourself "awake" with a warm breakfast if your morning coffee doesn't have the desired effect. Eating a warm breakfast also increases the bioavailability of your food. This means that the nutrients contained in your food are absorbed faster and better.
If you're craving porridge now, here's a delicious recipe for you:
Print Recipe
Low-Calorie Porridge
Simple porridge recipe for weight loss. Garnish your porridge with the right toppings and you have a fantastic, healthy porridge that will help you lose weight.
Ingredients
50

g

oat flakes

1

pinch of

salt

130

ml

water

healthy toppings: e.g. berries, healthy fats (almond paste)
Instructions
Heat the water (for example in a kettle)

Put the oat flakes in a bowl with a pinch of salt

Pour the boiling water into the bowl 

Stir the porridge well until it has reached a creamy consistency

Decorate the porridge with your toppings
Nutrition
Recommended articles
Breakfast, Gesund leben, Healthy lifestyle
You probably already know that oat flakes are now considered as a real superfood and should therefore be an integral part of a healthy diet. But when preparing oat flakes you should consider a few small tricks so that the oat flakes do not taste too boring and get the right consistency. In this blog […]