In this blog post you will learn everything you need to know about hazelnuts. Find out what nutritional values the hazelnut has, where it comes from, how healthy it is and in which recipes it is used. Learn about the handling of the nut and why it is the perfect food for your brain and nerves. Find out where our Verival hazelnuts come from and which mueslis and snacks contain them.
A good overview of all nut varieties and what they can do can be found in our blog post: "Nuts and their nutrients".  
The hazelnut bush
The shrub on which the hazelnut grows is the so-called "common hazel" or "hazelnut bush". It belongs to the birch family, grows about 5 meters high and can live up to 100 years. 
Originally the hazelnut bush comes from Asia Minor, but also from Europe. Today it exists in Europe, Asia and the USA. The hazelnut is a very robust plant. It is even considered one of the oldest plants in Europe.
The hazelnut is in season from September to January. The fruits are only ripe when they take on a brown colour and fall to the ground by themselves. The shrub does not flower in spring like most plants, but from February to March.
The product hazelnut has a good CO2 balance. The CO2 balance includes the production site, the production method, all transport, storage, processing and packaging.
Why are hazelnuts so healthy?
Like so many other types of nuts, hazelnuts are also good for people's nerves and are therefore often part of trail mixes. But why are the little nuts so healthy for the brain? Hazelnuts have a high lecithin content, which has a positive influence on the nerve function and memory. The magnesium, vitamin E and niacin content is also important for the nerves and brain.
They also contain calcium, phosphorus and iron. The two minerals calcium and phosphorus strengthen our bones and ensure healthy teeth. Also, the increased iron content is clearly a great characteristic of the nut.
The hazelnut also has a relatively high fibre content, which has a positive effect on digestion. 
Besides the positive influence on memory, the intake of hazelnuts also has a positive effect on cholesterol levels and blood pressure. They are also true vitamin wonders. 50 grams of hazelnuts cover the daily requirement of vitamin E. Vitamin E has mainly an antioxidant effect in the body, but also has an anti-inflammatory effect and supports the immune system.
The heart and blood vessels are strengthened by the unsaturated fatty acids in the nuts. This can reduce the risk of cardiovascular diseases.
However, due to their high fat content hazelnuts also have many calories, they are a real calorie bomb. So, if you want to lose weight, you should only consume these small nuts only in small amounts. 
With a protein content of 12 g per 100 g the hazelnut is also rich in protein. This is especially interesting for a vegan and vegetarian diet.
The nutritional values of the hazelnut
Are hazelnuts suitable for nut allergy sufferers?
Allergy sufferers in particular should not simply consume the hazelnut carelessly – because it can trigger allergies. Especially people who are allergic to birch pollen should be careful – this can lead to cross-reactions.
Possible symptoms may be swollen eyes and lips or an upset stomach. Unfortunately, in extreme cases the intake of hazelnuts can also have life-threatening consequences.
The handling of the hazelnut
We recommend buying organic hazelnuts, for example our Verival hazelnuts. Our hazelnuts are 100% from organic cultivation. They are ideal for vegetarians and vegans.
The nuts generally tend to get mouldy or rancid quickly. The latter mainly due to the high fat content. You can recognize rancid nuts immediately by smell or taste. If hazelnuts are mouldy, they taste bitter.
It is therefore particularly important to store these nuts correctly. Correct storage means storing the nuts closed in a dry, cool and dark place. Ground or sliced hazelnuts should be consumed or used up rather quickly. If the nuts are stored properly, they should have a shelf life of one year.
So, if I buy hazelnuts, how can I make sure they're not bad yet? For whole nuts in shell you can shake them. If you shake the nuts and it rustles, it means that it is no longer good. A fresh nut lies tight in the shell.
I have found a hazelnut with its shell, but no nutcracker at home, how can I open the nut now? It is best to wrap the nut in a towel, place a pasta roller or a wooden spoon on it and hit it with your flat hand. Then the shell should be open. After the fresh hazelnut is cracked, it should be dried for another 4-6 weeks. 
How can I prepare hazelnuts?
It is impossible to imagine the cooking and especially baking without hazelnuts. We use them in so many different recipes, such as cakes, chocolate, biscuits or even as pulp. But they can also be used simply as a snack for in between.
There are so many different possibilities to use the little nut. In most recipes the hazelnuts are roasted or ground, mainly for baking and decoration. You can use the nuts as topping for our Verival mueslis or porridges. Hazelnut oil is also particularly popular.
Also highly recommended is the hazelnut cream. And for those who want to avoid palm oil and therefore do not want to use Nutella: there are numerous alternatives.
Print Recipe
Healthy vegan hazelnut chocolate spread
Ingredients
90

g

hazelnuts

120

ml

plant-based drink

15

g

cocoa powder

1

tsp

vanilla extract

2

tbsp

agave syrup or maple syrup

1

pinch of salt

coconut oil
Instructions
First put the hazelnuts in your blender or food processor and grind them.

Then add the remaining ingredients to the mixer until you have a creamy mixture.

You can eat the vegan hazelnut cream immediately. You can use it, for example, as a spread for your breakfast bread or to refine your porridge or overnight oats.

It is best to keep the spread in a preserving jar. It will stay fresh for about 3-4 days.
Nutrition
Calories:
140
kcal
|
Carbohydrates:
6.6
g
|
Protein:
3.2
g
|
Fat:
10
g
But hazelnuts can also be used for savoury dishes, for example for bread, in pesto instead of pine nuts or in dishes with chicken.
The hazelnut milk
Since many people nowadays avoid using cow's milk, there are already many plant-based alternatives available. In addition to soy, oat and rice milk, there are many nut-based drinks, such as almond milk or cashew milk. A delicious hazelnut milk can be made from hazelnuts. Because of its sweetness it can be used for desserts. But the hazelnut drink also goes well with cappuccinos, as it foams very well.
You can also make the vegan hazelnut milk very easily yourself. Soak about 100g of hazelnuts in water overnight. After the hazelnuts are nice and soft, you can drain the water.
Put the hazelnuts in the blender together with a sweetener of your choice (you can use dates, agave syrup or date syrup) and 1l of water. Mix the ingredients well until they have become a fine milk.
Finally, you let the hazelnut milk run through a sieve or alternatively use a nut milk bag to remove small pieces from your milk.
Here you can learn how to make other plant drinks yourself.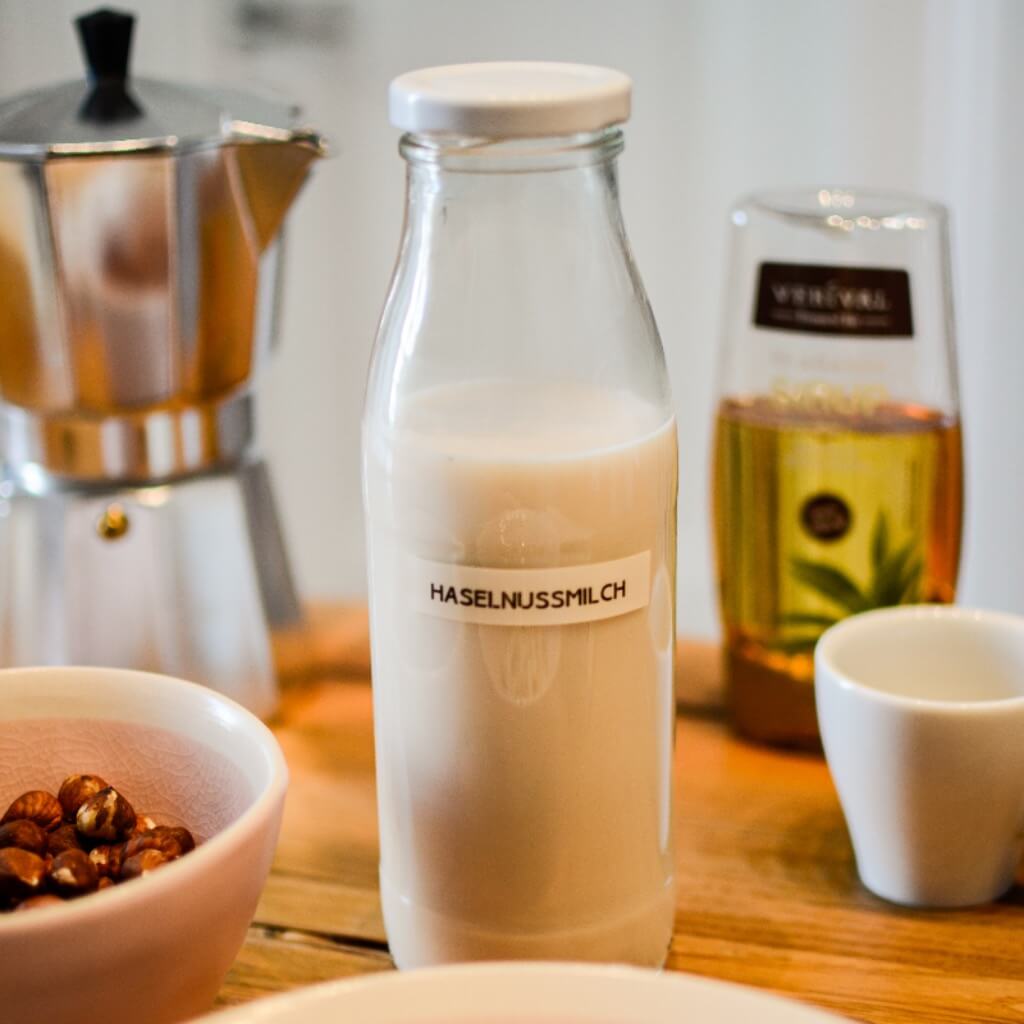 Our Verival hazelnuts
The kind of hazelnut we source has the beautiful name Atababa. It is an old variety that is less susceptible to pests. The shrubs are between 4 and 15 years old. Find out now where our hazelnuts come from and in which products we use them.
Where do our hazelnuts come from? 
For a long time, we have imported our hazelnuts from Turkey. But now we buy them from a German company that buys the products from Azerbaijan. The company supports small hazelnut farmers there. The hazelnut fields are located in the Caucasus, in the part of Azerbaijan bordering Russia and Georgia.
So why Azerbaijan and not Turkey? The country in the Near East has a very favourable climate for hazelnuts. In Turkey there is the problem that frost often sets in relatively late in the year, which affects the growth of hazelnuts. This problem does not exist in Azerbaijan. In addition, the shell of our current hazelnut variety adheres better, making it less prone to becoming rancid or mouldy.
Our hazelnuts are collected partly by hand and partly by a kind of vacuum cleaner, that immediately removes branches and leaves. Then the nuts are dried and only when our German supplier requests the nuts, they are cracked fresh. Then they are delivered to Germany, where our partner either delivers the nuts directly to us or processes them further, for example into ground nuts before also delivering them to us.
Which Verival products contain hazelnuts? 
We at Verival also appreciate the many advantages of the hazelnut and have therefore integrated it into some of our products. Hazelnuts are for example contained in our Heritage Grains Muesli with Nuts and Fruits and in our Bircher Muesli with Heritage Grains. Our Grain Free Sport Muesli Almond-Fig, a gluten-free and vegan muesli made from seeds, nuts and fruits, also includes hazelnuts.
But not only some of our mueslis contain hazelnuts. Our nut mixes Early Bird and Smart Start as well as our Good Morning Energy Mix also partly consist of hazelnuts.
Recommended articles
Breakfast, Gesund leben, Healthy lifestyle
You probably already know that oat flakes are now considered as a real superfood and should therefore be an integral part of a healthy diet. But when preparing oat flakes you should consider a few small tricks so that the oat flakes do not taste too boring and get the right consistency. In this blog […]