Exercise and movement is an important part of a healthy lifestyle and should be a regular part of your day. But besides exercise, food is also very important. With the right foods, you can, for example, make sure you lose weight healthily or build muscle. In today's blog post, we will show you why the right pre-workout meal is important for your ideal diet and which food you should eat before training.
These 3 things you should watch out for before training
Eating before exercise is often difficult for many people. You don't want to be full during training and above all you don't want to feel that your full belly is limiting your training progress. This happens quite often, but this phenomenon is mostly due to eating the wrong food. The pre-workout meal should be a fixed part of your training.
Many people are of the opinion that you can lose weight faster if you go to the gym sober. If you don't have anything in your stomach, your body will attack your fat reserves more quickly. But this misconception is and remains one thing: a myth! In fact, when you're sober, your body tends to take energy from your muscles rather than from your fat stores, because it can be put to use much more quickly. And regardless of whether you want to lose weight or build muscle, that would be fatal in any case!
In addition, the Pre Workout Meal determines how quickly you tire and whether you can perform at maximum capacity. That's why eating before training is absolutely essential. If you like to train in the morning hours, you won't be able to avoid a nutritious and healthy breakfast. And as we know, breakfast is one of the most important meals of the day.
The right nutrition makes your training even more effective
A healthy diet is at least as important as the training itself. That's why you should always make sure you eat the right nutrients.
Especially before training, it is important to get your body going and supply it with energy. Proteins and fast carbohydrates form the basis for a healthy pre-workout meal. As a guideline, the last solid meal should be eaten about 1-2 hours before the workout and the last liquid meal about 30 minutes before.
For example, you can start your workout effectively with porridge or muesli. The high proportion of healthy nutrients and energy sources makes our products shine, especially at breakfast. We have also developed a special product line for athletes that is tailored to your needs.
Pre Workout Meal: not too much and not too greasy
The basic rule is already in the title. Not too much, not too greasy, not too fast. And you should stick to this to a large extent.
You should avoid fat as much as possible. For example, avoid nuts, avocados and various oils, because the fats they contain take a long time to digest and make you slow and tired. They take up to 6 hours to digest and are therefore heavy on your stomach. Even though the fats contained in nuts, avocados and oils are healthy fats, you should use them as sparingly as possible.
Also, be careful with too much dietary fibre. It will tie up blood in your digestive tract that could be better used elsewhere.
You should definitely avoid eating too big a meal before a workout, because it's harder to train on a full stomach. The bigger the meal, the more time you should allow before the workout.
Sufficient liquid also belongs to the Pre Workout Meal
Sufficient water should definitely be a big part of your pre-workout meal. Starting your workout hydrated is healthy and your body needs the fluid. Especially if you sweat a lot, you should make sure you drink enough fluids.
In general, it is important to drink enough fluids. It is best to drink 1.5-2 litres throughout the day. During training, it is best to drink still water at room temperature so that your body can work with it quickly.
When should you eat before training?
Timing your pre-workout meal correctly is an important part of your training success. If you eat a large meal just before a workout, you will quickly notice that you are sluggish and slow. The digestion process does not happen in a few minutes, but can take up to hours.
If possible, eat larger meals up to 3-4 hours before your workout. The last smaller, solid meal at least 1-2 hours before training. The last liquid meal 30 minutes before training.
It is very bad to start your workout with a growling stomach. Your body will then attack your muscle reserves directly and not your fat reserves, which means that you will only lose muscle and not fat. And that should never be the goal.
Pre Workout Meal to build muscle
Muscle building is of course a big issue when it comes to workouts, because most people work out for that very reason. So what should you eat to best build muscle?
Protein is the key to success here. Protein reduces the release of cortisol, delays the depletion of glycogen stores and thus effectively protects against muscle breakdown! A very high-protein pre-workout snack is even good for muscle building because it ensures that there are enough amino acids to slowly pass into the bloodstream during the workout.
Carbohydrates are equally important in the pre-workout diet. While they don't directly help build muscle, they do make your glycogen stores fuller. They also protect against hypoglycaemia and increase your insulin levels, both of which protect against muscle breakdown. With the right amount of carbohydrates, preferably fast carbohydrates, you have the ideal energy for a long and hard workout!
Pre Workout Meal for weight loss
The perfect pre-workout meal for weight loss is a special case. Carbohydrates should ideally be reduced. It is important to make sure that you burn more calories than you consume – a calorie deficit! This will help you lose weight effectively.
If you need help to lose weight in a healthy way and you find it too tedious to count calories and calculate your basal metabolic rate, we at Verival have developed a simple tool that can help you.
The 10 best foods for your pre-workout meal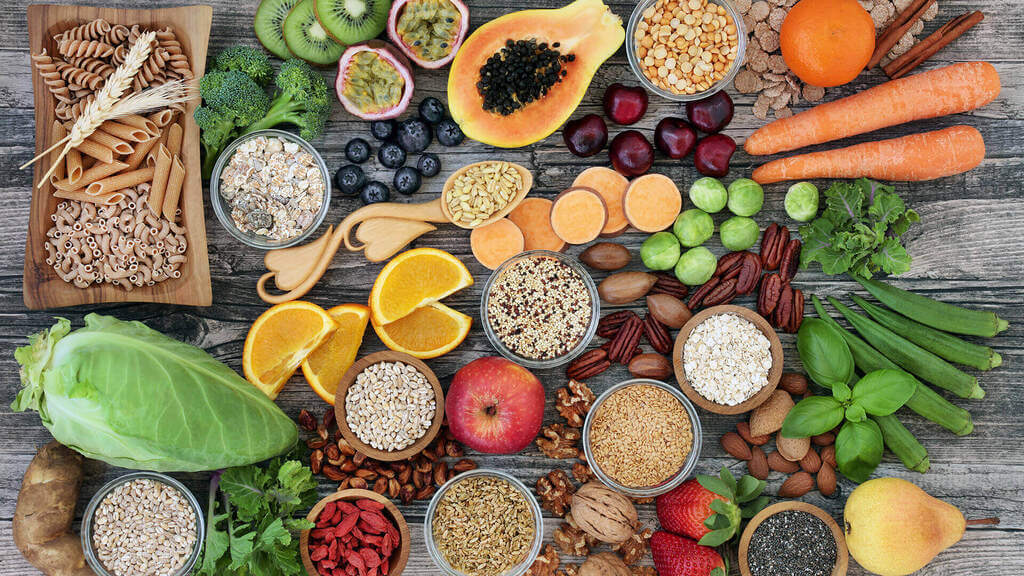 Since it does matter which foods you eat before your workout, here's a list for you so you know where to reach for in the jungle of nutrients.
1. Bananas
Natural sugar, simple carbohydrates and potassium. It doesn't get much better than that! A banana makes a perfect addition to any porridge or muesli and is also just plain delicious. Top with peanut butter to get that extra kick of protein.
2. Porridge and oats
With the complex carbohydrates that oats have to offer, you'll be perfectly prepared for your workout. An extra spoonful of protein powder or peanut butter adds the protein you need.
3. Chicken and vegetables
A classic pre and post workout meal. Protein and complex carbohydrates take your workout to the next level.
4. Protein bar
Whether it's a snack between meals or really a small pre-workout meal, protein bars (preferably without added sugar) are a real energy provider.
5. Smoothies
Fructose, fructose, fructose! With their high calorie count, they almost count as a whole meal and give you glucose just as quickly.
6. Sweet potatoes and wholemeal bread
Complex carbohydrates are also the be-all and end-all in these foods. 2-3 hours before training, wholemeal bread and also sweet potato are perfect energy sources.
7. Peanut butter
Peanut butter is not only extremely delicious, but also one of the best sources of protein around. 30 minutes before your workout is the perfect time to combine a snack with peanut butter.
8. Eggs
Eggs are probably the purest form of protein you could wish for. They should not be missing from a balanced, healthy diet for athletes.
9. Pasta
Pasta is also a great source of carbohydrates and, when eaten in moderation, provides the necessary energy for a workout.
10. protein shakes
High quality shakes can help you get the nutrients and minerals you need into your body. Simple carbohydrates, protein and plenty of minerals will help you perform at your best if you grab a shake about an hour before your workout.
The 3 best recipes for your Pre Workout Meal
Especially when it comes to breakfast, it's an advantage to go straight for the right nutrients. That's why we have 3 recipes for you here that will help you get your day off to a sporty start.
Protein Muesli Bar Almond Fig
Quick and easy recipe for healthy and delicious muesli bars that give you the right amount of energy at any time and provide you with optimal protein – for breakfast, during sports or simply for in between.
Ingredients
180

g

Verival Grain Free Sport Protein Muesli Almond-Fig

120

g

low-fat quark

3

tbsp

lineseed

grounded, as an egg substitute

50

ml

hot water

15

g

almonds

30

g

apricots

dried

3

tbsp

maple syrup

1

tbsp

lemon juice
Instructions
Preheat the oven to 170°C convection oven.

Line a rectangular baking tin (approx. 32cm x 24cm) with baking paper.

Prepare the egg substitute: Mix the linseeds with 50 ml hot water and leave to soak for 5 minutes.

Coarsely chop the almonds and apricots.

Mix the protein muesli and the low-fat quark together.

Then add all the remaining ingredients and mix everything together well.

Pour the batter into the prepared baking tin and smooth it out.

Then bake in the oven for 20 to 25 minutes.

Cut the dough into 15 pieces while still hot and leave to cool.
Porridge Peanut Butter Eggs
Snack and enjoy without a guilty conscience during Easter – that's possible with these delicious but healthy chocolate eggs.
Ingredients
100

g

peanut butter

30

g

agave syrup

30

g

chopped peanuts

1

pinch of

salt
To decorate
80

g

dark chocolate

1

tbsp

coconut oil
Instructions
Coarsely chop the peanuts.

Mix the peanut butter, agave syrup and chopped peanuts in a bowl. Add the Sport Protein Porridge Cocoa-Banana and salt.

Mix the whole thing by hand to a sticky, not too solid mass.

Using two small teaspoons, form 18 small eggs in batches and place on baking paper. Place them in the freezer for at least half an hour.

Towards the end of the waiting time, melt the chocolate in a water bath and stir in the coconut oil. Take the eggs out of the freezer and spoon one at a time through the chocolate. Place on baking paper and let the chocolate dry.
Grainy protein-rich super crackers
The super crackers are easy and quick to prepare from healthy and purely vegetable, protein-rich ingredients that provide us with numerous nutrients and vitamins.
Ingredients
3

tbsp

pumpkin seeds

3

tbsp

line seed

grounded

3

tbsp

sunflower seeds

8

tbsp

sesame seeds

4

tbsp

oat flakes

80

g

wheat flour

90

g

buckwheat flour

1

tsp

pure tartar baking powder

1 1/2

tsp

salt

2

tbsp

linseed oil
linseed oil
3

tbsp

mixed seeds of your choice

e.g. pumpkin seeds, linseeds, sunflower seeds,…
Instructions
Preheat the oven to 170°C convection oven.

Line a rectangular baking tin (approx. 32cmx24cm) with baking paper.

Mix the pumpkin seeds, linseeds, sunflower seeds, sesame seeds, oat flakes, both flours, baking powder and salt in a bowl.

Add the oil and 125ml water and mix everything together with the dough hooks of the food processor or hand mixer until a relatively firm dough is formed. If the dough is too firm, add a little more water.

Roll out the dough evenly between two sheets of baking paper (approx.30cmx20cm).

Peel off the top sheet of baking paper. Place the dough on the lower baking paper in a rectangular baking tin (approx. 32cmx24cm). If necessary, press the dough to the edge with your fingers.

Divide the dough into 18 pieces with a knife.

Sprinkle the mixed kernels and seeds on the dough and press down well with your fingers.

Bake the crackers in the oven (centre) for approx. 35 min.

Remove the tray and leave the biscuits to cool briefly on it.

Then carefully divide at the previously marked points to make 18 pieces.

Leave the crackers to cool completely on a cooling rack.
Nutrition
Recommended articles
Breakfast, Gesund leben, Healthy lifestyle
You probably already know that oat flakes are now considered as a real superfood and should therefore be an integral part of a healthy diet. But when preparing oat flakes you should consider a few small tricks so that the oat flakes do not taste too boring and get the right consistency. In this blog […]