Exercise and movement is an important part of a healthy lifestyle and should be a regular part of your day. But besides exercise, the food you eat, the Post Workout Meal, is also very important. With the right nutrients and the ideal diet, you can look to lose weight in a healthy way or build muscle, for example. In today's blog post, we will show you why the right post workout meal is important for your athletic progress and which food you should eat after training.
Which nutrients are important after training
If you train and exercise a lot, you probably know that a healthy diet is just as important as a strict training regiment. The right combination of healthy nutrients will help you be more active and reach your goals faster. But which nutrients are especially important to eat after a workout?
Protein is part of a perfect post workout meal
The daily protein requirement of an adult is approximately 0.8 grams per kilogram of body weight. On average, this is 57 grams for men and 48 grams for women. Proteins are your body's secret weapon, because they support muscle growth and help with regeneration.
During training, proteins are broken down in the muscles. Depending on the intensity and type of sport, this may be stronger or weaker. It is therefore essential to consume sufficient protein after exercise. The body recovers faster and you prevent the muscle from lacking the necessary proteins. Athletes in particular should make sure they have the necessary protein intake already at breakfast.
For optimised recovery after exercise, you should consume about 20-40 grams of protein. This will help you, your muscles and your body to recover faster and build muscle more effectively.
If you already do sports in the morning and want to have a balanced and protein-rich breakfast afterwards, our Verival sports products will help you. With them, you start the day with lots of protein and, above all, with a healthy breakfast.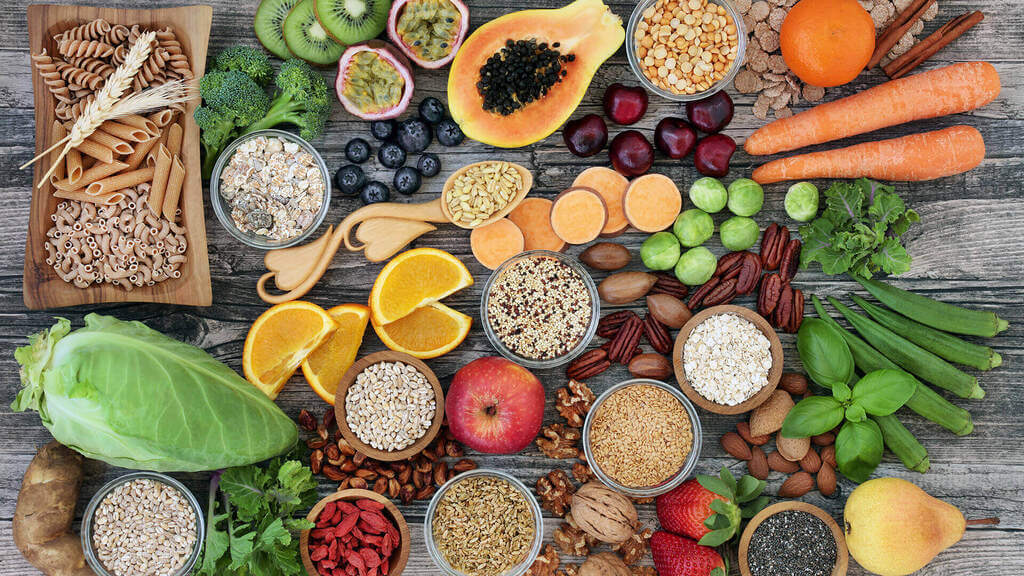 Healthy fats as an important part of the Post Workout Meal
Fats are an essential part of a balanced diet. About 30 percent of your daily food energy should come from fat. This corresponds to about 66 grams.
But not all fats are the same – relevant for the body and important for the diet are omega-3 and omega-6 fatty acids. These healthy fats should not be missing from any diet.
In your Pre Workout Meal you should avoid fatty foods, as this will make the food feel heavy in your stomach before the workout. As a Post Workout Meal, fat should be consumed in proper moderation. Your energy stores will thank you!
Carbohydrates make the Post Workout Meal even healthier
Carbohydrates are an important part of post-workout nutrition. During exercise, your body's glycolic depots are attacked. Your body needs energy and it gets it from the existing carbohydrate stores.
For women, 230 grams and for men 300 grams of carbohydrates per day are recommended. Carbohydrates are also responsible for regeneration.
Carbohydrates are also important because without them your body tries to produce proteins directly from your muscles after exercise. If you want to build up muscles, you should always eat enough carbohydrates so that your body has enough energy!
When should you eat after exercise?
The question of when you should actually eat after exercise is pertinent and hotly debated. However, science has found a clear answer.
It's about a 45-minute window after exercise to eat a nutritious post workout meal. But you shouldn't eat directly after exercise, your body is still burning and your heart rate is high – a short break or a shower before eating will help your body to adjust properly to the food intake.
The ideal diet for athletes is really a big part of a healthy lifestyle. Eating the wrong foods, too little or too late can cause muscle damage and make your recovery period longer. You're putting yourself and your body at a disadvantage! That's why it's important to start eating the right nutrients at breakfast. Our porridges, mueslis and protein-rich breakfast products are particularly suitable for this.
Fast recovery phase with the right Post Workout Meal
With the right food and nutrients, the regeneration phase also goes hand in hand. If you eat a lot of fats, you slow down your metabolism and therefore need longer to regenerate.
Healthy fats in moderation, carbohydrates and proteins are the most important components for a balanced post workout meal and contribute in large part to keeping the recovery phase as short as possible.
But it's not just the food that's important, because if you forget to hydrate, you'll literally dry out.
Don't forget to drink fluids with your post workout meal
Due to the increased stress and sweating during exercise, you lose more fluid faster than your body loses during normal activity. You also need fluid or water to build up glycogen – 2.7 grams of water are needed for 1 gram of glycogen.
The rule of thumb for the amount of fluid you need is as follows: For every gram of fluid you lose, you should consume 1.5 times that amount. So stand on the scales before and after your workout – 300 grams less on the scales means drinking 450 ml.
Tap water, iostonic drinks, fruit juices in a 3:1 ratio (water:juice) or sports drinks with little sugar are perfect to compensate for water loss. Soft drinks, sweetened drinks or alcohol are not suitable after sport.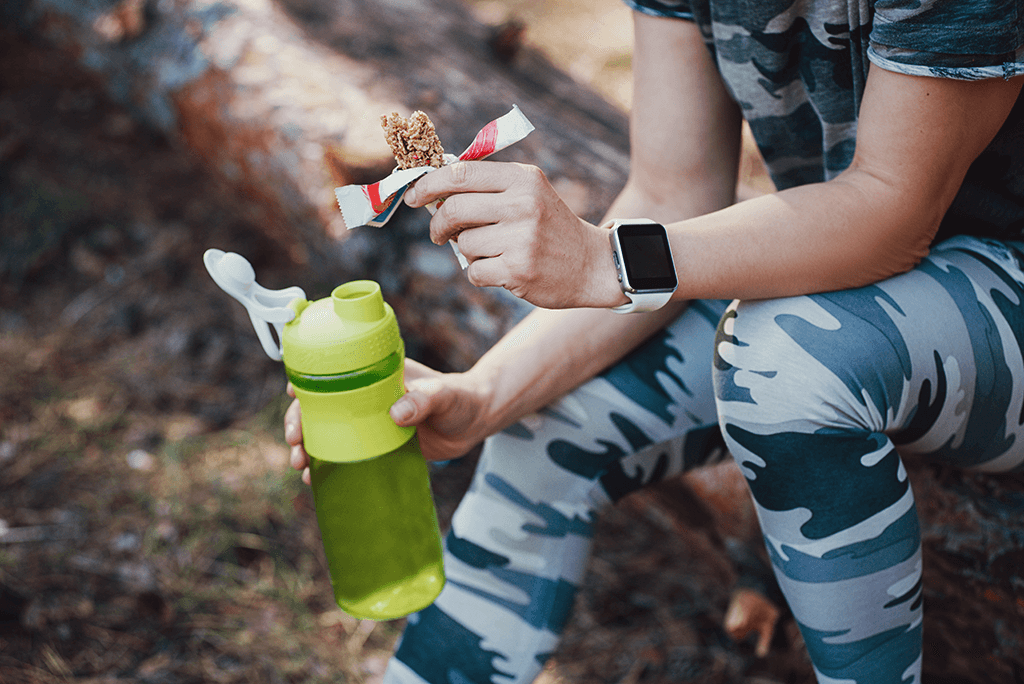 These are the best foods after exercise
So what are the best foods to eat as a post workout meal?
You can get the carbohydrates you need after exercise from sweet potatoes, potatoes, porridge, rice, pasta or quinoa. Perfect for protein are eggs, cheese, yoghurt, chicken, salmon or tuna. To get the fats you need, nuts, seeds or avocado are great.
Post Workout Meal to build muscle
During training, muscle proteins are damaged and broken down, the muscle is injured, so to speak. With proteins you close these damages and your muscle gets bigger. That's how muscle building works in theory. But which foods are particularly suitable for this?
To build muscle quickly, you should eat more calories than you burn. But be careful: you should make sure you eat a balanced diet. A healthy body builds muscle faster. Eating plenty of protein and carbohydrates is the key to building muscle fast.
Post Workout Meal to lose weight
If you want to lose weight rather than "build up", the calculation is the other way round: you should burn more calories than you take in. That's why it's important to keep your meals as nutritious as possible, but also as low in calories as possible. Without the right nutrients, you'll get thin, but your muscle structure won't stay intact, so all you'll be left with is fat.
Proteins are also important here, because muscles need them badly! Proteins and fibres are ideal for losing weight. Vegetables are a real weight loss aid! Mixed with fish or tofu and salad, you are on the right path to your dream figure.
If counting calories is too time-consuming and difficult for you, we have our calorie calculator to help you lose weight in a healthy way.
Post Workout Meal: These are the best breakfast recipes
Topped Green Protein Waffles with Tomatoes
You can prepare your protein snack according to your mood. We want to show you two simple and quickly prepared variants.
Ingredients
1

green protein waffle

4-5

cocktail tomatoes

1/4

onion

basil

olive oil

sea salt
Instructions
Cut tomatoes and onion into small cubes and mix with a dash of olive oil and sea salt.

Top Green Protein Waffle with the mix and add a little basil.
Fruity Strawberry Protein Bites
Fruity, rich in protein, vegan and without added sugar – the ideal summer snack for sports or simply for in between.
Instructions
Pit the dates and put them in a blender.

Add the Smoothie Bowl, almond butter and agave syrup and blend well.

Place the mixture in a bowl and knead with your hands to form a smooth dough.

Separate the dough into approx. 4 pieces and roll each into a strand about the thickness of a thumb. Cut off small pieces with a sharp knife (approx. 1cm x 1cm).
Low-calorie porridge with courgette and oat flakes
Ingredients
40

g

oat flakes

1/2-1

courgette

30

g

protein powder (optional flavour)

1

tbsp

coconut flour

300

ml

water

1

pinch

salt
Instructions
First grate the courgettes into small pieces. It's best to grate them straight into the pot.

Then add the oat flakes and the protein powder.

Next, add the water to the pot and a teaspoon of coconut flour. The coconut flour makes the porridge nice and creamy and binds it together.

Now put your porridge on the cooker and cook it for about 7 minutes on medium heat. Keep stirring well.

When your porridge is already creamy, take it off the heat and let it sit for another 2-3 minutes. After that, your delicious porridge is ready without many calories.

Of course, you can now refine your porridge with toppings of your choice, such as fresh fruit, nuts or seeds.
Nutrition
Recommended articles
Breakfast, Gesund leben, Healthy lifestyle
You probably already know that oat flakes are now considered as a real superfood and should therefore be an integral part of a healthy diet. But when preparing oat flakes you should consider a few small tricks so that the oat flakes do not taste too boring and get the right consistency. In this blog […]