The element "magnesium" is probably known to everyone. Even though most people are at least familiar with some facts about the mineral, precise information about it is often lacking. 
Do you know, for example, what magnesium is good for, how you can tell if you have a magnesium deficiency, or which foods contain a lot of magnesium?
Sometimes it is not so easy to keep track of all the details. That's why we want to support you with this article and introduce you to the different, exciting aspects of the mineral "magnesium". You will also find answers to the most frequently asked questions about the subject. 
Stay tuned until the end, because you will find out which Verival products contain a lot of magnesium. Would you have guessed correctly? As a little teaser, we can tell you that oats, among other things, and thus our porridges have a particularly high amount of the mineral. 
What are nutrients? 
In order for the body to perform all its functions, it needs sufficient energy in the form of food. These nutrients are composed of carbohydrates, fats, proteins, vitamins, fibre, minerals and water. 
Furthermore, the nutritional components can be differentiated into non-essential and essential. The difference is that the body can partially synthesize non-essential components itself, while essential components must be supplied with food.
Food components that must be taken in with food include vitamins, minerals and some fatty and amino acids.​1​ This makes it even more important to ensure a healthy and balanced diet and thus to supply the body with essential foods.
How many nutrients do I need? Overview of reference amounts
You may now be wondering how much of each nutrient you need to consume and what your energy requirements are. This varies depending on gender, age, physical activity, and individual factors such as certain pre-existing conditions.​1​
For an adult with 2,000 kcal of basic needs, the European Union recommends the following composition.​2​
| | |
| --- | --- |
| Energy | 8,400 kJ / 2,000 kcal |
| Fat | 70 g |
| Saturated Fats | 20 g |
| Carbohydrate | 260 g |
| Sugar | 90 g |
| Protein | 50 g |
| Salt | 6 g |
Reference amount for the consumption of selected nutrients
Magnesium has these functions in your body
Magnesium belongs to minerals along with iron, zinc, sodium and potassium. It is especially important for the brain, the heart and the skeletal muscles, as it also has anti-inflammatory properties. Above all, the substance is needed for the processes in the cell, such as the energy metabolism, or also the stability of the DNA.​3​
In the body, 50-60% of magnesium is found in bone, about 40% in certain tissues, and 1% in blood.​3​
However, not all of the magnesium supplied is absorbed by the body. For an amount supplied of 400mg/day, only 30-50% is actually absorbed by the intestines.​3​ Thus, it can be said that the body gets what it needs.
But other nutrients can also have an impact on how much magnesium is actually absorbed. For example, experiments have shown that a very large intake of dietary fiber, as well as zinc, and a low intake of protein, respectively, can inhibit the absorption of magnesium.​3​
The effects of magnesium 
As mentioned earlier, magnesium performs many different functions in the body. Numerous studies have demonstrated a link between magnesium and the cardiovascular system. For example, in a long-term study, the risk of high blood pressure was reduced by taking magnesium.​4​
And the athletes among you are probably also familiar with magnesium for the treatment or prevention of muscle cramps.
In order for the body to perform the above mentioned functions, a certain amount of the nutrient must also be supplied. How much depends on age, gender, and individual factors such as whether pregnancy or breastfeeding is present. The following table can provide an overview of the adequate magnesium requirement per day in mg.​3​
| | | |
| --- | --- | --- |
| Age Groups | Female | Male |
| 1 to < 4 Years | 80 | 80 |
| 4 to < 10 Years | 120 – 170 | 120 – 170 |
| 10 to < 19 Years | 250 – 350 | 230 – 400 |
| 19 to < 51 Years | 350 – 310 | 400 – 450 |
| From 51 | 300 | 450 – 350 |
| Pregnant/Breastfeeding | 310 – 390 | – |
Reference amount for ideal intake of magnesium
What happens if I consume too much magnesium? 
The good news first, in principle, an elevated magnesium level in the blood, also known as hypermagnesemia in technical terminology, can practically not occur by consuming foods with a high magnesium content. However, if the recommended additional daily maximum dose of 250 mg is exceeded in dietary supplements, this can result in unpleasant consequences such as nausea, vomiting or diarrhea.​5​ In addition, a magnesium level that is too high can also be a symptom of some diseases.
A magnesium level that is too low, known as hypomagnesemia, can have various causes:
Certain inflammatory diseases of the gastrointestinal tract (such as Crohn's disease, celiac disease, etc.) and kidney.
Poor diet: too many fats and sugars and not enough nuts, green vegetables and whole grains
Increased need: for example, when performing competitive sports or during pregnancy
Taking certain medications: for example, blood pressure medication or gastric protection​6​
The consequences of a slight deficiency can be fatigue, depressive moods or subjectively perceived muscle weakness.​3​ However, this does not mean that if a symptom is noticed, there is automatically a magnesium deficiency – rather, these can be signs. In case of a suspicion, it is therefore advisable to visit a doctor in order to clarify the next steps. 
Self-diagnosis and the use of dietary supplements are not recommended. This is because a study conducted in 2020 by the German Consumer Center Verbraucherzentrale found that 57% of foods containing magnesium exceeded the recommended maximum daily dose in dietary supplements.​7​ And you already know what this entails in terms of side effects.
Which foods are high in magnesium?
Magnesium is found in many, predominantly plant-based foods. As a mnemonic, nuts, whole grains and green vegetables in particular contain a lot of magnesium. Tab water also provides more magnesium as the hardness level increases.​5​ The more processed foods are (e.g., convenience foods), the lower the magnesium concentration.​3​
The following foods have a high magnesium content.​3,8​
| | |
| --- | --- |
| Source | Magnesium Content (mg/100g) |
| Pumpkin seeds | 400 |
| Linseed | 350 |
| Cashew | 300 |
| Dark chocolate | 250 |
| Almonds | 220 |
| Oat | 130 |
Magnesium Content of Selected Products
Oats as a source of magnesium
In addition to a high magnesium value, oats offer other benefits. The flakes have a high content of the water-soluble dietary fiber beta-gluacan. This lowers blood sugar and cholesterol levels and can prevent cardiovascular disease. They are also a vegetarian protein source and contain numerous other minerals such as iron, zinc and phosphorus. This makes oats ideal as a healthy muesli for breakfast!
Below you will learn how to easily make a quick oatmeal for a healthy breakfast! 
Print Recipe
Porridge basic recipe – sugarfree and vegan
The Scottish porridge is very easy and quick to prepare. You only need three
ingredients for the basic recipe and then you can add your favourite fruits and
spices.
Ingredients
180

ml

milk or plant-based drink

3-4

tbsp

oat flakes

1

pinch of salt
Instructions
Bring the milk (or plant-based drink) to a boil in a pot.

Add the oat flakes and turn the heat down to a low temperature.

Let the porridge simmer for about 5 minutes (stir constantly with a wooden spoon or a spurtle so that the milk does not burn and the porridge gets a nice creamy texture).

Remove the pot from the stove and allow the porridge to simmer until it has the right consistency

Add a pinch of salt at the end. This enhances the taste of the porridge even more, whether you want to enjoy your porridge with sweet or savoury toppings.
Verival porridges as an ideal source of magnesium
At VERIVAL, we regularly conduct tests to ensure that our products meet our high quality criteria. We also have the nutritional values tested and can proudly present the results to you.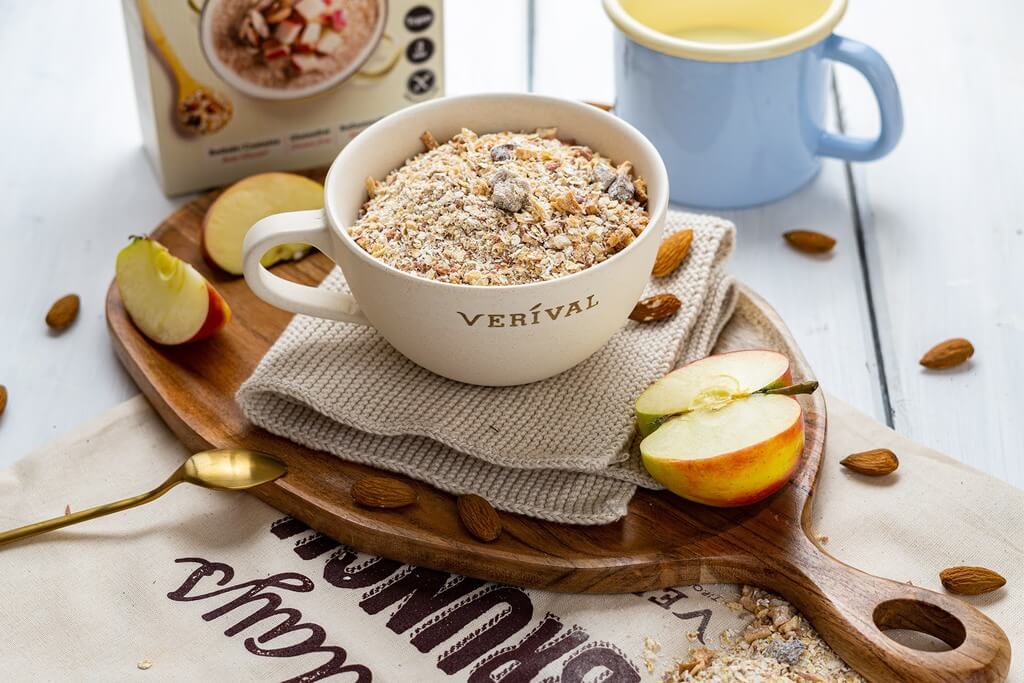 Our Sport Protein Porridge Chocolate Banana is the absolute top performer and contains 169mg magnesium per 100g porridge. Whole grain oatmeal, sunflower seeds, pumpkin seeds and dark chocolate pieces provide the high proportion. Thus, one serving (45g) already covers 20% of the daily requirement!​*​
And also our other products like the Strawberry Chia Porridge or the Bircher Porridge are good sources of magnesium due to high quality and preferably unprocessed ingredients.
---
​*​

The daily reference value calculated here equals 350 mg/day.
1.

Huppelsberg J. Kurzlehrbuch Physiologie. 1st ed. Thieme; 2003.

3.

Biesalski HK. Vitamine, Spurenelemente Und Minerale. Indikation, Diagnostik, Therapie. 2nd ed. Thieme; 2019.

4.

Abbott RD, Ando F, Masaki KH, et al. Dietary magnesium intake and the future risk of coronary heart disease (The Honolulu Heart Program).

The American Journal of Cardiology

. Published online September 2003:665-669. doi:

10.1016/s0002-9149(03)00819-1
Recommended articles
Breakfast, Gesund leben, Healthy lifestyle
You probably already know that oat flakes are now considered as a real superfood and should therefore be an integral part of a healthy diet. But when preparing oat flakes you should consider a few small tricks so that the oat flakes do not taste too boring and get the right consistency. In this blog […]