Whether in a tent somewhere in Italy, at festivals or in the luxury version with a motor home – camping is one of the most popular and cheapest forms of travelling. Especially in these confusing times, when you might not be allowed to spend your holidays in a crammed all-inclusive hotel in Turkey (and apart from that, in our eyes you should rather avoid such holidays anyway). So, this year camping is probably even more popular. Especially camping in Austria can be so multi-faceted and beautiful, you don't have to think beyond the borders. 
But what belongs to a balanced camping breakfast without overpacking? Can I even have a healthy breakfast while camping? Today we will clear up the most important questions and give you some ideas for breakfast so that nothing stands in the way of your camping holiday – maybe we won't say camping anymore but glamping 😉
Good preparation is the key 
Generally speaking, camping is like this: if you are prepared, you will have fewer problems during your trip. This is not only true for rainwear, but also for breakfast. What do you like? You should find that out for yourself. And you should be aware that it can sometimes be difficult to find fresh rolls, for example. Our recommendation as a basis would be a porridge or maybe a cereal. That way you can have something healthy that you can prepare fresh without much effort! Our Apricot-Strawberry Spelt Porridge or our Heritage Grains Muesli with Nuts and Fruits are perfect for this! But also with our vegan Lower Carb Sport Granola nothing stands in the way of an energetic day! 
Porridge really is a superfood and extremely healthy. So, the local oat flakes can really score on full length. Not only do they have many nutrients at hand – they also help with some diseases. Porridge lowers your blood sugar and cholesterol levels. What's more, if you eat porridge regularly, you are at less risk of cardiovascular disease. In addition: A warm breakfast is especially helpful when camping to have a perfect start into the outdoor day. 
Fall back on local dishes 
Especially when you are in other countries, it is not an advantage to take "fresh" food from home. Fruits and vegetables should always be purchased locally in the respective country. There are often weekly markets that offer high quality food. And what's better than fresh fruits to brighten up your morning? Especially local fruits are not only healthier – you also help the environment. If you buy locally, you support the economy of the respective country and the farmers themselves. You also save yourself long delivery routes and the process of industrial production, which is also considered a polluter. 
Fresh is not always equally expensive 
Preparing fresh products in the morning is not always an incredible effort! This is a misconception that often prevails. But especially when it comes to breakfast, you can fall back on fresh products without immediately putting everyone in an uproar. How about Overnight Oats, for example? You can prepare them before going to bed and leave them overnight. We'll discuss this in the next paragraph, but nuts and seeds in particular stay fresh for a long time and are perfect for any breakfast. 
Seeds and nuts save your day 
Seeds and nuts are the power start into your day. If you already consume nuts for breakfast, you have a starting advantage all day long. Nuts are not only extremely healthy, they also keep you full for a very long time. Seeds are also very healthy and can be used as a topping in every imaginable form of breakfast. 
Why are nuts so healthy? Nuts are full of valuable fatty acids, which are very healthy for humans. This is how you can prevent cardiovascular diseases and look after yourself during your morning culinary trip. They also contain many vitamins – calcium, magnesium, vitamin B. And that in such small foods! 
Variety adds momentum to your breakfast 
Our last tip is: Don't eat the same food over and over again. It's like everything in life. Variety adds spice to your life. So maybe one day muesli, one day crunchy and another day porridge. Or maybe our new, delicious Porridge Smoothie Bowl?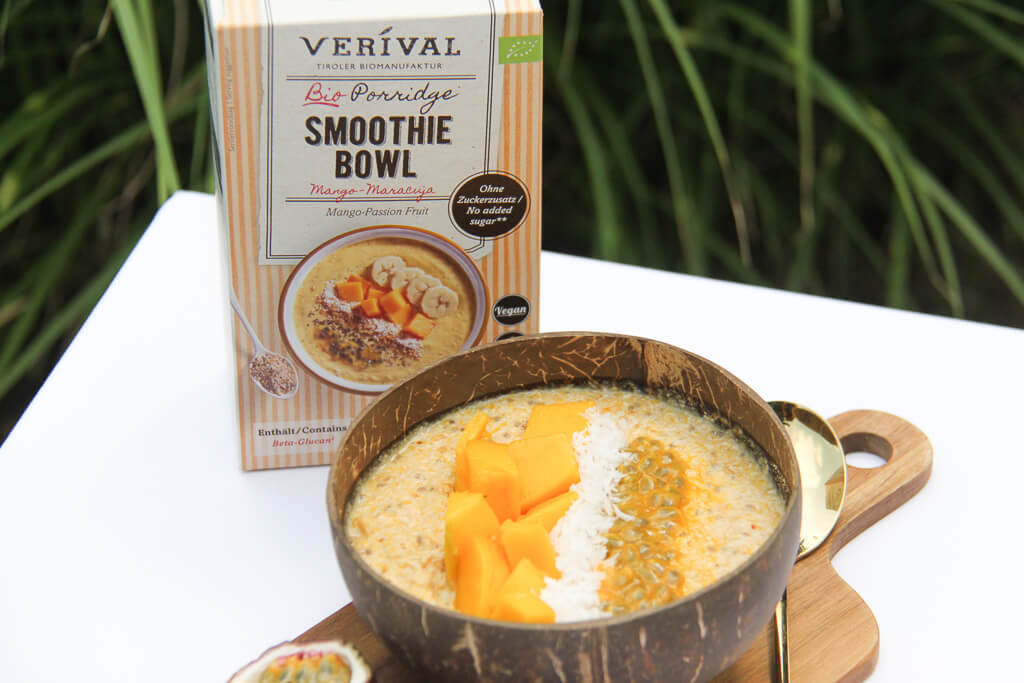 Print Recipe
Porridge with berries
Ingredients
50

g

oat flakes

250

ml

(plant) milk

1

pinch

of salt

1

teaspoon

agave syrup

150

g

berries (fresh or frozen)
Instructions
First, put the oats in a pot with a pinch of salt and the (plant) milk and let it boil up briefly. Stir briefly again and again.

Then remove the pot from the heat and add a teaspoon of agave syrup.

Then let the porridge steep for about 2-3 minutes.

In the meantime, wash the berries well, then put them in a bowl and puree them with a hand blender. Alternatively, you can also puree the berries in a normal blender.

Then put the porridge in a bowl, add half of the pureed berries and stir well. Finally, pour the remaining berries over the porridge.
Nutrition
Recommended articles
Breakfast, Gesund leben, Healthy lifestyle
You probably already know that oat flakes are now considered as a real superfood and should therefore be an integral part of a healthy diet. But when preparing oat flakes you should consider a few small tricks so that the oat flakes do not taste too boring and get the right consistency. In this blog […]