Porridge has already become a real breakfast classic for many people. And rightly so, because porridge not only tastes good, but is also extremely healthy and versatile.
But there is one thing that many people forget when they think of porridge – the spice. In this article, we'll tell you which spices you should definitely try out and what they can offer in addition to their taste characteristics.
Which spices are suitable for my porridge
As different as porridge can be prepared, the suitable spices also vary. While vanilla, cocoa or cinnamon are particularly suitable for sweeter porridges, more exotic spices such as curry, cardamom or even chilli can be used in savoury porridge.
There is no right or wrong way – the important thing is that it tastes good. However, we would like to give you a few tips on how to choose the right spices for your porridge.
Hearty porridges – you should definitely try these spices
A general spice tip for savoury porridge is difficult. The only spice that always works is a pinch of salt. This serves as a flavour enhancer and thus helps other flavours to stand out more.
For example, if you want to try a warming porridge for winter, we would recommend the Pumpkin Spice Porridge. It's made with our Verival Classic Porridge Blend, plant-based drink, Hokkaido pumpkin, apple and spices. Ground cinnamon, ginger, allspice, nutmeg and cloves are particularly suitable for this.
Pumpkin Spice Porridge
Start the autumn with a warm porridge! This is how you can have a nutritious breakfast in the cold season.
Ingredients
80

g

Verival Classic Porridge

optional oat flakes

300

ml

Plant milk

100

ml

water

2

teaspoon

Pumpkin Spice flavoring

1/2

Hokkaido pumpkin

1

Handful

almonds

1/2

apple

optional

Agave syrup

optional
Pumpkin Spice flavoring
3

tbsp

cinnamon

2

teaspoon

ginger

1 1/2

teaspoon

Allspice

2

teaspoon

muscat

1

teaspoon

carnations
Instructions
To begin, divide the pumpkin in half, remove the seeds and then cut it into small cubes. Then boil them in a pot for about 10 minutes until soft. 

In the meantime, bring the oat flakes to a simmer with the oat drink and water. If necessary, you can add more oat drink or water – depending on how creamy you want your porridge to be. 

After the pumpkin is cooked until soft, drain it and puree it finely with a blender or in a stand mixer.

Then mix the pumpkin puree with the porridge and season the mixture with Pumpkin Spice. 

As a topping, you can garnish your porridge with apple slices and chopped almonds. Tip: If you toast the chopped almonds in a pan beforehand, your porridge will taste even better! 

Optionally, you can sweeten your porridge with honey, agave syrup or maple syrup.
But cinnamon also works extremely well in combination with carrots and oat flakes, as is the case with our Carrot Cake Porridge.
Carrot Cake Porridge
Instructions
First grate the carrots small and then put them in a pot.

Then add the oat flakes and the milk or plant drink. If you want to save extra calories, you can also replace half of the milk or plant drink with water.

Then add the salt and a bit of cinnamon to the pot.

Boil the porridge for about 5-7 minutes. When the porridge is almost ready and is already creamy, remove the pot from the heat and add some almond paste to your porridge.

Then put the porridge in a bowl. Now you can refine the porridge with toppings of your choice, such as delicious walnuts.
Even cardamom, aniseed and chilli are suitable for savoury porridge. Mix 50 grams of oat flakes with a little water or milk and add a pinch of salt and the three exotic spices.
If you are a curry lover, for example, you can also use the basic porridge recipe and simply add curry, turmeric, fennel or chilli. This will turn your porridge into a tasty lunch.
Basic recipe: Oatmeal
A simple basic recipe for the popular porridge that has become an integral part of most breakfast tables.
Ingredients
250

ml

milk or a plant-based alternative

50

g

oat flakes

A pinch of salt

2

tbsp

honey or agave syrup

1/2

tbsp

cinnamon 
Instructions
Heat up the oat flakes with a pinch of salt and the sweetener of your choice (honey or agave syrup) in the milk or plant-based drink (do not forget to stir well).

Let the porridge steep for 3 minutes.

Put the porridge into a bowl and sprinkle it with cinnamon.
Nutrition
These spices go well with sweet porridge creations.
If you like to combine your morning oatmeal with fresh berries, cocoa powder and vanilla are particularly good. Fresh raspberries or strawberries with a chocolatey porridge and a light vanilla flavour will tantalise your taste buds like no other breakfast.
But cinnamon often goes very well too, for example with apple or pear. Turmeric, cardamom and nutmeg also go surprisingly well – for example with a rice-based porridge with orange and coconut.
And of course, a pinch of salt is never missing.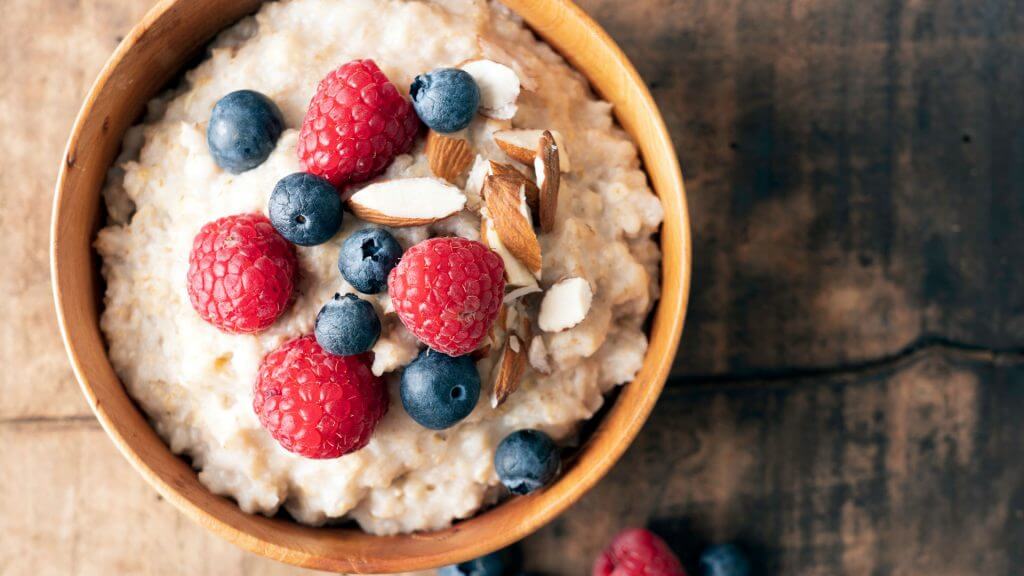 But besides the taste benefits, there is another reason to use a variety of spices. Because they are extremely healthy.
Spices are so healthy
For example, even in small quantities, cinnamon can regulate blood sugar levels and thus even indirectly help people lose weight. But cinnamon's properties also make it suitable for people with type 2 diabetes and people with pre-existing cardiovascular diseases. In addition to its positive effects on blood sugar levels, it can also lower the bad LDL cholesterol.
Cocoa is one of the healthiest spices of all. According to this, the popular spice has a vasoprotective effect and can thus counteract high blood pressure and heart disease. Cocoa also keeps your mind fit and strengthens your immune system. While it is said to have a mood-lifting effect, it also helps protect the body from oxidative stress.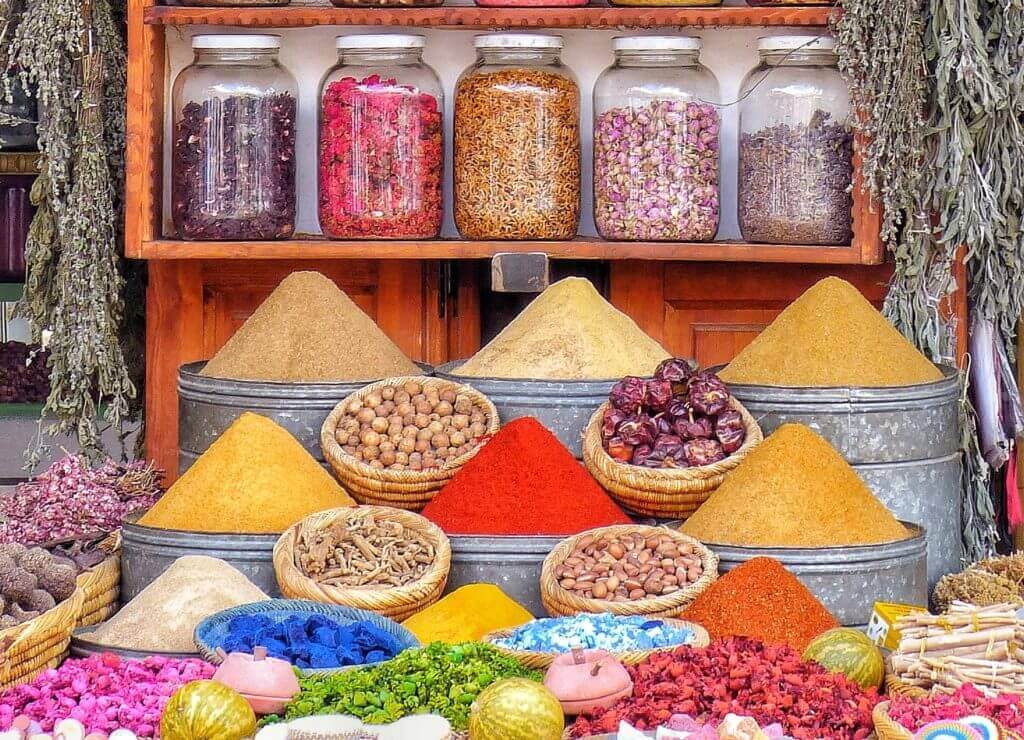 Turmeric, on the other hand, receives little attention, especially at breakfast. Nevertheless, it is worthwhile to use turmeric regularly. According to studies, it can even replace some medicines in terms of their effect. According to this, sufficient amounts of turmeric can lower cholesterol levels, acts as a natural blood thinner and inhibits inflammatory processes. Turmeric could even help with arthritis and depression – the list of positive properties seems almost endless.
Chilli does not seem to be able to do quite as much, but still surpasses most other spices. According to this, chilli is said to have a mood-lifting effect. But the hot spice is also said to be beneficial for heart health.
These spices help you lose weight
In addition to all the health-promoting properties, some of the spices can even help you lose weight. For example, chilli suppresses hunger and boosts energy consumption. Apparently, regular chilli consumption can regulate appetite and increase the calories burned after a meal, thus promoting weight loss. By the way, you can easily find out your ideal weight yourself with the BMI calculator.
Other spices, such as cinnamon, support weight loss indirectly by keeping blood sugar levels stable. This means that less insulin needs to be released, which in turn facilitates fat loss.
Turmeric, on the other hand, can positively influence the intestinal flora thanks to its antioxidant properties and thus increase health and well-being in this context. Turmeric root can also help with digestive complaints. All this in turn indirectly promotes targeted weight loss.
Conclusion
Spices are not only important for taste, but also beneficial for health. Accordingly, it makes sense to season your food sufficiently. This applies to lunch as well as breakfast. Feel free to experiment or get inspired by our recipe ideas.
Recommended articles
Breakfast, Gesund leben, Healthy lifestyle
You probably already know that oat flakes are now considered as a real superfood and should therefore be an integral part of a healthy diet. But when preparing oat flakes you should consider a few small tricks so that the oat flakes do not taste too boring and get the right consistency. In this blog […]