Nutrition awareness within society continues to increase. We are sure you also take a look at the calories in your meals.
But have you ever looked at the calorie content of porridge? If not, then you've come to the right place – because we're not only going to talk about the calorie content of porridge, but give you tips and tricks on how you can save or increase calories too. Use the Verival calorie calculator to calculate your calorie needs for free.
How to calculate the calorie content of your porridge
The amount of calories in porridge varies from type type. However, if you are preparing this healthy breakfast completely on your own, you should take into account all the ingredients and their energy content.
The basic ingredient in most porridges is oatmeal. These nutritional bombs contain around 350 kilocalories per 100 grams – for an average portion of porridge you will need about 50 grams and thus come to around 175 calories.
Then there is the liquid – while classic cow's milk with a fat content of 3.5 percent has a good 64 kilocalories per 100 millilitres, plant-based drinks are on average somewhat lower in calories. Nut drinks, for example, often have only about 10 calories per 100 millilitres, while soy milk has a good 30 to 50 calories.
If you use about twice the amount of liquid for your 50 grams of oatmeal, you will need about 100 millilitres. Depending on the desired consistency, you can of course use more or less liquid. However, twice the amount of liquid compared to the base is usually a good reference value.
So if you use milk, add another 64 calories to your 175 calories for the oatmeal. If you use a plant-based drink or even just water, you will of course get away with a little less calories.
Print Recipe
Low-Calorie Porridge
Simple porridge recipe for weight loss. Garnish your porridge with the right toppings and you have a fantastic, healthy porridge that will help you lose weight.
Ingredients
50

g

oat flakes

1

pinch of

salt

130

ml

water

healthy toppings: e.g. berries, healthy fats (almond paste)
Instructions
Heat the water (for example in a kettle)

Put the oat flakes in a bowl with a pinch of salt

Pour the boiling water into the bowl 

Stir the porridge well until it has reached a creamy consistency

Decorate the porridge with your toppings
Nutrition
However, the milk already adds some sweetness to the porridge, while oatmeal with water is likely to be somewhat neutral in taste. So you will still need some sweetness. Depending on the source you use, you can increase the calories as needed. For example, if you use honey, you should expect about 60 calories per tablespoon. Agave syrup and date syrup also have a similar calorie content.
However, if you prefer to use fresh fruits such as berries, you can allow yourself a little more because of their comparatively low energy density. For example, you can eat around 100 grams of blueberries for 60 calories. Berries are not only more nutritious than the classic sweeteners, they also fill you up better due to their greater volume. So of course we recommend fresh fruit.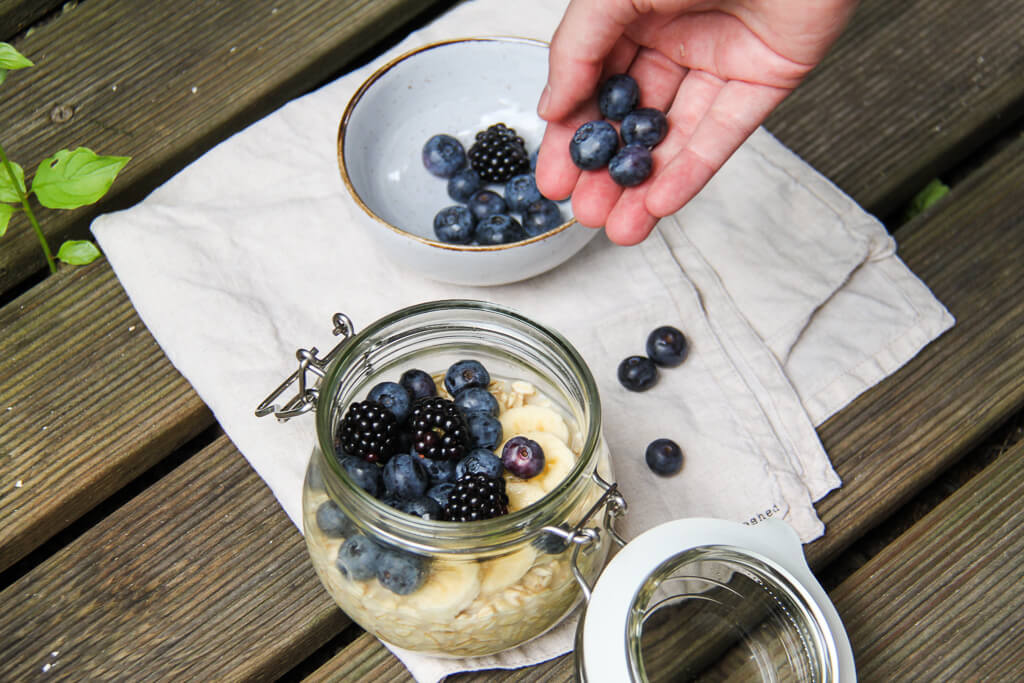 This is how many calories you should expect
If you add up all the ingredients, you get the following calculation: 175 calories for the oatmeal (50 grams), 64 calories for the milk (100 millilitres) and 60 calories for the sweet berries (100 grams). This therefore gives you pretty much exactly 300 calories for your oatmeal.
| | |
| --- | --- |
| Ingredients in oatmeal | Calories (kcal) |
| 50g Oat flakes | 175 kcal |
| 100ml Milk 3.5% | 60 kcal |
| 100g Blueberries | 60 kcal |
| Topping of your choice | 100-150 kcal |
| Total calories | 395-445 kcal |
What's missing now are the toppings. No matter whether seeds, nuts or Granola Crunchy, this makes every porridge unique in taste. But besides the taste, you should also consider the calorie count. Nuts and seeds are real calorie bombs – but you can find out why they are still healthy here.
Nevertheless, especially with toppings – less is more. A handful of nuts or seeds, for example, is enough not only to optimise the taste of your porridge, but also to add important nutrients.
How many calories do I need?
However, the pure calorie count per meal is difficult to interpret without context. It makes much more sense to determine your own calorie needs as a reference. In summary, an average adult has a daily calorie requirement of 1800 to 2400 calories.
If you eat three main meals and one snack a day, you can expect to eat about 500 to 600 calories per meal. So you can add a little topping to your porridge – a handful of nuts, for example, will add another 150 calories to your meal and also provide you with valuable nutrients.
To find out how many calories you should actually eat to reach your ideal weight, you can use the BMI calculator. It calculates your BMI value and the ideal value for your body based on the data you entered. Based on this information, you can add or subtract a few calories if necessary.
If you have a slightly higher BMI value, you should adjust your diet and physical activity accordingly. We would like to recommend the following recipe to you, as this porridge not only tastes delicious, but also contains plenty of proteins that support you during your sporting activities and help your body to recover.
Print Recipe
Low-calorie porridge with courgette and oat flakes
Ingredients
40

g

oat flakes

1/2-1

courgette

30

g

protein powder (optional flavour)

1

tbsp

coconut flour

300

ml

water

1

pinch

salt
Instructions
First grate the courgettes into small pieces. It's best to grate them straight into the pot.

Then add the oat flakes and the protein powder.

Next, add the water to the pot and a teaspoon of coconut flour. The coconut flour makes the porridge nice and creamy and binds it together.

Now put your porridge on the cooker and cook it for about 7 minutes on medium heat. Keep stirring well.

When your porridge is already creamy, take it off the heat and let it sit for another 2-3 minutes. After that, your delicious porridge is ready without many calories.

Of course, you can now refine your porridge with toppings of your choice, such as fresh fruit, nuts or seeds.
Nutrition
On the other hand, if you have a low BMI, your body can handle a little more calories. To increase the amount of calories in your porridge, you can, for example, use a little more oat flakes, add some nut puree or fill up the remaining calories with toppings of your choice.
Conclusion
An average porridge contains between 300 and 500 calories. The actual number depends on the method of preparation and the ingredients.
Especially with the toppings you can spice up your porridge in terms of calories and nutrients. To optimise your nutrition and health, you can use the BMI calculator, which tells you whether your weight is in the optimal range or not.
Depending on your results, you can take concrete measures and either reduce or increase the calories in your meals.
Recommended articles
Breakfast, Gesund leben, Healthy lifestyle
You probably already know that oat flakes are now considered as a real superfood and should therefore be an integral part of a healthy diet. But when preparing oat flakes you should consider a few small tricks so that the oat flakes do not taste too boring and get the right consistency. In this blog […]