Chia seeds have been considered a superfood for a few years now. Small but mighty is what many people would say.
Chia has become a faithful companion for a healthy breakfast in recent years – the small seed is not only very healthy, but can also help you to lose weight, stabilise blood sugar, thus ensuring a longer feeling of satiety, and also provide you with high-quality protein!
Chia seeds have been marketed in Europe since 2013. It is a superfood with a high content of secondary plant compounds, vitamins and trace elements.
In the food industry today, chia seeds have a very high status due to their health-promoting properties. In today's blog post, we'll tell you exactly how it does this.
Nutritional values and effects of chia seeds
The nutritional values of chia seeds are as follows: per 100g they contain 5g carbohydrates, 21g protein and 24g unsaturated fatty acids. The high protein content makes them extremely attractive for muscle building, as well as for nutrition-conscious people due to the long-lasting feeling of satiety.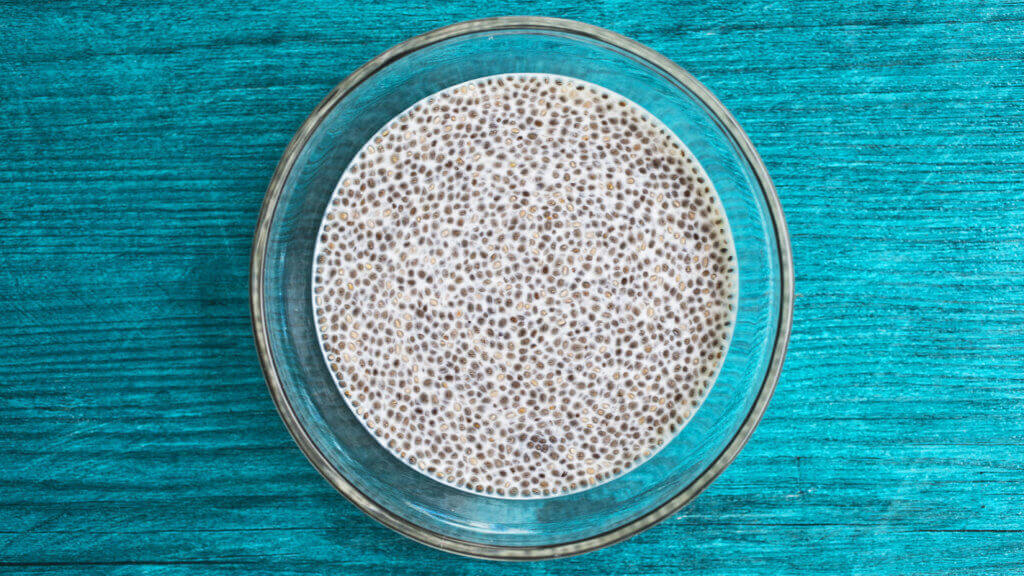 5 reasons why chia seeds are little weight loss helpers
Chia seeds are therefore considered a real superfood. Especially when eating a healthy breakfast, you should make sure that you eat the right foods and ingredients. Chia seeds help you with this! We will explain why in the following:
1. Chia seeds keep you full for a long time
The seeds have the excellent ability to swell many times their size. You should soak them for at least 10-30 minutes. You can make a large portion with just a few grams.
Chia seeds quickly have a satiating effect when you mix them into smoothies or other dishes. Since they can increase in volume by 9 to 12 times when soaked, the seeds serve as an ideal water reservoir and provide the body with an extra portion of fluid.
If you use the seeds as a topping, you should bear in mind that they can swell further in the stomach. This ensures a particularly long-lasting feeling of satiety. But be careful not to eat too many dry seeds.
2. The perfect topping: low-calorie chia seeds
Toppings are probably the most delicious and fun part of breakfast! Luckily, there are no limits when it comes to topping your breakfast. Let your imagination run wild and use fresh fruit, berries or even seeds. Chia seeds are the perfect topping for your healthy breakfast.
Whether with porridge or overnight oats, these healthy seeds look great on any breakfast. Chia seeds are packed with healthy ingredients, protein and are very low in calories! As already mentioned, they keep you full for a long time and stimulate your digestion. We have a great recipe for the perfect overnight oats with chia seeds:
Print Recipe
Overnight Oats with chia seeds
Overnight Oats basic recipe with the addition of the superfood chia seed
Ingredients
4

tbsp

oat flakes

(approx. 45g)

80

ml

water, milk or a plant-based alternative

1

tbsp

yoghurt

1

tbsp of

chia seeds

honey, agave syrup or maple syrup

(for sweetening)

fruits, nuts and seeds of your choice

(as topping)
Instructions
Put water, milk or a plant-based alternative in a glass together with the oat flakes and chia seeds and stir well.

Our secret tip: add a tablespoon of yoghurt. 

To sweeten your Overnight Oats we recommend honey, agave syrup or maple syrup.  

Put the mixture in the fridge overnight or for at least 2 hours. 

Then stir well once again, decorate with fruits, nuts or seeds and enjoy!
Nutrition
3. Chia seeds stimulate your digestion
Chia seeds promote healthy digestion. With 35g of fibre per 100g, they are one of the most fibre-rich foods.
Their fibre content is similar to that of linseed, twice that of peas and even a good three times higher than that of wholemeal oatmeal.
Dietary fibre stimulates gastrointestinal activity and promotes digestion due to its intestinal cleansing function. This also protects against diverticulitis.
Since humans can only digest dietary fibre slowly, it also provides a long-lasting feeling of satiety. However, more than 30-35g of dietary fibre per day is not recommended, as this can lead to unpleasant flatulence.
Especially for coeliacs, the seeds are a high-quality source of protein compared to other grains, because they are naturally gluten-free.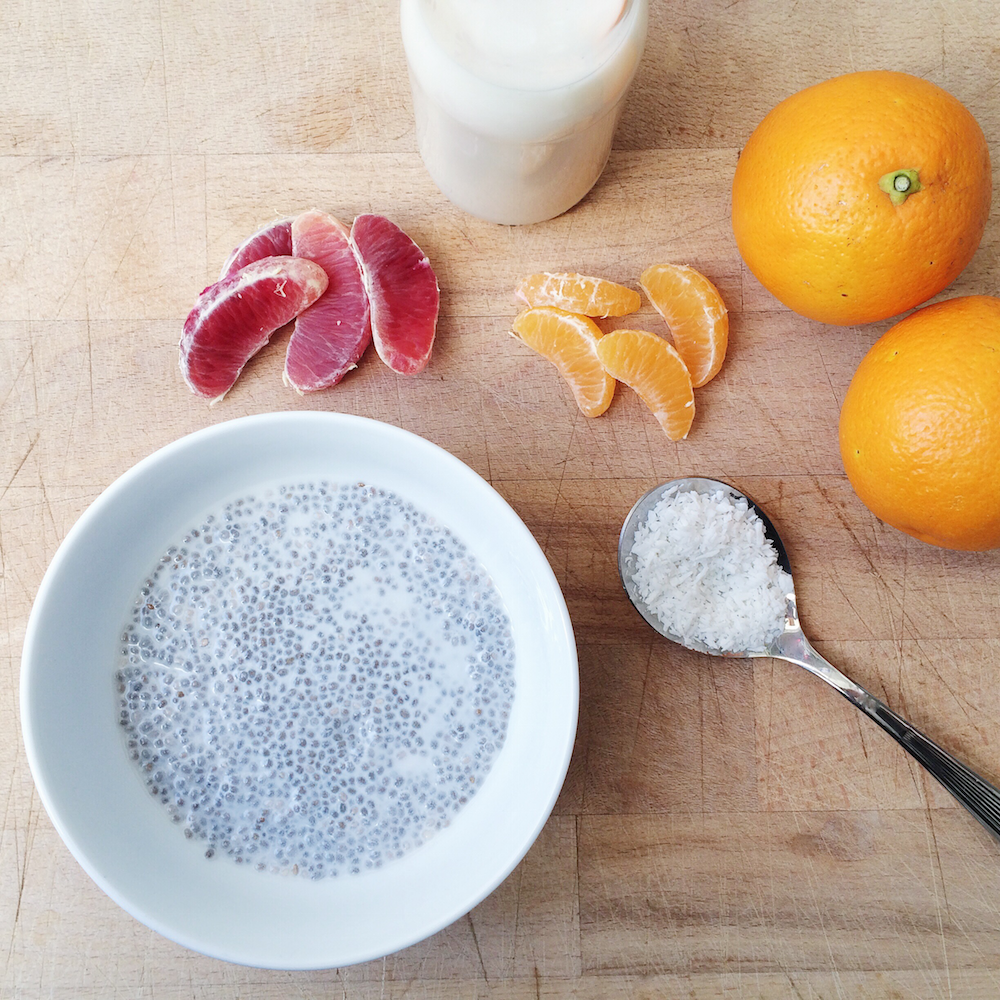 4. Important fatty acids help you lose weight naturally
Chia seeds have a high content of omega-3 fatty acids, which you can also find in fish, microalgae or vegetable oils. Because the body can better absorb the nutrients from oil, chia oil is produced too.
The recommended daily amount is 2g of the oil. It supports the prevention of cardiovascular diseases. Omega-3 fatty acids also have an anti-inflammatory effect.
5. With the right ingredients to weight loss success
Chia seeds are filled with valuable ingredients. They should not be missing from your healthy breakfast. They contain a lot of protein and are rich in antioxidants. In addition, eating chia seeds has a positive effect on your blood sugar level and can prevent diseases.
Antioxidants protect your cells from external influences – that's why they are considered the real cell boosters. The many different antioxidants in chia seeds make them especially beneficial for your immune system.
If you take care of the right ingredients already at breakfast, you will automatically lose weight! Because if you eat a balanced and healthy diet, you can't go wrong. At least, that's our motto! 😉
BMI – what is your ideal weight?
When it comes to your ideal weight, the BMI can help give you a metric. BMI, or body mass index, is a ratio that calculates a person's weight in relation to their height. Through a simple equation, it shows whether someone is considered overweight, underweight or normal weight.
Gender and age are often included to interpret the calculated BMI. For example, the lower and upper limits of normal weight are often set higher for men than for women, because they generally have slightly more muscle mass.
A BMI between 18.5 and 25 is officially considered normal weight. If the value is below this, it is called underweight, if it is above this, it is called overweight. People with a BMI above 30 are classified as obese according to various degrees of severity.
Recommended articles
Breakfast, Gesund leben, Healthy lifestyle
You probably already know that oat flakes are now considered as a real superfood and should therefore be an integral part of a healthy diet. But when preparing oat flakes you should consider a few small tricks so that the oat flakes do not taste too boring and get the right consistency. In this blog […]