Pumpkins and apples are in high season in autumn. So it's only natural to combine them in a juicy, spicy gugelhupf. Top it all off with maple syrup icing and pumpkin seeds, and you've got the perfect autumn cake for the coffee round.
Pumpkin seeds – nutrient-rich protein heroes
By the way, did you know that pumpkin seeds have a high protein content? This makes them a nutrient-rich topping, not only for cakes, but also for your porridge, to get your day off to a protein-rich start.
Pumpkin seeds are also rich in other nutrients such as zinc, magnesium, iron and selenium. The green seeds can improve heart health and lower blood sugar levels. They are also said to help with sleep disorders.
But now back to our Gugelhupf.
Which pumpkins are best for baking?
I prefer to use Hokkaido pumpkin for baking because it is so easy to use and I like its aromatic taste, which is slightly reminiscent of chestnuts.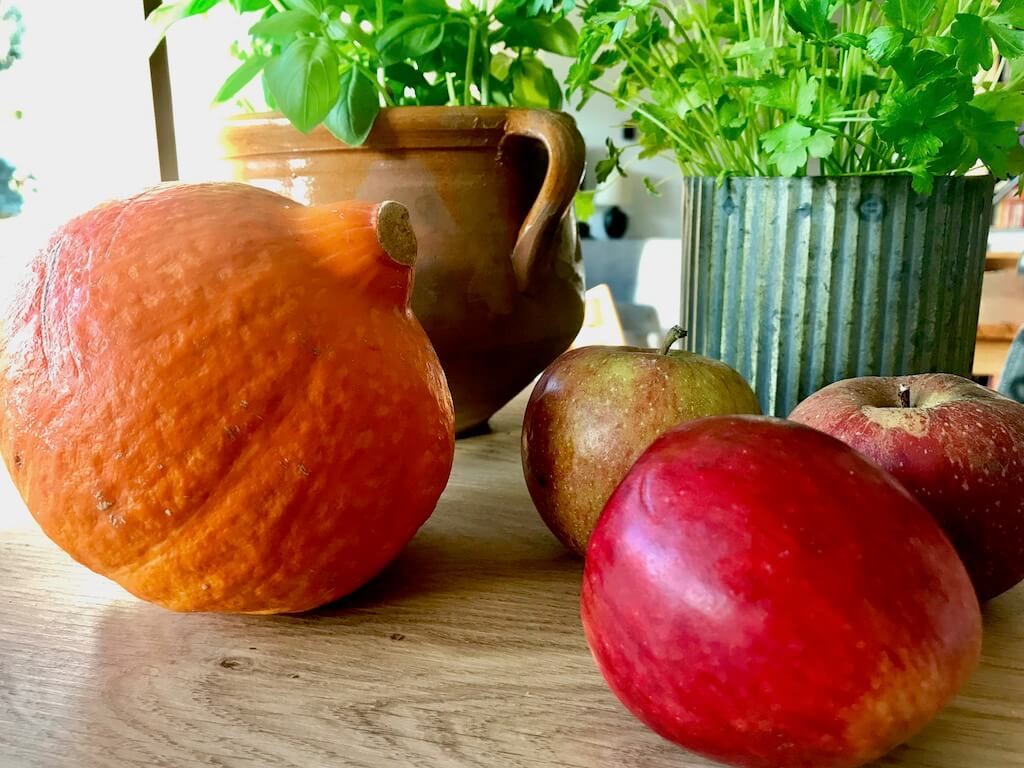 Another pumpkin that is well suited for baking is the butternut squash, also called pear squash because of its shape. It also scores in terms of taste (buttery, sweet note) and processing. Unlike the Hokkaido pumpkin, its yellowish skin must be removed before processing, but it has few seeds.
How can I tell if a pumpkin is ripe?
When faced with the colourful range of pumpkins, you are often a little overwhelmed as to which pumpkin to choose. When buying a pumpkin, make sure that the skin is not damaged or bruised. Normally, you can store a pumpkin for weeks or even months if you store it correctly.
However, if the skin is damaged, the pumpkin may rot after a short time. The pumpkin is ripe when it passes the so-called knock test. To do this, tap the pumpkin lightly with your fingers. If it sounds hollow, it is ripe. A woody stem is another sign of ripeness.
How do I prepare the Gugelhupf?
Before we get to the recipe, here are a few tips on preparation:
You do not need to peel the Hokkaido pumpkin. The special feature of the dark orange skin is that it becomes soft during cooking and can be eaten without any problems. However, you should wash the pumpkin thoroughly before using it. The wooden stem must be removed. Then cut the pumpkin in half and scoop out the seeds and fibres, preferably with a spoon. Weigh 300g of the pulp for the cake and grate it into small pieces.
Instead of butter, add oil to the batter. Sunflower oil is particularly suitable. However, you can also use another vegetable oil. However, it should be neutral in taste.
Be careful when preparing the glaze. If you add too much liquid, it will quickly become too thin. Therefore, add the maple syrup little by little and always stir firmly. If the mixture is still too viscous, add more syrup or milk as desired.
How do I use the remaining pumpkin pulp?
300g of pulp is enough for the Gugelhupf. However, since pumpkins usually weigh a lot more, there is still some left over, which can also be used in other autumnal dishes. For example, how about a classic pumpkin soup or vegan pumpkin oat biscuits, or baked as a topping for our pumpkin and tomato porridge? The pumpkin flesh can be stored in the fridge for several days without any problems.
Print Recipe
Pumpkin-apple gugelhupf with maple syrup and pumpkin seed topping
The juicy pumpkin-apple gugelhupf is a simple but delicious autumn recipe. The perfectly coordinated spices give the cake a hint of the pre-Christmas season. The whole thing is refined by a maple syrup glaze and a topping of pumpkin seeds.
Servings:
12
Pieces of cake
Ingredients
200

g

raw cane sugar Demerara

180

ml

sunflower oil

350

g

fine spelt flour

1 1/2

teaspoons

baking powder

2

teaspoons

cinnamon

1 1/2

teaspoons

gingerbread spice

1

pinch of

salt

300

g

Hokkaido pumpkin

finely grated

70

g

apple

finely grated

2

tbsp

pumpkin seeds
For the glaze
125

g

icing sugar

approx. 2

tbsp

maple syrup

approx. 1

tbsp

milk
Instructions
Preheat the oven to 180 °C (top/bottom heat). 

Grease a cake tin of your choice well and sprinkle with breadcrumbs or flour.

Whip the eggs, sugar and oil with a food processor for about 3 to 4 minutes until the sugar has dissolved.

Mix all the dry ingredients and stir into the egg and sugar mixture.

Add the grated pumpkin and grated apples and mix in until an even batter is formed.

Pour the batter into the prepared mould.

Bake in the preheated oven on the second shelf from the bottom for 50 to 60 minutes.

To test whether the cake is ready, do the chopstick test. To do this, insert a long wooden stick into the thickest part of the dough. If no lumps of dough stick to it, the Gugelhupf is done and can be taken out of the oven.

Remove the finished cake from the oven, leave to cool slightly and carefully remove from the tin. 

Leave to cool completely on a cooling rack.

Then decorate the cake with the icing.

Spread the pumpkin seeds over the icing.

Let the glaze dry and then the cake can be served.
Enjoy baking and bon appétit!
Recommended articles
Breakfast, Gesund leben, Healthy lifestyle
You probably already know that oat flakes are now considered as a real superfood and should therefore be an integral part of a healthy diet. But when preparing oat flakes you should consider a few small tricks so that the oat flakes do not taste too boring and get the right consistency. In this blog […]