Who hasn't experienced this? Between lunch and dinner we often lose energy and feel like snacking. A common mistake: many people reach for chocolate or biscuits, which give them short-term energy, but then they are hungry or tired again after a short time.
The better solution? Delicious granola bars without industrial sugar, which are also ready in no time at all. You can simply use oat flakes as the basis for healthy granola bars. In this article you will learn how you can easily make these healthy granola bars yourself and what benefits they offer.
Granola Bars – what are they anyway?
Granola bar, or muesli bar in German, is the simplified term for granola in the form of a practical bar. The basic recipe is always the same: oat flakes form the basis, oil such as coconut oil provides the binding and honey is often used as a sweetener.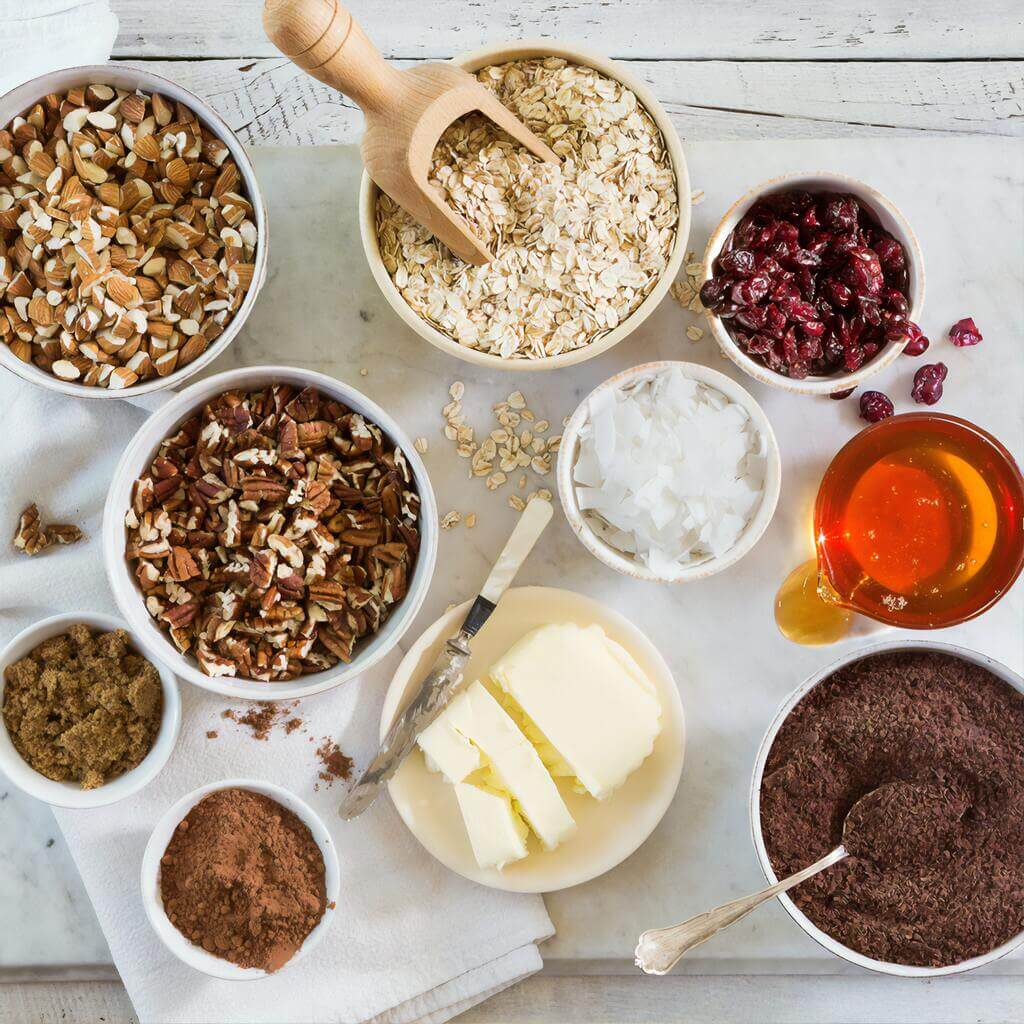 Depending on preference, a wide variety of dried fruits or nuts can also be added.
Good bases for granola bars are, for example:
Cocoa nibs
Cranberries
Sultanas
Dried fruit such as apricots or banana pieces,
Linseed
Pumpkin seeds
Nuts such as hazelnuts, walnuts, cashews, etc.
Coconut chips
Spices like cinnamon or cardamom
As you can see, almost anything can be used to make delicious granola bars.
Granola Bars basic recipe – now quick & easy to prepare
Print Recipe
Basic recipe: Granola Bars
Our Granola Bars without industrial sugar are the perfect snack for in between meals. 
Ingredients
180

g

Verival Bircher Porridge

80

g

Nuts of choice

chopped

60

g

Sweetness

40

g

Coconut oil

a little bit

lemon juice

1

pinch of

cinnamon

1

pinch of

salt
Instructions
Preheat the oven to 170°C convection oven.

Line a rectangular baking tin (approx. 32cm x 24cm) with baking paper.

Mix the porridge, nuts, cinnamon and salt.

Melt the coconut oil and mix it together with the sweetness to the dry ingredients. Add the lemon juice.

If the mixture does not hold together, you can add more oil or sweetener as needed.

Pour the mixture into the prepared baking tin.

Bake in the oven for about 25-30 minutes until golden brown.

Take the mixture out of the oven, cut it into approx. 15 pieces while still hot and leave to cool.
Notes
For a long shelf life, store the bars in an airtight container and in a cool place. 
More recipe ideas for granola bars
Would you like something a little more unusual? Then how about the Raspberry-Almond Granola Bars?
The base is our Low Carb Granola Raspberry-Almond and the sweetness comes from maple syrup. They are especially good if you want to cut down on carbohydrates or reduce your calorie intake.
Are you lacking inspiration for delicious granola bars or other healthy breakfast ideas? Then check out our recipes on the Verival blog now! You'll also find more breakfast recipes there.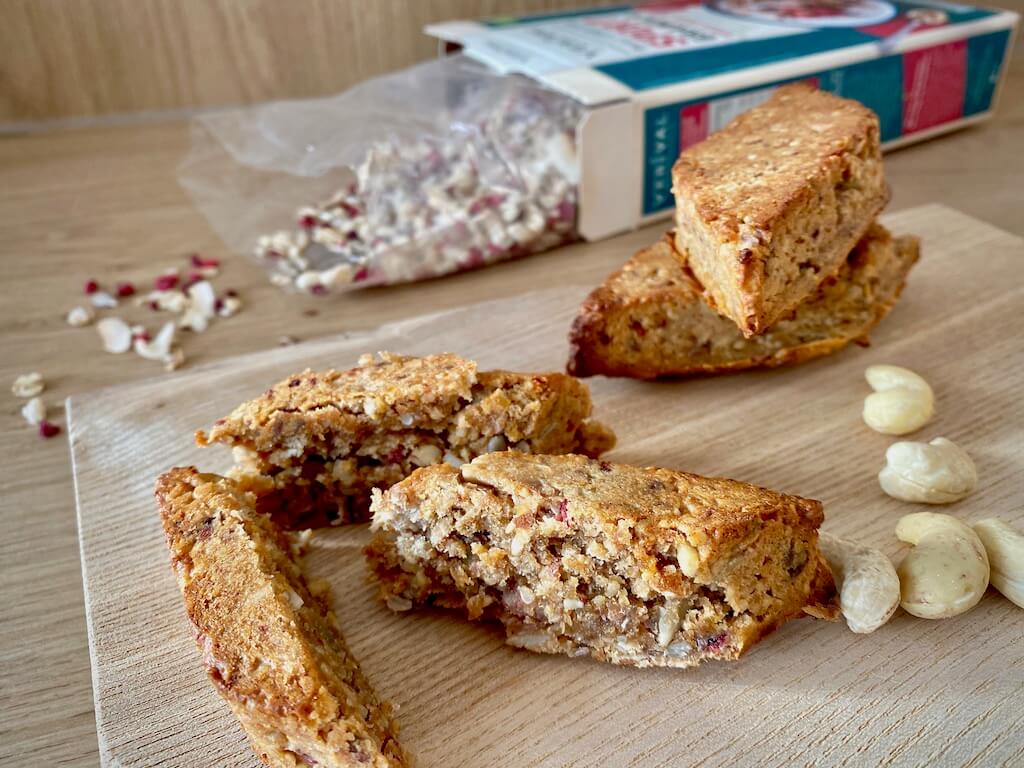 Make Granola Bars yourself – That's why it's so healthy
As already mentioned, granola bars are ideal as a snack between meals. The oat flakes ensure that you stay full for a long time and can better bridge the time until the next "real" meal. Depending on the added ingredients, they also contain a large amount of valuable nutrients, e.g. from the nuts.
However, it is advisable to make the bars yourself and not to use ready-made granola bars from the supermarket. These often contain a high amount of sugar and are therefore not recommended as a healthy snack! Granola bars are also good for a healthy breakfast, especially if you have to be quick or if you want to eat your breakfast on the go.
Recommended articles
Breakfast, Gesund leben, Healthy lifestyle
You probably already know that oat flakes are now considered as a real superfood and should therefore be an integral part of a healthy diet. But when preparing oat flakes you should consider a few small tricks so that the oat flakes do not taste too boring and get the right consistency. In this blog […]