Porridge is enjoying more and more approval in the breakfast cosmos. It is healthy, has the local superfood oats as its main ingredient and is simply delicious. But is porridge just breakfast, or can it also be enjoyed for lunch?
Why porridge is so healthy
Porridge originated in Scotland and is probably the healthiest breakfast around. It provides you with complex carbohydrates that have many health benefits. This means that your blood sugar level is stabilised by the carbohydrates and porridge fills you up for a long time.
Oat flakes are also good for lowering high cholesterol because they contain the dietary fibre beta-glucan. Beta-glucan has been shown to reduce blood cholesterol levels. This effect is achieved with a daily intake of 3 g beta-glucan.
The dietary fibres bind bile acid on its way through the intestine. This means that your body has to produce bile acid again, and in this process your body needs cholesterol as a building material. In this way, your body lowers your cholesterol in a natural and healthy way.
Porridge for lunch – healthy and versatile
Porridge is particularly good for its nutrients. Oat flakes contain many healthy micronutrients and have an ideal macronutrient breakdown.
100g oat flakes contain 370 kilocalories
13g protein
63g complex carbohydrates
10g dietary fibre
and 7g fat.
It also contains a lot of vitamins: Vitamin B2, B6, E as well as iron, zinc, magnesium, phosphorus, calcium, folic acid, copper, potassium and sodium. Oat flakes really are a true vitamin bomb!
Prevent cravings with porridge
Since the human stomach needs a relatively long time to break down the complex carbohydrate chains dissolved in the cereal flakes, they provide lasting satiety.
The dietary fibre prevents contact between gastric juice and the stomach lining, which is why oat flakes can be classified as gentle on the stomach. In addition, the typical oat fibre beta-glucan binds cholesterol from the blood.
A daily consumption of 40g of the cereal flakes is sufficient for this. Porridge based on spelt & co serves as an important source of invigorating nutrients that have been proven to promote health.
Better digestion with oat flakes
Oat flakes are indeed considered "versatile all-rounders" among healthy flakes. Unlike other cereals, oatmeal has a rich, health-promoting nutrient profile, is relatively inexpensive to buy and has been one of the healthy household remedies for gastrointestinal complaints since the 19th century.
Oat flakes are therefore a welcome guest on every kitchen shelf. It often doesn't take much to conjure up the perfect porridge. A little time, a few toppings and a pot. It's probably one of the best lunches you can feed your body. Not only your intestines will thank you!
Can you eat porridge for lunch?
If you're looking for the short and crisp answer, you'll find it here too: Yes! After all, why shouldn't porridge, which brings many benefits at breakfast, also be healthy and delicious at lunch?
But what actually makes porridge so appealing at lunch as well?
Advantages of porridge for lunch
If you're someone who doesn't like breakfast very much, porridge probably offers you the best middle ground between breakfast and lunch. If it's just the time component that's lacking, porridge can also be perfectly meal-prepped to be eaten for lunch the next day.
In general, porridge is simply a quick and delicious lunch. Especially with our Verival Porridges you can get to your desired destination in minutes. This way you can make sure you're doing something good for yourself at lunch, because porridge is one of the healthier foods.
For example, you could choose our delicious Strawberry China Porridge as your lunch companion. And we can also help athletes: our delicious Sport Protein Porridge Cocoa-Banana is the perfect companion throughout the day.
The ingredients of porridge really make oats a perennial favourite – whether in the morning or at lunchtime. The high proportion of complex carbohydrates provides above-average satiety and stabilises blood sugar levels. This actively prevents cravings in the afternoon. Porridge is also very good for losing weight.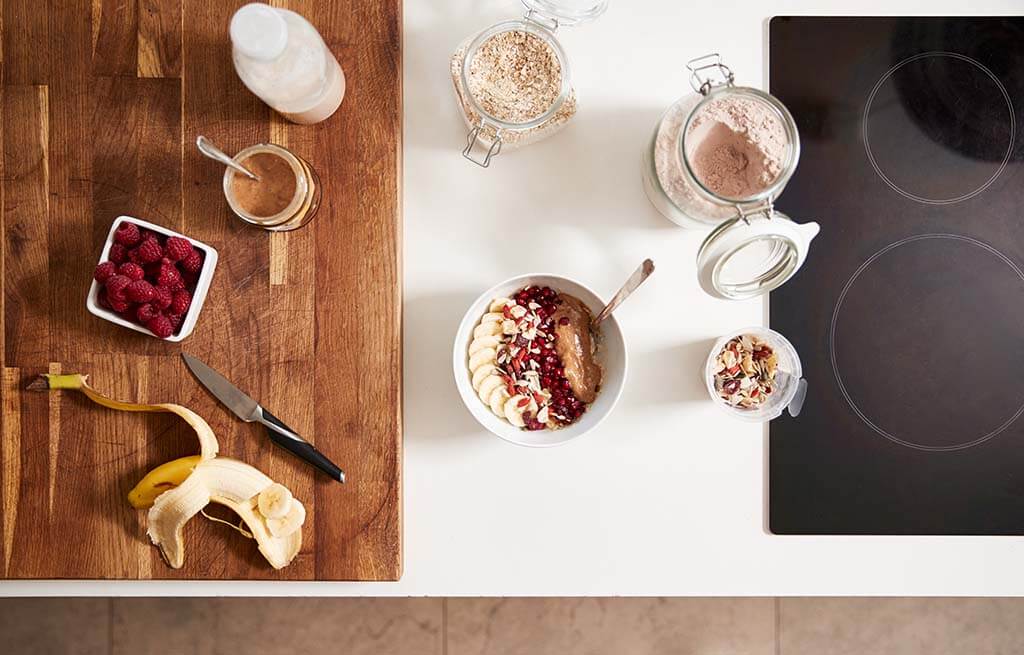 Porridge as a weight loss aid?
Because of its antioxidant, satiating, immune-activating nutrients, porridge is an optimal building block for a healthy breakfast or dinner.
Porridge is rich in complex carbohydrates, which the human organism digests comparatively slowly. The carbohydrate chains allow the blood sugar level to rise relatively gently. This prevents fluctuations in blood sugar, which have been shown to promote cravings, uncontrolled eating behaviour and are counterproductive for weight loss.
In addition, oats are important sources of dietary fibre. They have been proven to boost the human metabolism, accelerate fat burning and serve as basic building blocks for healthy weight reduction. Porridge is therefore also suitable for weight loss.
How does porridge taste best for lunch?
The basis: oat flakes!
It's hard to get started – but that's not the case with porridge! Because the basic porridge recipe couldn't be simpler. Oat flakes as the base and that's half the job done. Now you can (almost) never go wrong on your way to a healthy lunch.
Porridge rarely works without toppings
Toppings, toppings and more toppings. Not only is porridge alone often just a bit boring, you're also missing out on the full range of extra vitamins and ingredients that you could be tapping into with the various toppings.
The best porridge recipe ideas
So that you don't just get hungry now, we also have a few simple recipe ideas for you! From a basic porridge recipe to a hearty lunchtime porridge, there's sure to be something for you:
Easy Buddha Bowl
A balanced meal has never been so easy! This delicious buddha bowl recipe is the perfect mix of proteins, greens, nutritious carbohydrates, vegetables and healthy fats. Featuring the Verival Pumpkin & Tomato Porridge.
Ingredients
30

%

roasted chickpeas

20

%

fresh rocket

20

%

Verival Pumpkin & Tomato Porridge

20

%

fresh carrots, squash and sweet potatoes

10

%

fresh avocado
Instructions
Prepare the chickpeas according to the instructions on the package.

Wash and peal the fresh carrots, squash and sweet potatoes and cut into small cubes. Cover them with oil, add some seasoning and put them in the oven at 200 degrees for 15-20 min.

Together with some oil roast the chickpeas in a frying pan.

Pour some boiling hot water on the Verival Pumpkin & Tomato Porridge, give it a good stir and let it sit for 3 min.

One after the other dress all the ingredients in your favourite bowl.

Finally add some almonds, cress and favourite pesto (optional).
Stuffed peppers with Verival Broccoli Porridge
Ingredients
4

Peppers

190

g

Verival Broccoli Porridge

125

g

Mozzarella or a vegan alternative

Olive oil

Salt and pepper
Instructions
Preheat the oven to 180° heat.

Wash the peppers, cut them in halves and remove the cores.

Add boiling water to the Verival Broccoli Porridge, mix it and let it steep for 3 minutes. 

Cut the mozzarella in slices. 

Coat the pepper halves with olive oil, fill them with porridge and flavour it with salt and pepper. 

Place the mozzarella on top of the peppers

Put the peppers in the oven for 30-35 minutes until the cheese is melted. 
Low-calorie porridge with courgette and oat flakes
Ingredients
40

g

oat flakes

1/2-1

courgette

30

g

protein powder (optional flavour)

1

tbsp

coconut flour

300

ml

water

1

pinch

salt
Instructions
First grate the courgettes into small pieces. It's best to grate them straight into the pot.

Then add the oat flakes and the protein powder.

Next, add the water to the pot and a teaspoon of coconut flour. The coconut flour makes the porridge nice and creamy and binds it together.

Now put your porridge on the cooker and cook it for about 7 minutes on medium heat. Keep stirring well.

When your porridge is already creamy, take it off the heat and let it sit for another 2-3 minutes. After that, your delicious porridge is ready without many calories.

Of course, you can now refine your porridge with toppings of your choice, such as fresh fruit, nuts or seeds.
Nutrition
Porridge for dinner
Porridge for dinner also replenishes your body's nutrient stores in the evening, which ideally support the body in its repair processes during the night.
The consumption of protein-rich foods such as oat flakes, kefir, cow's milk or plant milk encourages the human organism to release more of its own growth hormones during sleep.
Such substances have a cell-protecting effect and act like your personal gentle "rejuvenation cure". The vitamins and minerals in oat flakes improve the exchange of nutrients and oxygen between the individual cells and effectively slow down inflammatory reactions in muscles, skin and tissue.
Enjoy all the benefits of porridge in the evening
Don't be shy – you can still enjoy the rest of the benefits of porridge. Porridge is a true all-rounder and will definitely help you to make your day healthier. Whether it's for breakfast, lunch or even dinner.
Recommended articles
Breakfast, Gesund leben, Healthy lifestyle
You probably already know that oat flakes are now considered as a real superfood and should therefore be an integral part of a healthy diet. But when preparing oat flakes you should consider a few small tricks so that the oat flakes do not taste too boring and get the right consistency. In this blog […]