Whether as a delicious topping or a practical snack, almonds are very popular with health-conscious people because they are considered an ideal source of protein. Find out here what makes them an excellent source of protein and why these healthy kernels should not be missing from your diet.
We also tell you how you can easily enhance your healthy breakfast with almonds and benefit from the valuable nutrients.
But before we go into detail, let's start with the basics and talk about what proteins actually are and what almonds and almond butter have to do with them.
Proteins: the building blocks of our cells
Proteins, are indispensable for the human body because they play an essential role in building, maintaining and renewing our cells. They are not only responsible for the structure of our hair, skin, muscles and so on, but also protect us from diseases.
The average daily protein requirement for adults is 0.9 to 1.2 grams per kilogram of body weight. For children and pregnant women, the requirement is somewhat higher. (1) Provided we meet our daily calorie requirement, a protein deficiency is hardly possible in western societies. More likely than a deficiency is actually an oversupply.
Biological valency – what is it?
The term biological value is often used in connection with proteins. It provides information on how much protein from a food can be utilised to produce the body's own protein. The reference is always the hen's egg, whose biological value has been set at 100. If the value of a food is higher, the protein contained in it can be processed better than in an egg and vice versa.
But which foods actually contain protein and which have a particularly high biological value? We answer these questions in the following section.
Protein sources and their bioavailability
The following table gives you an overview of the protein content and biological value of selected foods:
| | | |
| --- | --- | --- |
| food | protein content (per 100 g or 100 ml)) | biological value |
| chicken egg | 13 g | 100 |
| soya | 37 g | 84 |
| basmati rice | 9 g | 83 |
| oats | 13 g | 60 |
| milk | 3,4 g | 88 |
| white beans | 6 g | 63 |
| tuna | 29 g | 82 |
| chicken | 27 g | 80 |
| hazelnuts | 12 g | 50 |
| almonds | 21 g | 47 |
Animal protein sources usually have a higher biological value. This means that the amino acid profile of animal foods is more similar to that of human protein and can be better converted into the body's own tissues. However, this does not mean that plant proteins cannot meet our protein needs. By cleverly combining different plant foods, you not only create a balanced and delicious meal, but also provide your body with sufficient protein.
For example, if you eat pulses together with cereals or nuts, you can boost the amino acid profile of your diet in no time. A key advantage of plant-based protein sources over animal-based sources is their high vitamin and mineral content.
Now that we know the basics, let's take a closer look at almonds as a protein source.
Almonds as an ideal protein source
Despite the comparatively low biological value of almonds, they are considered an ideal source of protein in a balanced diet. One reason for this is that the crunchy kernels not only provide protein, but also have a high proportion of monounsaturated and polyunsaturated fatty acids. This protects our heart and makes our brain particularly efficient.
Since almonds also contain calcium, magnesium, vitamin E, B vitamins, fibre and protein, they are also very popular with athletes.
Whether before or after sports, the miracle seeds provide energy and supply you with the most important nutrients. For all sports enthusiasts, we have a hot recipe tip for a delicious sports breakfast:
Print Recipe
Chia seed pudding with raspberry
Chia seeds as a small sweet breakfast or the perfect snack for in between.
Ingredients
2

teaspoon

Chia seeds

1

package

Vanilla sugar

100

ml

milk or vegetable drink

fresh raspberries
Instructions
Infuse the chia seeds and vanilla sugar with milk or vegetable drink of your choice.

Blend fresh raspberries and mix with some or all of the pudding.

Leave to swell in the fridge for at least 2 hours, better overnight.

Top with berries and chia seeds if desired.
Notes
Chia seed pudding with delicious raspberries. Super refreshing for breakfast and the perfect afternoon snack! pssst…or in the morning at the office 😉
Nutrition
Almonds and almond butter for breakfast
Almonds are very versatile in the kitchen and are a wonderful addition to a wide range of dishes from sweet to savoury. But almonds are especially good for breakfast, because they are an excellent topping for porridge or a delicious extra ingredient for muesli, yoghurt and the like.
Do you prefer chopped almonds with a crunchy effect or creamy almond paste? With the organic Crunchy Almond butter from Verival you can have both! The creamy almond butter with crunchy almond pieces offers the best of both worlds, so to speak. And in addition to the delicious taste, our almond butter contains 25% vegetable proteins, healthy fatty acids, as well as calcium, vitamin E and magnesium.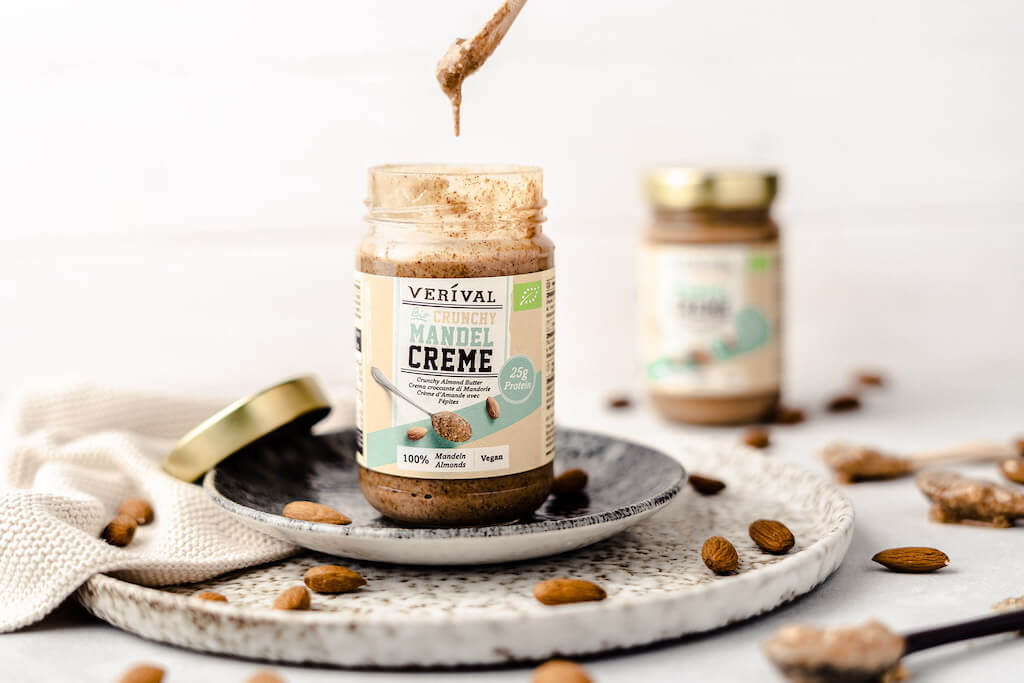 Did you also know that the nutrients from nut puree are better absorbed by the body than from the whole nut? That's because we can't break down nuts quite as finely when we chew them.
If that hasn't convinced you that almonds are an absolute superfood, then we have a top tip for you: put the Verival Organic Crunchy Cream on porridge while it's still warm and add fresh bananas or warm berries as a topping. A combination to melt away.
Recommended articles
Breakfast, Gesund leben, Healthy lifestyle
You probably already know that oat flakes are now considered as a real superfood and should therefore be an integral part of a healthy diet. But when preparing oat flakes you should consider a few small tricks so that the oat flakes do not taste too boring and get the right consistency. In this blog […]