Those who consciously choose a healthy breakfast in the morning know that this energy will accompany us throughout the day. 
But for those who don't like the morning and those who are always in a hurry in the morning, this is easier said than done. For them, breakfast To Go is the solution. On the way to work, a quick chocolate croissant from the bakery, a quick trip to the supermarket for a sandwich or just a cappuccino to go. If you don't have time for an extensive breakfast in the morning, you eat on the road or in the office. 
However, a quick breakfast is healthy and balanced in the rarest of cases. Instead, it contains a lot of sugar, simple carbohydrates or unhealthy fat. 
So that you can start the day with full energy despite lack of time, we have 5 tips for a healthy breakfast To Go for you: 
Tip 1: Have the most important nutrients in stock 
In order for a healthy breakfast to work, you must of course make sure that you have all the ingredients for it at home. 
It is best to deliberately take time before you go to the supermarket to think about what you need for your healthy breakfast To Go. A shopping list can be very helpful to make sure you don't forget anything. It also reduces the chance of unhealthy impulse purchases. 
Make sure that you always have a healthy mix of complex carbohydrates, healthy fats and high-quality protein in stock. You can find out what it can look like in our next tip:
Tip 2: Ingredients for a healthy breakfast To-Go
Oat flakes
Oat flakes are considered a domestic superfood and with good reason. They contain healthy fibre that will keep you full for a long time and also provide a huge portion of vitamins and minerals. 
They are also versatile and not only look good in our mueslis and crunchies, but as porridge they also make a delicious hot breakfast. 
Wholemeal products 
The chocolate croissant from the bakery or the bread roll from the supermarket – simple carbohydrates provide energy quickly, but make you hungry again just as quickly. 
In order to stay full for a long time and to keep your blood sugar level as constant as possible throughout the day, it is therefore recommended to use whole grain products. 
So the next time you order your breakfast from the bakery, make a conscious decision for the healthy whole grain variety. 
Nuts and seeds 
Nuts and seeds not only give your breakfast that certain something, but also make it a whole lot healthier. They both provide your body with protein and healthy fats, which keeps you full for a long time.
Both nuts and seeds are therefore among the best porridge toppings and are popular ingredients for muesli. 
Tip 3: Inspiration for a healthy breakfast To-Go
Enough theory – we have some ideas for a healthy breakfast to go that may serve as inspiration: 
Porridge as a timeless classic 
Porridge is not without reason very popular, because the porridge not only tastes wonderful, but also does your body good. Hot breakfast is considered to be particularly healthy.
It is also perfect for those in a hurry, because with a swelling time of only three minutes our delicious VERIVAL Organic Porridge is prepared in a flash. 
Breakfast from the muffin tray 
Muffins are a great option if you're in a hurry in the morning because they're quick and easy to prepare for the whole week.
The possibilities are as varied as tastes and so you can let off steam with your creations from sweet to hearty. 
A healthy breakfast To Go are for example our Good Morning Muffins with porridge as main ingredient: 
Print Recipe
Good Morning Muffins
Ingredients
150

g

Verival Coconut & Apricot Porridge

2

large eggs

150

ml

natural yoghurt or vegetable alternative

50

ml

vegetable oil

100

g

apple sauce

4

tbsp

honey

150

g

wholemeal spelt flour

1

tsp

baking powder

1

tsp

baking soda

1

tsp

cinnamon
Instructions
Preheat the oven to 150 °C.

Mix the Verival coconut &apricot porridge with the wholemeal spelt flour, baking powder, baking soda and cinnamon in a bowl.

Mix the eggs, natural yoghurt, vegetable oil, apple sauce and honey in a second bowl.

Now mix the dry ingredients with the wet ingredients.

The dough should not be stirred too much, only until all ingredients are moist.

Line a muffin tin with muffin moulds and fill them carefully with a spoon approx. until the muffin moulds are ¾ filled.

Bake the muffins in the oven for 20-25 minutes.

Then let them cool and enjoy them for breakfast!
Healthy breakfast to drink 
Smoothies and shakes are prepared in no time at all and are also very tasty. Drinking your breakfast is especially popular with those who are not yet very hungry in the morning, but still want to start the day full of energy.
In addition, the colourful pick-me-ups are wonderfully refreshing and therefore the perfect breakfast in summer. 
For example, try our breakfast smoothie with berries and porridge or mix your own creation. 
Tip 4: Healthy breakfast To-Go overnight 
For all those who like to enjoy their bed until the last minute, this tip is probably worth its weight in gold: Prepare your breakfast in the evening and save time in the morning. 
This works particularly well, for example, with Overnight Oats, a type of porridge that develops its flavour overnight. 
Following our Overnight Oats recipe, mix oatmeal with water, milk or a herbal drink and allow the mix to swell overnight. Refine the oatmeal with fruits, nuts or honey as a topping and you have a full breakfast that will get you off to a good start in the day. 
Tip 5: The best To-Go containers for your breakfast 
For you to become a real breakfast To-Go professional, of course you need the right containers to take with you.
Jars, for example, are particularly popular. Because glass is not only heat-resistant, but also hardly wears out at all. 
So that you can enjoy your porridge still warm on road or at work, a thermal container to take with you is worthwhile. How about our To Go thermal mug in two colours, for example? It keeps your porridge nice and warm and also has an extra compartment where your toppings stay fresh and crisp.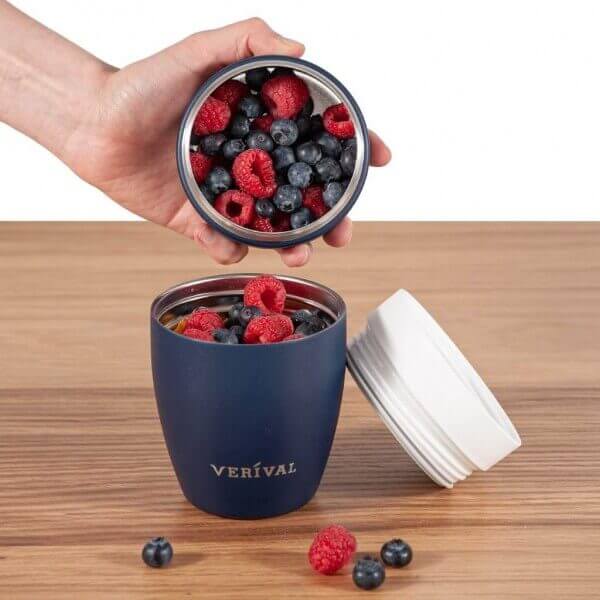 Another plus point: You avoid packaging waste because you can use your containers again and again. In addition, breakfast tastes even better when lovingly packed. 
Recommended articles
Breakfast, Gesund leben, Healthy lifestyle
You probably already know that oat flakes are now considered as a real superfood and should therefore be an integral part of a healthy diet. But when preparing oat flakes you should consider a few small tricks so that the oat flakes do not taste too boring and get the right consistency. In this blog […]