Porridge is considered extremely healthy and is therefore very trendy among nutrition-conscious people. But porridge is not always as healthy as people like to claim. Many mixtures contain a lot of sugar. In this article we will take a closer look at how you can avoid sugar traps in porridge and how to prepare the ideal porridge for your naturally sweet oatmeal.
Avoid these sugar traps in porridge
When you're standing in front of the cereal aisle at the supermarket, the choice can be overwhelming. Most manufacturers promise healthy porridge mixes and entice you with juicy-looking berries on the packaging – which are supposed to represent natural sweetness.
In reality, however, many porridges are full of sugar. This is because it is relatively cheap and easy to process. Moreover, it pleases consumers' taste buds, which makes them reach for the same product again and again.
It is worth taking a look at the back of the pack. If sugar is listed at the beginning of the ingredients, it does not bode well. But high-sugar breakfast cereals are not always so easy to expose. Product claims such as "sugar-free", "low-sugar" or "no added sugar" can also be quite confusing.
Sugar traps in porridge – glucose, fructose and co.
Glucose, glucose syrup and fructose are somewhat less conspicuous in the list of ingredients. Nevertheless, all three of them cause your blood sugar level to rise sharply, making you hungry again quickly after a short satiety phase.
This is because the sugar-containing ingredients cause the blood sugar level to rise excessively at first, but then to drop all the more. What then follows is what many would probably call food cravings.
Sugar substitutes – sweetness without calories
However, artificial sugar alternatives are just as condemned as glucose and fructose in ready-mixes. And yet you shouldn't throw them all over the place. After all, not every sugar substitute is automatically unhealthy.
It is always important to pay attention to the effects in the body. Sweeteners like xylitol, for example, do not raise blood sugar levels – but in larger quantities they can have a laxative effect. This is not only unpleasant, but also puts unnecessary strain on your gastrointestinal tract.
If you are trying to keep your blood sugar level as stable as possible, for example to prevent obesity or diabetes, sweeteners can be a great help. But there is a more natural way – and without unpleasant side effects.
Three tips for a healthy and naturally sweet porridge
To achieve a healthy and natural sweetness in your porridge preparation, consider the following tips. They will provide you with a healthy breakfast that is naturally sweet and also healthy.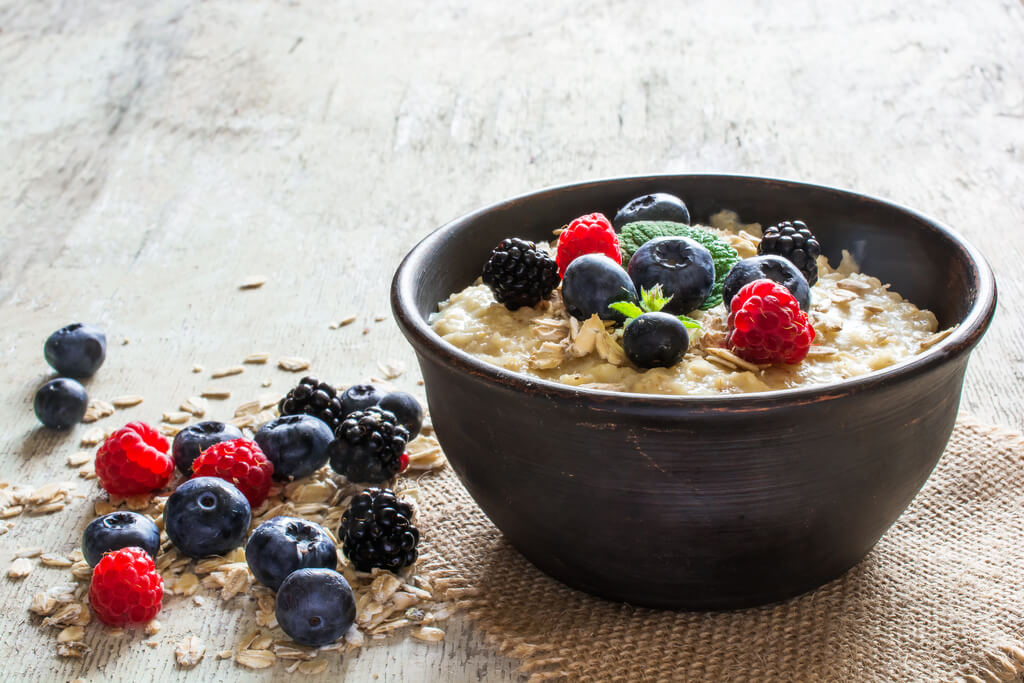 Tip 1 – Porridge with fresh fruit
Fresh fruit in porridge not only provides a pleasant sweetness. It also provides your body with numerous important micronutrients. Depending on the type of fruit, everything from vitamins and minerals to digestive fibre is included.
While berries provide you with plenty of antioxidants, a banana can give you a good load of magnesium. The big advantage – the variety of fruits is huge. And each variety has its own individual advantages.
Tip 2 – Frozen fruit as a topping in oatmeal
Frozen fruit can serve as an alternative to fresh fruit. Especially if you value regional products, frozen fruit can help you through the winter.
Instead of exotic fruits that have a long journey and therefore a big ecological rucksack, you can simply use frozen fruits. These are usually from a country closer to home and therefore more sustainable.
Frozen berries are particularly good. If you defrost them carefully, you can use them for that extra bite in porridge. But also as a berry topping, the vitamin-rich fruit varieties can provide a real taste explosion in your cosy, warm breakfast.
Tip 3 – Dates for oriental porridge
For those who like it especially sweet, dates are recommended. They are not necessarily local, but if you buy them in large quantities, one pack will last you a long time.
You can easily cut the dates, which are rich in minerals, into small pieces and add them to your porridge. This gives your porridge a special oriental touch. You can round off your porridge with suitable spices, such as turmeric or cinnamon.
How to make your sugar-free porridge
In addition to delicious toppings, you need a suitable basic recipe for your healthy porridge. For the perfect base, you only need three ingredients: Oat flakes, water and a pinch of salt.
Now all you have to do is boil the fibre-rich oat flakes with water and a little salt and your healthy porridge is ready.
Print Recipe
Porridge basic recipe – sugarfree and vegan
The Scottish porridge is very easy and quick to prepare. You only need three
ingredients for the basic recipe and then you can add your favourite fruits and
spices.
Ingredients
180

ml

milk or plant-based drink

3-4

tbsp

oat flakes

1

pinch of salt
Instructions
Bring the milk (or plant-based drink) to a boil in a pot.

Add the oat flakes and turn the heat down to a low temperature.

Let the porridge simmer for about 5 minutes (stir constantly with a wooden spoon or a spurtle so that the milk does not burn and the porridge gets a nice creamy texture).

Remove the pot from the stove and allow the porridge to simmer until it has the right consistency

Add a pinch of salt at the end. This enhances the taste of the porridge even more, whether you want to enjoy your porridge with sweet or savoury toppings.
Of course, you can also use milk or a vegan milk alternative instead of water. You can also replace the oat flakes if necessary – for example, with particularly nutrient-rich oat bran or quinoa if you are keen to experiment.
If you're in a hurry or don't want to make too much effort, you can of course just buy porridge. Our Verival porridges are all 100 per cent organic. We don't add any artificial sugar – instead, freeze-dried berries or delicious dates provide the natural sweetness.
The perfect toppings for your sugar-free porridge
We have already briefly touched on a selection of healthy toppings, but there is more than just fruit. Nuts, nut purees and seeds are particularly suitable for making your porridge even healthier and tastier.
A tablespoon of organic crunchy almond cream, for example, provides an extra portion of high-quality proteins and healthy fatty acids. But a nut mix with whole nuts can also provide that extra bite in your porridge.
For those who prefer a more subtle flavour, seeds such as flax or chia seeds can also provide extra healthy nutrients. They don't stand out as much in terms of taste, but still provide you with plenty of vegetable proteins, fibre and minerals.
Try out the different varieties yourself and find the mixture for your sugar-free porridge that suits you best. Have fun with it!
Recommended articles
Breakfast, Gesund leben, Healthy lifestyle
You probably already know that oat flakes are now considered as a real superfood and should therefore be an integral part of a healthy diet. But when preparing oat flakes you should consider a few small tricks so that the oat flakes do not taste too boring and get the right consistency. In this blog […]