Pulses are true all-rounders. They not only contain countless healthy nutrients, but can also be used in a variety of ways. They are therefore extremely popular with vegetarians and vegans as part of a healthy diet – for example as a source of vegetable protein. Find out why pulses should also be on your plate every day in this article.
What are pulses actually?
Strictly speaking, pulses are the seeds of so-called legumes. They are usually available in air-dried form on supermarket shelves or online shops. But they can also be purchased in pre-cooked form in tins.
Pulses are especially essential in plant-based diets. However, a sufficient intake of pulses is also recommended for people with a mixed diet. The reason for this is the wide range of nutrients. Legumes contain plenty of high-quality protein, healthy dietary fibres as well as various minerals and secondary plant compounds.
Pulses are so healthy
It is recommended to consume pulses regularly, preferably up to three times a day. But what is the reason for this recommendation?
The answer to this question is simple. Because legumes are extremely healthy. For example, many varieties contain at least 20 grams of protein per 100 grams. And that without any negative accompanying products such as unhealthy fatty acids. Because most pulses are low in fat.
In addition, they contain plenty of dietary fibre, which ensures healthy intestinal flora and keeps you and your body fit. Also worth mentioning is the considerable amount of minerals. Iron, zinc, magnesium, potassium, phosphorus and manganese, for example, are present in significant quantities. But pulses also contain healthy vitamins, such as those of the B complex.
In terms of health, these nutrients manifest themselves in the form of stable blood sugar levels and thus protect against food cravings and diabetes. But pulses are also seen as a natural preventive measure for widespread diseases such as cardiovascular problems or cancer.
Are pulses suitable as a source of vegetable protein?
Those who follow a plant-based diet or are active in sports will pay special attention to the protein content of the food. If you take a look at the protein content of legumes, you can quickly see that they are an excellent source of protein.
In nutrition science, the quality of a protein source is usually expressed in terms of biological value. This reflects the composition of the protein, which is defined by the amino acids it contains.
Some pulses, such as soybeans, already have a high biological value individually. If the plant superfoods are cleverly combined, their biological value and thus their quality can be increased even further. A mixture of beans and maize, as found in Mexican chilli, for example, is roughly equivalent to a classic hen's egg, which in turn forms the basis of the biological value.
You should know these varieties
Admittedly, not everyone can really get to grips with pulses. But that doesn't have to be the case. The variety could not be greater. If you don't like beans, you might like lentils. If you don't like lentils, you might be happy with chickpeas. That is exactly why it is worth taking a closer look at the numerous varieties of pulses.
Beans
Bean varieties are a dime a dozen. Compared to the latter, however, they all taste excellent. Below you will find a small selection of some of the most important bean varieties:
Soybeans
Kidney beans
Black beans
White beans
Pinto beans
Broad beans
The special thing about the different varieties is their use in the kitchen. Soybeans are an excellent ingredient for homemade plant drinks, while kidney beans can be used to make delicious cakes, for example.
Lentils
Lentils are one of the pulses with the highest nutrient density. But they are not only popular because of their healthy nutrients. Because, depending on the variety, they are extremely easy and quick to process. Red and green lentils, for example, are ready to eat in just ten minutes.
For larger lentils, such as plate lentils, you should allow a little more time. The type of lentils you use depends on the dish you want to make. Beluga lentils, for example, are excellent in salads, while red lentils are ideal for meatless sauces.
Peas
Chickpeas are the absolute all-rounders in plant-based cuisine. They are not only suitable as a crunchy snack from the oven, but can also serve as a base for cakes or plant-based patties.
It's a similar story with classic peas. Unlike chickpeas, however, the green pea pods stand out for their famously sweet taste. Nevertheless, they are versatile. Whether as a supplement to rice or mashed potatoes, as a sweet flavour note in chilli sin carne or as a base for delicious spreads – sugar peas are suitable for everything.
How to integrate pulses into your everyday life
Integrating pulses into everyday life is difficult for many people at first. All it takes is a little ingenuity. The following suggestions serve as inspiration – there are no limits to your creativity. Just try something out. You'll see that you can do much more with pulses than you originally thought 😉
Pulses for breakfast
Admittedly, integrating pulses into breakfast sounds unusual at first. But it is not at all. If you look a little further afield, you will quickly realise that pulses are already popular at breakfast.
In Great Britain, for example, beans are an integral part of the classic English breakfast. In Japan, too, people like to have a hot breakfast – soybeans are found in the form of miso and tofu in the traditional miso soup. In India, on the other hand, lentils are traditionally eaten for breakfast – processed as lentil flour in the morning cake.
You can also easily make a sweet lentil porridge with lentils. To make it, bring lentils to the boil with oatmeal and milk. If you like, you can also add a mashed banana. Cook your lentil porridge over medium heat for about 20 minutes until it reaches a creamy consistency.
As you can see, you can have a healthy portion of pulses at breakfast. If processing pulses in the morning is too much work for you, you can also use our Verival Green Protein Waffles. These are a great low-carb, high-protein alternative to bread.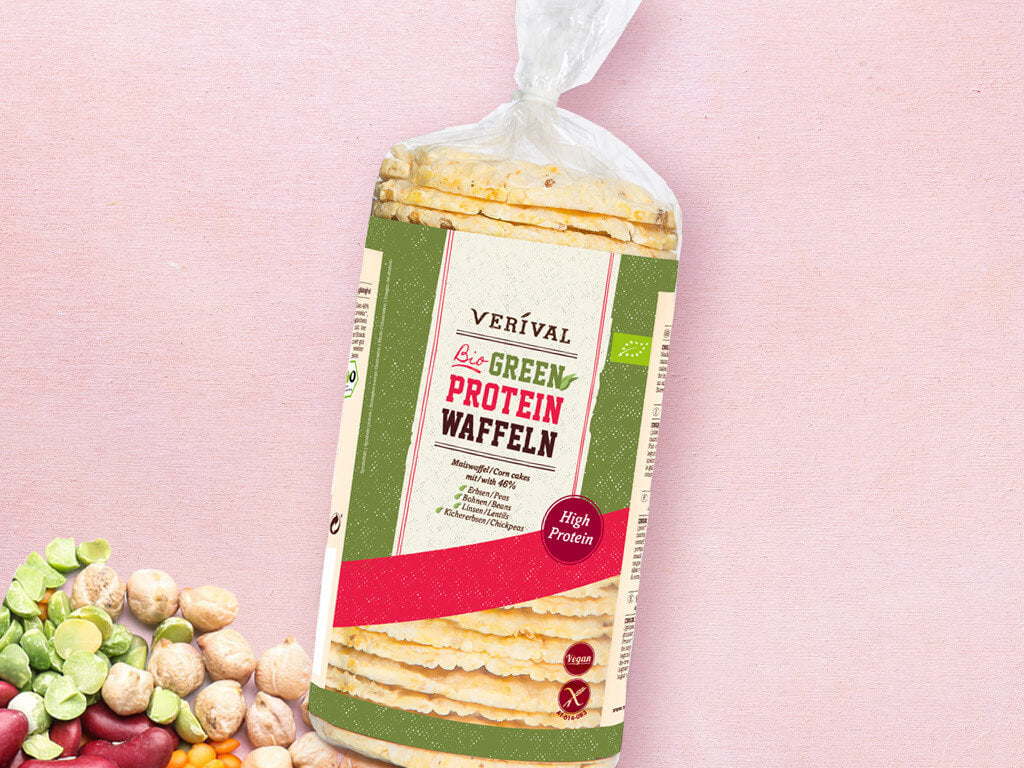 Pulses as a snack
Incredible, but true. Pulses can offer a healthy alternative to high-fat snacks. For example, you can simply marinate chickpeas to taste and bake them in the oven. This makes them nice and crunchy and perfect as a healthy snack while watching TV or playing games with friends.
But legumes are also suitable as a snack in the form of cakes or other pastries. Beans, for example, provide an excellent base for vegan brownies.
Print Recipe
Vegane Schoko-Bohnenbrownies mit Chiasamen
Ingredients
240

g

Canned beans (e.g. kidney beans)

3-4

tbsp

Baking cocoa

70

g

oats

70

ml

Plant drink (e.g. oat milk)

50

g

grated walnuts

2

tbsp

Maple syrup

2

tbsp

melted coconut oil
Instructions
First you can preheat the oven to 180°C (fan oven).

First drain the beans and then put them in a bowl.

Then puree the beans thoroughly with a blender until a creamy mixture is formed.

Then add the cocoa powder and mix the bean mixture well with it.

Then add the oats, chia seeds, grated nuts, maple syrup and melted coconut oil and mix well until a dough is formed. Then pour the batter into a baking dish and smooth it out.

Depending on how high the mixture is in your tin, the brownies will take 20-30 minutes in the oven. Before you can enjoy the brownies, it is best to let them cool a little before you take them out of the tin and cut them into pieces.
Nutrition
Conclusion
Pulses are extremely healthy due to their high fibre and protein content and even seem to protect against typical common diseases. Integrating the plant-based superfoods into your daily routine may take some time, but once you've got the hang of it, they can make an incredible addition to your meals.
Whether in breakfast, as a snack or classically at lunch or dinner, pulses are true all-rounders. So have fun trying them out and enjoy your meal 😉
Recommended articles
Breakfast, Gesund leben, Healthy lifestyle
You probably already know that oat flakes are now considered as a real superfood and should therefore be an integral part of a healthy diet. But when preparing oat flakes you should consider a few small tricks so that the oat flakes do not taste too boring and get the right consistency. In this blog […]