There is hardly anything better than sitting outside on the balcony or terrace on a summer morning and enjoying your breakfast. Not only does it give you a pleasurable start to the day, it also provides your body with the nutrients it needs for the day. Especially on hot summer days, your appetite is dampened during the day – so it's important to eat plenty of breakfast while it's still not so hot to supply your body with the most important nutrients and provide it with energy for the day ahead.
But what is the ideal breakfast in summer? What should you avoid and what should you pay special attention to? We will answer these questions and many more in today's article – so you are well prepared for the summer.
What should a healthy breakfast in summer include?
A healthy breakfast consists of a balance of different nutrients, provides you with plenty of energy for the day ahead and tastes delicious on top of that. But how do you reconcile all these requirements?
Fortunately, it's not as complicated as it might seem at first glance. Because nutrients are contained in large quantities in fresh and untreated foods – which not only pleases your body, but also your palate.
Nutrient-rich foods are usually superior in taste to less nutritious alternatives. And the higher the nutrient density, the more energy your body can generate from it. This delicious recipe, for example, provides you with plenty of vitamin C, potassium, complex carbohydrates and healthy fibre.
Print Recipe
Low-calorie porridge with courgette and oat flakes
Ingredients
40

g

oat flakes

1/2-1

courgette

30

g

protein powder (optional flavour)

1

tbsp

coconut flour

300

ml

water

1

pinch

salt
Instructions
First grate the courgettes into small pieces. It's best to grate them straight into the pot.

Then add the oat flakes and the protein powder.

Next, add the water to the pot and a teaspoon of coconut flour. The coconut flour makes the porridge nice and creamy and binds it together.

Now put your porridge on the cooker and cook it for about 7 minutes on medium heat. Keep stirring well.

When your porridge is already creamy, take it off the heat and let it sit for another 2-3 minutes. After that, your delicious porridge is ready without many calories.

Of course, you can now refine your porridge with toppings of your choice, such as fresh fruit, nuts or seeds.
Nutrition
What foods are best for breakfast?
As we have just heard, nutrient density should be as high as possible to provide the body with all the benefits mentioned earlier. We achieve this nutrient density by combining many nutrient-dense foods.
Oats are a great base for a healthy breakfast because they are full of healthy carbohydrates and fibre. They also contain a good balance of healthy fatty acids and some essential vitamins and minerals. You can eat or process oats either in the form of porridge, as a whole grain, or as oatmeal.
But spelt, quinoa or even rice are also suitable as a breakfast base. The possibilities of these two foods are incredibly diverse. You can also use them as a base for porridges, but they are also ideal as a flour and thus for pancakes. They do contain less healthy fatty acids than oats, but a little more complex carbohydrates.
Berries are particularly suitable as an accompaniment to your power breakfast. Whether as a topping for your porridge or simply as a companion for your yoghurt with muesli – berries always go well with it. And on top of that, they are real nutritional bombs, full of antioxidants and vitamins.
These are the foods you should avoid on hot summer days
Avoid convenience foods and fatty foods in the summer. High-fat meals, in particular, linger in your stomach for a long time and demand a lot of energy from your body. Ready-made meals are also foods you should avoid on hot summer days. On the one hand, this is because they are usually not particularly rich in nutrients and therefore do not provide your body with the necessary vitamins and minerals. On the other hand, they are often very fatty, as fat is a good flavour carrier.
Therefore, especially in the height of summer, you should make sure that you eat fresh and minimally processed products more often. This will not only please your stomach, but also your taste buds!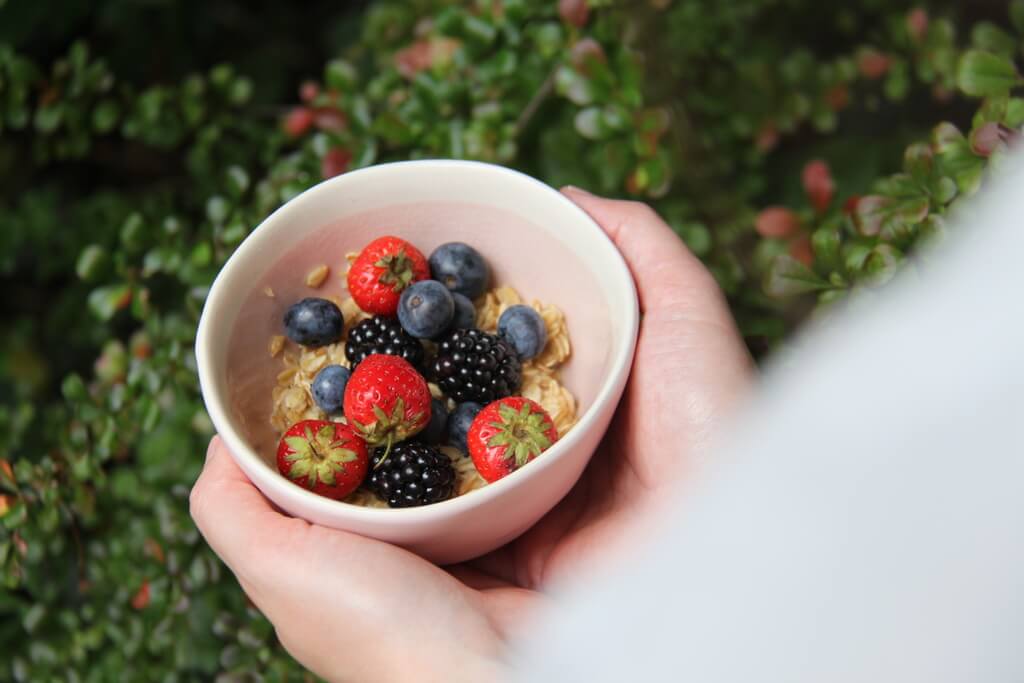 Why you shouldn't avoid hot breakfasts in summer
Many people may now be thinking of taking hot meals off the menu, as they would rather have something cold to cool their bodies down on hot days. However, this is a misconception!
This is because the body has to expend energy on both very hot and cold foods in order to cool or warm them down to a suitable temperature. Firstly, this requires a lot of energy that might be more useful elsewhere. Secondly, energy is generated in the form of heat, among other things. This produces exactly the opposite effect that most people would expect. Instead of cooling down, the body heats up even more.
However, warm or lukewarm foods and drinks are ideal for the summer. This is because the body does not have to heat up or cool down these foods. It therefore saves energy and can use it for more important processes. In addition, the body does not heat up unnecessarily.
Porridge, for example, is ideal for breakfast in the summer, as it is freshly prepared with fresh fruit as a topping and covers all the important components – warm, easy to digest and full of nutrients.
Conclusion
An ideal breakfast for summer thus consists of foods that are as nutrient-rich as possible and neither too cold nor too hot. This may sound like a lot of details, but it is actually easy to implement. For example, a warm porridge with fresh berries can be enough to provide you with all the important nutrients. But mueslis, nice creams or homemade pancakes are also excellent. Let yourself be inspired by our specially created recipe ideas!
Recommended articles
Breakfast, Gesund leben, Healthy lifestyle
You probably already know that oat flakes are now considered as a real superfood and should therefore be an integral part of a healthy diet. But when preparing oat flakes you should consider a few small tricks so that the oat flakes do not taste too boring and get the right consistency. In this blog […]