Sports and nutrition are two of the most important components of a healthy lifestyle. However, they are not two independent aspects, but on the contrary, two areas of life that strongly influence each other. Therefore, a suitable diet is extremely important for your sporty everyday life. In particular, breakfast plays a key role. In this article you will learn what the optimal sports breakfast looks like and how you can adapt it to your individual needs.
What makes a healthy breakfast?
A healthy breakfast should provide plenty of energy, supply you with all the necessary nutrients and taste good. It sounds like a lot at first, but in the end it's not too difficult. It should be noted, however, that the word healthy should always be considered in context.
For example, a reduced-calorie breakfast may be healthy for a person with a predominantly sedentary lifestyle. However, for a person who is active in sports, this may be quite different. That's because if you exercise regularly, your body has slightly different needs. For example, it may need more protein if you do intensive weight training.
Thus, a healthy breakfast is always individually designed. However, certain principles are applicable to almost all populations. For example, it makes sense to include complex carbohydrates in breakfast, which, in combination with healthy fiber, provide plenty of long-lasting energy. Fat sources, on the other hand, should consist primarily of unsaturated fatty acids. In addition, plenty of proteins, minerals and vitamins are components of a healthy breakfast.
We will now take a closer look at what physically active people need and which nutrients are particularly important for you and for achieving your athletic goals.
Muscle building and increased performance thanks to a healthy protein breakfast
If sport is more than just a pastime for you and you set yourself high sporting goals, an adequate sports breakfast is essential. For example, if your goal is to improve your performance, you will need a protein-rich and energy-rich diet in addition to intense training.
Whether you want to perform better on the tennis court or you are preparing for a marathon, the additional need for certain nutrients will have a lot in common. For example, you should make sure to consume plenty of energy in the form of complex carbohydrates and healthy fats at breakfast.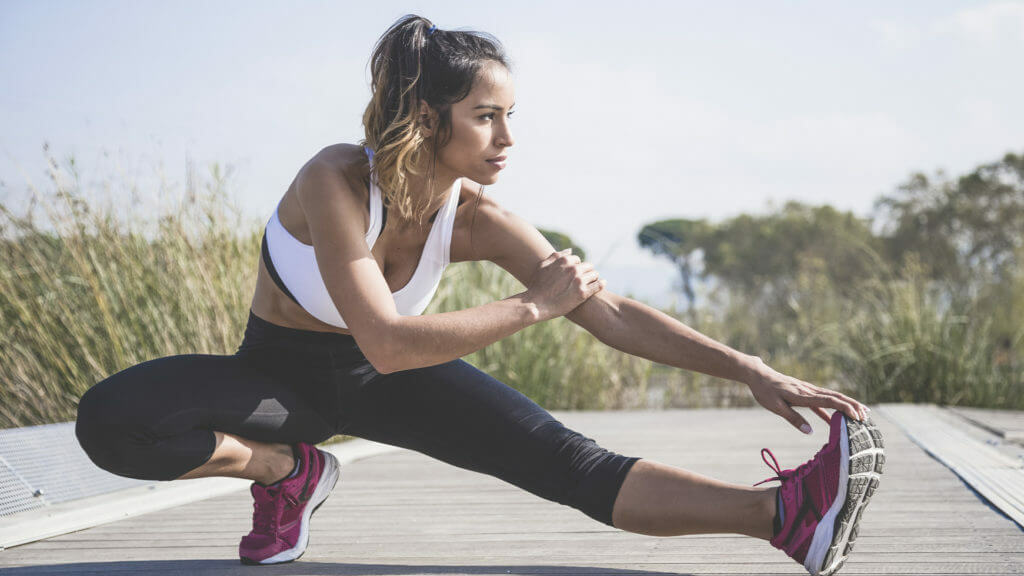 However, it's important to avoid too much of a blood sugar spike, as this will only give you a short energy boost. What you need much more is a breakfast that will provide you with plenty of energy throughout your workout and beyond.
These nutrients should not be missing from your sports breakfast
And that's where fiber comes in. That's because these digestive components of food provide a reduced rise in blood sugar for optimal energy. Fiber-rich foods such as chia seeds can be easily integrated into breakfast, for example in the form of overnight oats.
Print Recipe
Overnight Oats with chia seeds
Overnight Oats basic recipe with the addition of the superfood chia seed
Ingredients
4

tbsp

oat flakes

(approx. 45g)

80

ml

water, milk or a plant-based alternative

1

tbsp

yoghurt

1

tbsp of

chia seeds

honey, agave syrup or maple syrup

(for sweetening)

fruits, nuts and seeds of your choice

(as topping)
Instructions
Put water, milk or a plant-based alternative in a glass together with the oat flakes and chia seeds and stir well.

Our secret tip: add a tablespoon of yoghurt. 

To sweeten your Overnight Oats we recommend honey, agave syrup or maple syrup.  

Put the mixture in the fridge overnight or for at least 2 hours. 

Then stir well once again, decorate with fruits, nuts or seeds and enjoy!
Nutrition
However, since your body needs not only energy, but also building material for new muscle tissue, proteins should not be missing from your breakfast. A delicious protein porridge, for example, provides you with complex carbohydrates, a healthy amount of fiber and plenty of plant-based proteins.
In our breakfast sports range, you'll find everything your athlete's heart desires, from energy-rich porridges and fiber-rich mueslis to protein-rich green protein waffles. Our sports products are characterized by their high content of vegetable proteins, which can be optimally utilized by your body due to their high biological value.
And if you're in a hurry, you can always fall back on the protein-rich Breakfast Shake Strawberry-Blackberry, which provides you with plenty of energy and amino acids for top athletic performance.
Lose weight with a low-carb diet – this is how it works
However, if your goal is to lose weight, a healthy breakfast looks somewhat different. Especially if you want to eat a low-carbohydrate diet, it is important to start with breakfast.
While you'll need plenty of energy to achieve peak athletic performance, you're better off cutting back on a certain amount of calories when it comes to targeted weight loss. Some people find it easier to reduce the amount of fat they consume, while others prefer to banish carbohydrates from their plates.
You can lose weight with both approaches, but now we would like to take a closer look at the low-carb diet, as it changes your breakfast more. To make your breakfast lower in carbohydrates, you should first identify the carb sources.
These are largely grain products, as they are made up of a large portion of carbohydrates. Low-carb, on the other hand, are mainly vegetables, legumes, and water-rich fruits.
These foods are suitable for a low carb diet
For example, you could use grain-free products that do not contain any grains at all. The energy is provided by low-carbohydrate legumes such as nuts or seeds, e.g. chia seeds. The big plus point is that legumes contain not only less carbohydrates, but usually even more fiber and are also optimal sources of protein.
Our Verival Grain Free Sport Protein Muesli Almond Fig, for example, has 70 percent less carbohydrates than conventional mueslis because it does not contain any grains at all. The seeds and nuts contained in the muesli provide you with plenty of healthy fatty acids, digestive fiber and a good portion of vegetable protein.
[cta text="Discover low carb breakfast from Verival" link="/porridge-organic
Take a look at our Verival Sport Range to discover even more low-carb breakfast products, like our Lower Carb Granola with the delicious Raspberry Almond Coconut flavor 😉
Recommended articles
Breakfast, Gesund leben, Healthy lifestyle
You probably already know that oat flakes are now considered as a real superfood and should therefore be an integral part of a healthy diet. But when preparing oat flakes you should consider a few small tricks so that the oat flakes do not taste too boring and get the right consistency. In this blog […]