If you like to have a good breakfast, you have probably already come across one of the most important topics in the breakfast game: Toppings! At every meal and especially at breakfast you benefit from delicious toppings. And there is an extremely large number of them! There really is something for everyone. In today's blog post, we'll tell you how you can refine your summer breakfast and make it extremely healthy. 
1. Nuts as superfood 
If you follow our blog a bit, you probably know that we fell in love with them a long time ago: Nuts! These little companions can probably be traded as superfood in every version. So, they are not only extremely tasty, but also very healthy. There are very many different kinds of nuts. The most popular ones are: peanuts, pistachios, almonds, hazelnuts. Cashews, macadamia nuts, pecans, walnuts and Brazil nuts. In Austria, walnuts are the forerunner here. 
Nuts contain a lot of healthy fatty acids which help you to lead a healthy lifestyle. Nuts help you to keep your blood sugar level under control – nuts are just as powerful for the brain. They are also good for the heart, body and immune system. Those who emulate pure and beautiful skin are just as well served with nuts. So, we are not understating: nuts are superfood! Especially on our many different porridges they look especially good – our recommendation: Strawberry-Chia Porridge or the Classic Porridge – best in XXL form! 
2. Berries – colourful and delicious! 
Berries are probably the most colourful and delicious topping for your breakfast. From raspberries to blueberries and strawberries – they are all delicious and healthy. With lots of nutrients and vitamins, they are very popular in supermarkets. Our recommendation for berries would be to buy regional and seasonal. That would usually be in the summer months. If you don't want to do without berries in winter, you can freeze or puree them! We have berries all year round, by the way, in freeze-dried form. And just now new with us: our Strawberry-Raspberry Porridge Smoothie Bowl – for that extra fruit kick in the morning.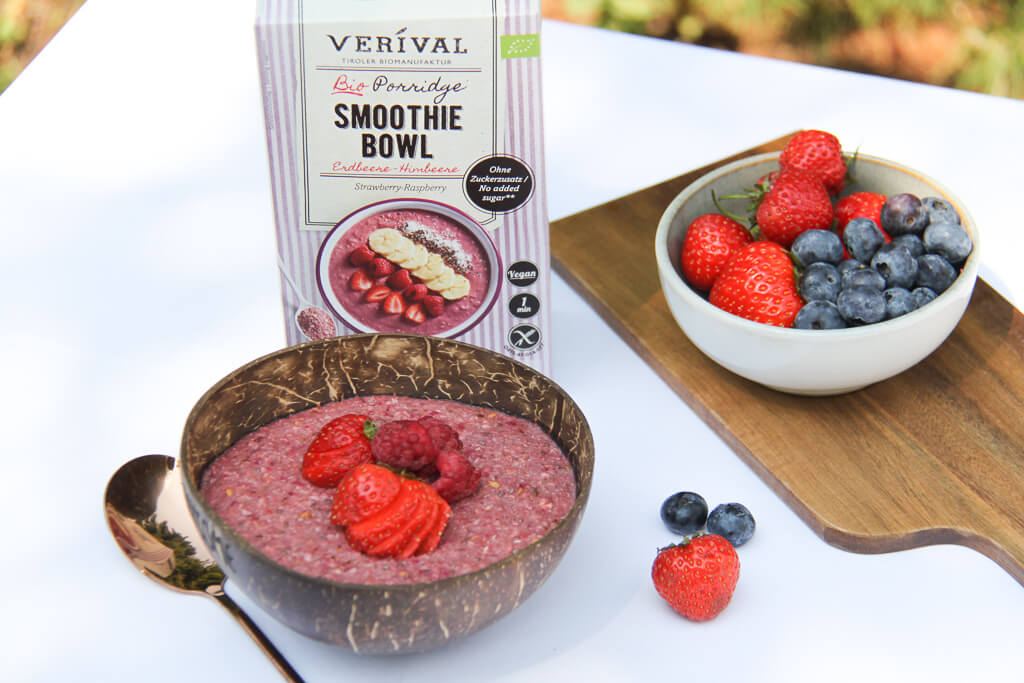 3. Honey – the sweet gold
Honey doesn't really count as a topping, you have to be that fair. However, it fits to every breakfast imaginable. Whether on bread, in yoghurt or in muesli. Best you look for your regional beekeeper and buy the honey directly from him. So you can be sure that it was produced sustainably and that the bees were treated fairly. There is also a small product recommendation from here, not for breakfast, but for sweets lovers: our honey waffles. (So it can happen that you gobble up a few packs 😉 ) 
4. Seeds and kernels – chia and flax must always be! 
Seeds and kernels are becoming increasingly popular as toppings for breakfast products. So, chia seeds, flax seeds, but also hemp seeds are very healthy for humans! Flax seeds are anti- inflammatory, a great source of magnesium and good for the heart. They also have a high amount of fibre and protein. 
If you are generally looking for protein, you should decorate your breakfast with sunflower or pumpkin seeds. These have a high protein content and are rich in vitamins. Magnesium, zinc, iron and selenium – you can get all that from your little friends. Pumpkin seeds are also said to help with sleeping disorders.
5. Fruits – regional, tasty and healthy 
Last but not least, no breakfast plate should be without fruits. Whether it's the classic apple or perhaps a little more exotic every now and then, e.g. with kiwis – whatever the fruit, in most cases it is extremely healthy and delicious. Apples in particular contain great many nutrients. (A tip: Urgently leave the skin on and do not peel it – this gives the extra boost of fibre!) The great thing about it is that apples are almost always available regionally for you. 
This is also our biggest tip: there are so many regional fruits. If possible, you should take care not to always buy exotic fruits. The climate certainly thanks you for it.
And to make it easier for you to decide which fruits you can buy regionally and seasonally, we have a seasonal calendar for you here: 
Print Recipe
Basic recipe: Muesli
Ingredients
50

g

oat flakes

150

ml

milk or plant drink

1

tbsp

yoghurt or vegan alternative

1

tbsp

honey

2

tbsp

lemon juice

fruits and nuts of your choice
Instructions
The oatmeal goes in a bowl. 

Pour the milk or the vegan drink into the bowl as well. 

Stir in the honey and yoghurt. 

Next, add the lemon juice. 

Now let your muesli soak for 5 minutes. 

Finally, you can garnish your muesli with fruits or nuts of any kind. 
Nutrition
Recommended articles
Breakfast, Gesund leben, Healthy lifestyle
You probably already know that oat flakes are now considered as a real superfood and should therefore be an integral part of a healthy diet. But when preparing oat flakes you should consider a few small tricks so that the oat flakes do not taste too boring and get the right consistency. In this blog […]